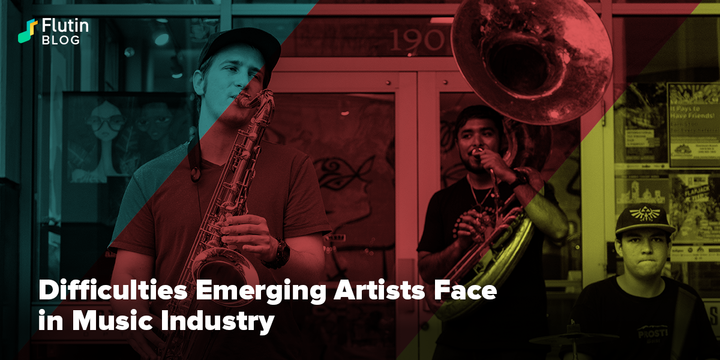 Today's music industry – the "modern" music industry – seems to be a pretty exciting place for emerging artists. There's nothing like the thrill of conveying your art to a live audience of thousands of people and watching them get pumped up to your music. Thanks to new technological revolutions in the industry, many barriers have vanished. However, on the flip side of the coin, new problems have gained momentum. Yes, you can't deny the fact that new artists are "found" every day, thanks to shows like American Idol, The Voice, America's Got Talent and many more. But, if you look at the track record, how many of them have really 'made it' in the music industry? What's holding talented artists back from shining?

One of the primary reasons is that more realms of the music industry have become saturated than one can imagine
No matter which genre you pick, what the message of your art is, what inspirations lay behind those ideas, you'll find that either it has been done previously by any other artist or some hundred people are trying to make it using the same idea. And the task of being unique and original becomes that much harder.
Another reason is that a select few companies are dominating the music industry
There used to be a healthy competition amongst streaming services offered by Pandora, Apple Music, Spotify, Google Play, Rhapsody, and Tidal. Today, this sector has essentially become a two-horse race, the two horses being Spotify and Apple Music. 
When it comes to the live music industry, the scenario isn't much different. Live Nation and AEG mostly control North American venues and festivals. Similarly, Sony, Universal, and Warner control 80 per cent of the labels market. 
This becomes a very risky gamble for emerging artists as if these few companies do not like your music, and chances are you are never going to see the day.
And even if they happen to like your music, you would need a bag full of money to launch and promote your music
There used to be a time when mediocre bands could make a decent living by selling a hundred thousand copies of their records and go on tour to promote it, which would bring in additional revenues. 
However, times have changed and consumers today are not willing to pay much for music if they are ready to pay at all, thanks to technology. So, you need funds to start with your first record, shoot music videos, get all the press shots, afford to go on tours, get the equipment and gears for rehearsals – you get the idea.
But, there's always a bright side to everything. The marriage of music and technology has resulted in great apps like Flutin that are definitely a saviour for emerging artists. Flutin provides a global platform for such artists to be discovered by interested listeners and also helps them earn cash through shows, concerts, and merchandise.

Even though the odds are significantly against a successful career in the music industry for an emerging artist, know that with the right knowledge and persistence, making it is still a considerable possibility.