10 Mind-Blowing Movies That Will Turn Your Home Stay During The Coronavirus Outbreak Into A Peaceful Getaway
March 19, 2020
The only way to defeat the coronavirus outbreak is to stay in and avoid socialisation. But, no one's stopping you to take this opportunity to relax as you've always wanted. Here are 10 mind-blowing movies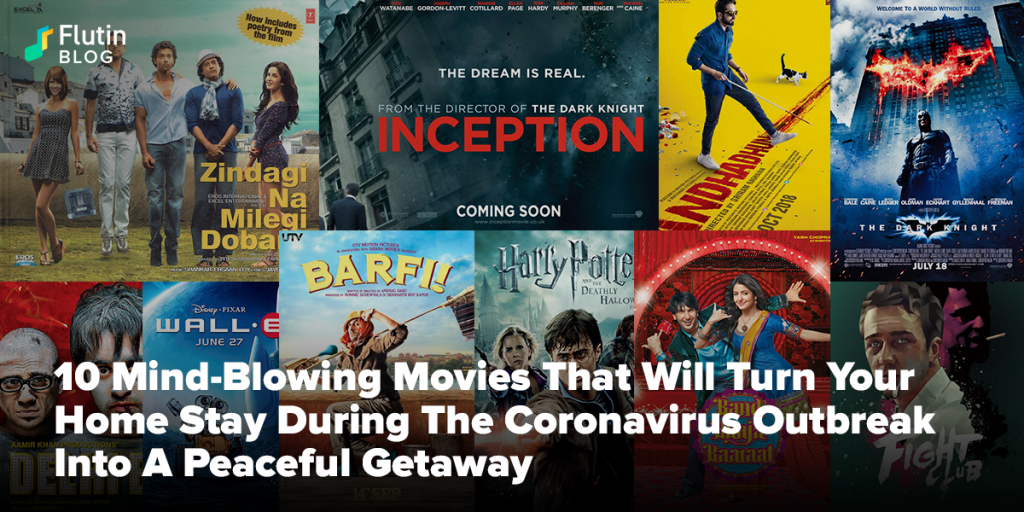 In all seriousness, the coronavirus outbreak is real and it's getting worse by the day. Stop the spread of the coronavirus virus in India by staying in and avoiding contact with other living things. Now, while you are taking a break, you do not necessarily have to bore yourself to death. Here are 10 mind-blowing movies to watch while you drive the coronavirus away.
1. Zindagi Na Milegi Dobara

Yes, watching a movie revolving around road trips while staying in is a bit painful. But, it's undoubtedly one of the best movies to watch. And you can make plans about your road trip inspired by this movie once the coronavirus is eliminated.

2. Inception

Regardless of how many times you have watched them before, Christopher Nolan's movies are some of the most mind-blowing movies ever made. And this movie about dreams is just perfect to watch while defeating the coronavirus in India.

3. Delhi Belly

This movie is a black comedy that is actually hilarious and very unusual from the mainstream movies. Romance? Check. Friendship? Check. Wacky songs? Check. Smuggling? Check. What more can one want amidst the coronavirus outbreak? 

4. Harry Potter Series

While you're staying in to stay away from the coronavirus, why don't you drift away into your own magical land? The Harry Potter series are the best movies to watch for this endeavour.

5. Barfi!

Fill your heart with love and emotions instead of the coronavirus. Watch one of the best movies that Bollywood has gifted us with and cry and laugh a couple of hours away. 

6. Wall-E

After Charlie Chaplin, this is the most engaging and heartwarming silent movie to watch that will guarantee a good time amidst this coronavirus outbreak.

7. Band Baaja Baaraat

And when you feel heavy after watching such emotional biggies, switch to this light-hearted and fun love story about a couple engaged in the wedding planning business. 

8. Fight Club

Now, how about a dramatic thriller for a change? Regardless of your gender, it's always a delight to watch Brad Pitt on screen. And this masterpiece is a timeless classic.

9. Andhadhun

It took Bollywood a long time to get here, but it finally got there. This brilliant thriller is surely one of the best movies to watch.


10. The Dark Knight

Yes, another Christopher Nolan movie is on the list. Gear up to experience some goosebumps during the coronavirus outbreak by watching the legendary Joker played by the late Heath Ledger.
These were some mind-blowing movies that would keep you occupied during your homestay. But, you can't spend all your time watching just movies. Install the Flutin app to take some musical breaks.