Bollywood might be known for its emotional melodies and romantic numbers, but it has also given us numerous sensual songs to feel the heat. And, if you are enthusiastic about dancing or singing and wish the world to listen to you sing or watch you dance on these songs, create your profile on Flutin and stream your performances across various social media channels. Take a look at the most sensuous Bollywood songs of all time.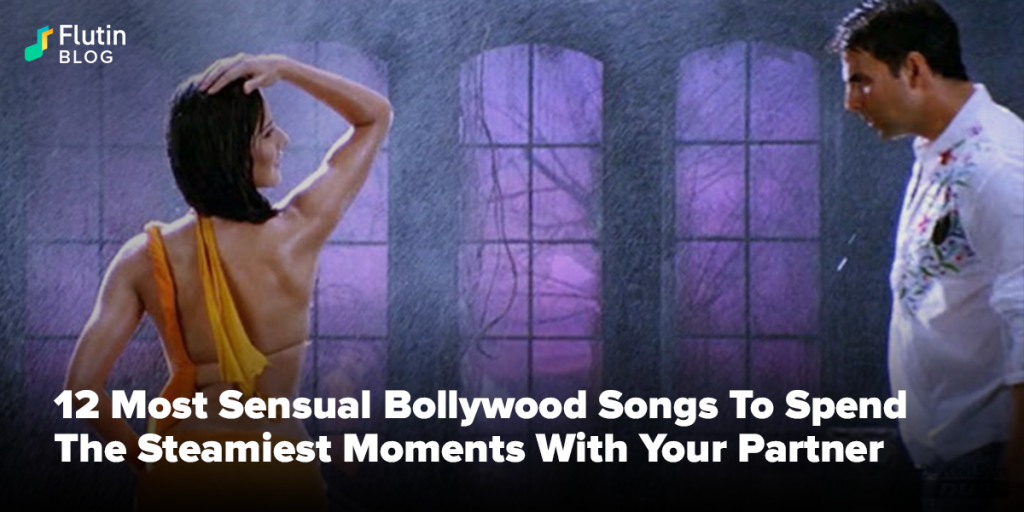 You all know that songs are an integral part of Bollywood movies. And over the years, Bollywood's has gifted us with many sensual songs that light our hearts on fire. Today, we are going to check out 12 of the most sensuous Bollywood songs of all time. 


1. Ang Laga De – Ram Leela

This has got to be one of the most sensual songs ever made. The mystical voice of Aditi Paul paired with the sensual charm of Ranveer and Deepika together really does trigger your hotness quotient.

2. Zara Zara – Rehna Hai Tere Dil Mein

This song is a timeless classic and one of the most sensuous Bollywood songs ever created. It has got the entire package – mesmerizing music, seductive voice and sensual lyrics. And Dia Mirza is the bonus here.

3. Bheegey Hont – Murder

You cannot complete a list of flirty Bollywood songs without mentioning this superhit song starring two of the sensual icons – Emraan Hashmi and Mallika Sherawat. This hot song is still a top choice among couples to fulfil their fantasies.


4. Raat Ka Nasha – Ashoka

The chemistry of Shah Rukh Khan and Kareena Kapoor in this song is to die for. There is no doubt in the fact that it is considered as one of the top hot Hindi songs of all time.

5. Bahon Ke Darmiyan – Khamoshi The Musical

Well, being one of the top flirty Bollywood songs, Salman Khan and Manisha Koraila definitely took love and romance to a whole new level in this iconic song.


6. Tum Hi Ho – Aashiqui 2

Speaking of hot Hindi songs, this has got to be the most popular one. And for good reasons as well – the magical voice of Arijit Singh, the sensual chemistry of Aditya and Shraddha and romance in the rain.

7. In Lamhon Ke Daaman Mein – Jodhaa Akbar

Aishwarya Rai Bachchan and Hrithik Roshan have long been one of the most favourite pairings in Bollywood. Throw them in one of the most lyrically sensual songs sung by Sonu Nigam and Madhushree and you can expect nothing but ultimate hotness.

8. Raat Akeli Hai – Jewel Thief

This song is proof of the fact that Bollywood has always been in the game of seduction with its sensual songs. And this one could very well be the sensual anthem for couples.


9. Main Yahaan Hoon – Veer Zaara

Well, Shah Rukh Khan is the kind of romance and his songs are got to be some of the most sensual songs of Bollywood. Watch the romance between Shah Rukh and Pretty Zinta to long for some hotness.

10. Jadoo Hai Nasha Hai

Remember this steamy song starring Bipasha Basu and John Abraham? Well, they might not be a couple anymore, but this song definitely lives on to be one of the top hot Hindi songs.

11. Kate Nahi Kat Te – Mr. India

… lo aaj main kehta hoon, I love you.

It couldn't get any hotter and more romantic than this.


12. Jiya Jale – Dil Se

Lata Mangeshkar's melodic voice? Check. Sensual lyrics? Check. Steamy hot video? Check. This song deserves to be one of the top hot Hindi songs ever.

13. Tip Tip Barsa Pani – Mohra

Raveena Tandon drenched heavily in rain and looking out of this world in a beautiful yellow sari combined with the sensual lyrics of this song is just too much to handle.

14. Bharo Maang Meri Bharo – Sabse Bada Khiladi

If you want the best of hot Hindi songs, then this is the song you need to play next. The lyrics are enough to light you on fire.

15. Aashiq Banaya Aapne – Title Track

Talking about sensual songs, one cannot miss this song. The lyrics and the video screams of passionate love. If this song doesn't trigger your hot side, nothing will.
If you want do something more enthralling and want showcase your talent to the world and create a brand for yourself, you can start multistreaming your video on various social media platforms.
As it's no secret that the pandemic has boosted the world of virtual streaming and real-time interaction, they are continents grow more & more. Thus, if you want to create your virtual presence live streaming should be your first choice.
Flutin Live understand the importance of live video streaming and the opportunity it offers to the creators, therefore we offer you an advanced live streaming platform that has ultimate live streaming feature that will support you in your journey!
Get started for free