Some incredibly nostalgic English songs instantly remind us of our childhood days. There are certain emotions and memories attached to these songs that fill our heart with a pleasant yearning. So, this quarantine season, get ready to travel back in time with these best English songs.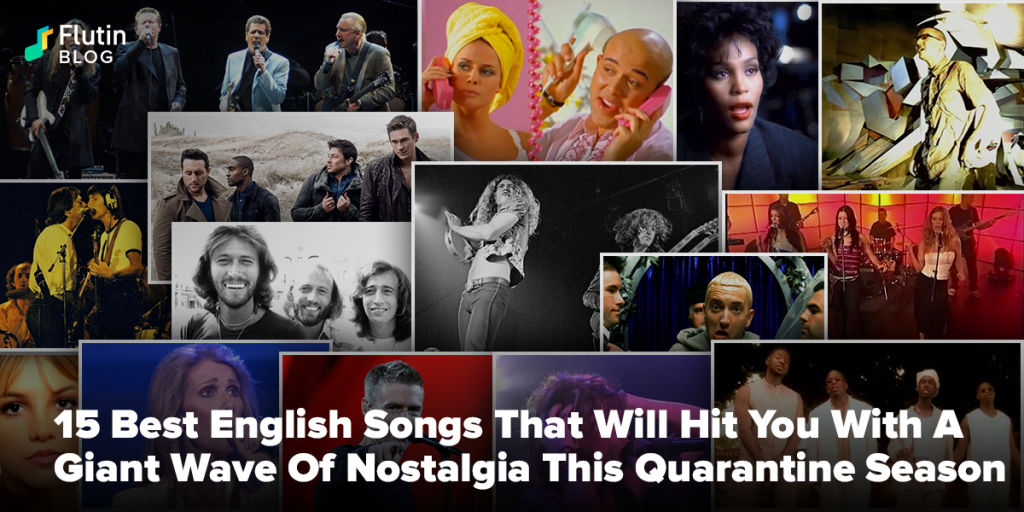 Certain things make our childhood days flash right before our eyes – our old ragged toys, school diaries, those badminton rackets whose strings have been torn, those issues of Tinkle. Be that as it may, nothing strikes us with nostalgia harder than music. Music reminds us of the times when doing our homework used to be our greatest concern and playing outside with friends and watching cartoon shows were all we wanted to do. So, here are some of the most nostalgic English songs that would take down the memory lane this quarantine season.
1. I Will Always Love You – Whitney Houston
This has got to be not just a nostalgic song but also one of the best English songs ever made. Whitney's pitch-perfect vocals still give us goosebumps after all these years.
2. Baby One More Time – Britney Spears
This song should be the anthem of nostalgia. Britney Spears ruled the world of pop back in the day. Oh, how we used to wait for this song to be played on the TV in our childhood days!


3. My Heart Will Go On – Celine Dion
Let's be honest for a second; the movie Titanic irrevocably changed our lives back then. This song is still one of the best English songs to be written and so beautifully. Such is the popularity of this song that Dion still performs it at her shows.
4. I'll Make Love To You – Boyz ll Men
Sure, at the time you had no idea what you were singing. But, you can't deny the memories attached to the harmonies. It is arguably one of the most nostalgic English songs of all time.
5. I Don't Want To Miss A Thing – Aerosmith
Aerosmith was one of those rare bands that allowed you to bond with your parents over their music. And this Oscar nomination song will surely remind you of those passionate conversations this quarantine season.
6. Summer of '69 – Bryan Adams
This song told us about everything we needed to know in our childhood days – youth, love and the things one does when one is young and very much in love. It was probably one of the most relatable songs for youngsters back then.

7. Hotel California – Eagles
This is perhaps the most popular song during the late 1970s. Yes, some of you might not have been born by then. But, you definitely heard this one while growing up. It is best known for being one of the most eminent nostalgic English songs.

8. Comfortably Numb – Pink Floyd
There is something so soothing and mesmerizing about this song that it moves us even today. Those verses and those guitar solos are chilling even today – undoubtedly one of the most famous and deserving nostalgic English songs of all time.


9. Stayin' Alive – Bee Gees
When the iconic guitar verse starts playing with a background disco-themed music, you know it's the Bee Gees. Being one of the most iconic and best English songs ever, those high pitched vocals remind us how miserably we failed to try to sing it.

10. Stairway To Heaven – Led Zeppelin
A song that starts on an acoustic tone and eventually shifts into a rock segment – Stairway To Heaven used to be all the rage back then. Besides, no one can forget Jimmy's incredible solo!

11. One Love – Blue

That Bollywood song "Kya Maine Socha" seemed so cool and catchy. That is until you realized that it's actually copied from the song One Love by the band Blue. This song reminds us of how we used to listen to it on loop.


12. The Ketchup Song (Spanglish Version) – Las Ketchup

Did you understand what the song was about? No. Could you make out the lyrics? No. Did it stop you from enjoying this catchy song? No. Besides, singing made-up lyrics of our song was a different feeling in itself.

13. Barbie Girl – Aqua

We had to include this one in our list of the most nostalgic English songs of all time. Just give it a try while you are in quarantine and tell us that you didn't use to sing along to it in your childhood days.


14. Somewhere I Belong – Linkin Park

Technically, every Linkin Park song belongs on the list of the best English songs that throw us back a couple of decades. But, then this would become a list of only their songs. No can ever replace the love we have for this band.

15. The Real Slim Shady – Eminem

We couldn't have put a better song to end our list. This song revolutionized rap for us. Even though we had to listen to this one in secret when our parents were not around, but it was surely worth it.
If music is your passion and you are looking for a perfect platform through which you can present your talent out in world, then live streaming will be your safest bet.
Live streaming is the most powerful tool if you want to increase your audience base as 80% of users have been found to prefer live videos over blogs and social media posts.
Get started for free

Experience a hassel free live streaming through Flutin's premium features like multistreaming, split screen streaming, monetization and much more!