Watch These 15 Classic Hindi Comedy Movies With Your Family And Have A Blast This Quarantine Season
April 21, 2020
Being locked in your home for 21 days straight (maybe even more) is extremely challenging. However, it does not have to be devoid of some fun and entertainment. If anything can cure you of this quarantine, it's comedy movies. Here we have for you a list of the 15 best Hindi comedy movies of all time.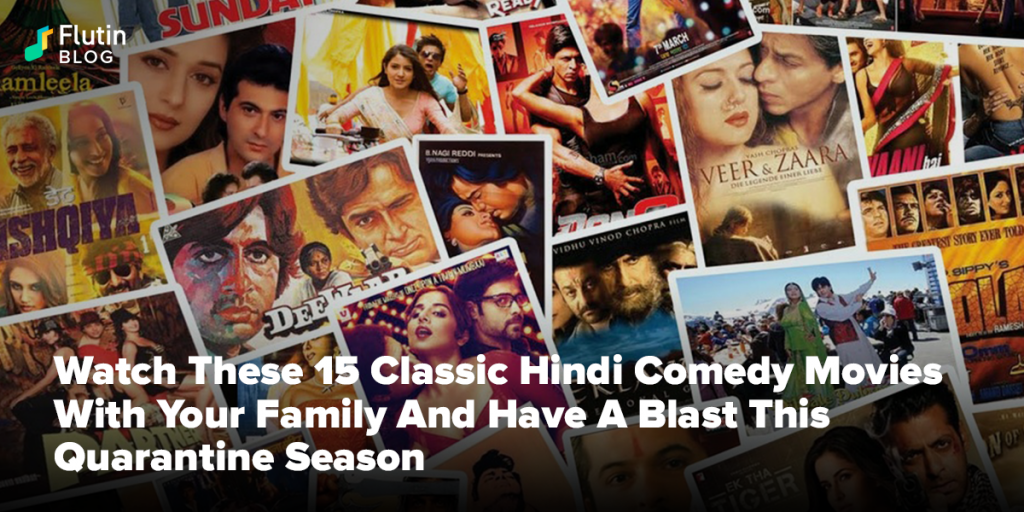 Self-isolation and social distancing have become the new realities of life. While they are even more difficult than they sound, the only things that can bring refreshment and keep you sane this quarantine season are comedy movies. Bollywood has in store some classic movies that will make your quarantine period much less torturous. Take a look at our list of the most hilarious Hindi comedy movies that will give you and your family ticklish ribs and hysterical laughter. 
1. Hera Pheri
Hera Pheri is one of the most loved comedy movies of all time. The trio of Paresh Rawal, Akshay Kumar and Suneil Shetty remains unparalleled even to this day on the screen
Even if you would be watching it for the 100th time, you won't be able to resist those stomach aches from laughing so hard. 
2. 3 Idiots
3 Idiots is one of those classic movies that conveys a strong message through its comedic tone. It will definitely remind you and your family members of your incredible college days. 
3. Andaz Apna Apna
Even though the film did not do so well upon release, it is considered one of the greatest Hindi comedy movies of all time. This quirky comedy movie will surely have you chuckle along with your family. 
4. Munna Bhai MBBS
Watch (or rewatch, if you have seen it before) one of the most iconic characters this quarantine season. While the second instalment is also incredibly fun, the first movie will always hold a special place in our hearts owing to Vidhansabha "Good Morning Mumbai.." and Sanjay's "Jadoo Ki Jhappi".

5. Padosan
Certain old movies can beat modern comedies at any time. Padosan is a classic example of that. Besides, it's always mesmerizing to watch the magic of Kishore Kumar on screen. 
6. Chachi 420
A father-in-law falling in love with his son-in-law who is disguised as a lady – name a messier plot that reeks of fun, we'll wait. 
7. Delhi Belly
Three struggling roommates finding themselves amidst the mess of a ruthless gangster – Delhi Belly is exactly what a Bollywood Guy Ritchie film would look like. 
8. Dil Chahta Hai
The revolutionizing movie that made youths realize how fun road trips can be – Dil Chahta Hai will go down in history as one of the classic movies of all time. Show this movie to your parents to convince them to let you go on a road trip with your friends. 

9. Mr India
Don't we all want to have our own invisibility device? Well, since we can't, we might as well watch Mr India have fun with it and put it to good use. 
10. Golmaal: Fun Unlimited
Rohit Shetty's Golmaal is one of those rare comedy movies that actually make you laugh in every scene. It's also Tushar Kapoor's most memorable performance. 
11. Namastey London
A love cum comedy story about how a British-bred girl gets out of being forced by her parents to marry an Indian guy and ultimately ends up falling in love with him – it's refreshing and fun to watch. 
12. Andhadhun
Andhadhun is one of those incredibly rare classic movies that manages to keep you hooked even after the climax. This movie is brilliant and a masterpiece in every aspect. 
13. Stree
Not many movies can pass off as a comedy involving a ghost. Watch the residents of Chanderi be visited by a spirit of a woman who they think can be sent away by scribbling "O Stree Kal Ana" on their walls. 
14. Chhichhore
Take a trip down the memory lane and relive your college days this quarantine season along with the characters of this engaging movie. 
15. Malamaal Weekly
Malamaal Weekly featured a potpourri of great comedic actors – Paresh Rawal, Rajpal Yadav and Shakti Kapoor among others. You can be sure to have more than a great time with your family while watching this.
Trust us when we say that these Hindi comedy movies will make your quarantine period fun and help you bond with your family over giggles and laughter. You can install the Flutin App and listen to the songs from these movies for free to get warmed up.