COVID19 Shadowing The Music Industry: From The Entrepreneur's Desk
April 20, 2020
A catastrophe the world couldn't have foreseen, Coronavirus has rendered the entire mankind helpless with its deadly sweep. We have lost many lives to the pandemic and the economy has come to a halt, resulting in an inestimable loss.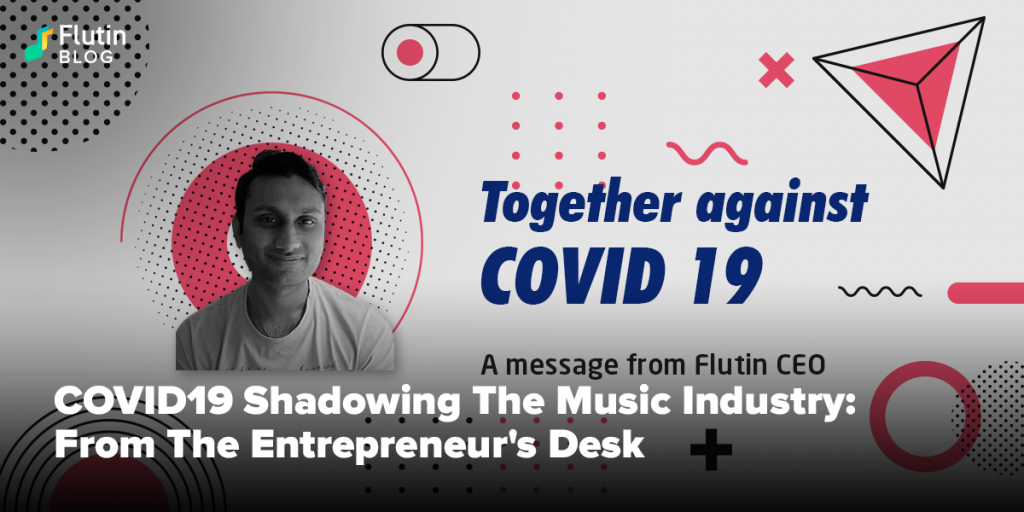 If experts are to be believed, the corona-induced recession is as much a topic of concern as the virus itself. Like almost all the other industries, the extraordinary circumstances have also inflicted great loss upon the music industry. From BUDX Mumbai to SXSW 2020 and Tomorrowland Winter, all the musical events either stand cancelled or postponed. With no possibility for music production and musical events in the current scenario, artists are finding themselves in a crisis at the moment. 
Flutin Homecerts — An Artful Hope in These Times of Despair
But as one door closes, we must strive to find another one. And it looks like we have already found that another door in the form of online live musical sessions on social media. Artists all over the world are using the live streaming service of Facebook, Instagram, and other platforms to stay connected with their fans and entertain them. Similarly, Flutin has introduced a program called 'Flutin Homecerts'.

Through Flutin Homecerts, we at Flutin are trying to offer quarantined artists a platform to showcase their talent in front of thousands of music lovers watching them perform through their phone or laptop screens. From vintage superhits to contemporary Bollywood numbers and English pop tracks, an extensive range of musical genres are performed by these artists.
The idea is to elate the audience by breaking them away from the dullness of their monotonous schedules. Even better, a viewer can always drop a comment during the live performance, requesting the artist to sing a song of their own choice.
We are truly overwhelmed to see such sincere participation by artists and an equally unfeigned response by the audience.
It is safe to assume that the culture of home concerts is going to last much longer than the lockdown period. In other words, even after the world is back to the state of normalcy, the concept of live performance streaming on social media sites is expected to remain popular.

And as we are moving ahead with the concept of Flutin Homecerts, we are trying to identify the challenges involved and do away with them. A nearly perfect homecert experience can be achieved with some improvements in the technology and introduction of new features that address the pain points involved.
Some of the major challenges we have been confronted with are the glitches occurring due to unstable internet connectivity, lack of tools that allow multiple artist performances, and the inability of an artist to monetize their live streaming session.
However, Flutin is consistently working on finding solutions to fix with the above challenges. We're dedicated to soon come up with solutions that will help artists monetize their talent even in the lockdown situation and bring the quality and experience to the highest notch possible. Homecerts are not a temporary solution, but also the future of music entertainment.