11 Interesting Indian Web Series You Must Watch If You Wish To Beat Those Quarantine Blues
April 30, 2020
While the quarantine season seems like a never-ending phenomenon, web series are taking over the world. They are an excellent way to spend one's time in quarantine. Here are 11 mind-blowing Indian web series for you to binge-watch during this lockdown.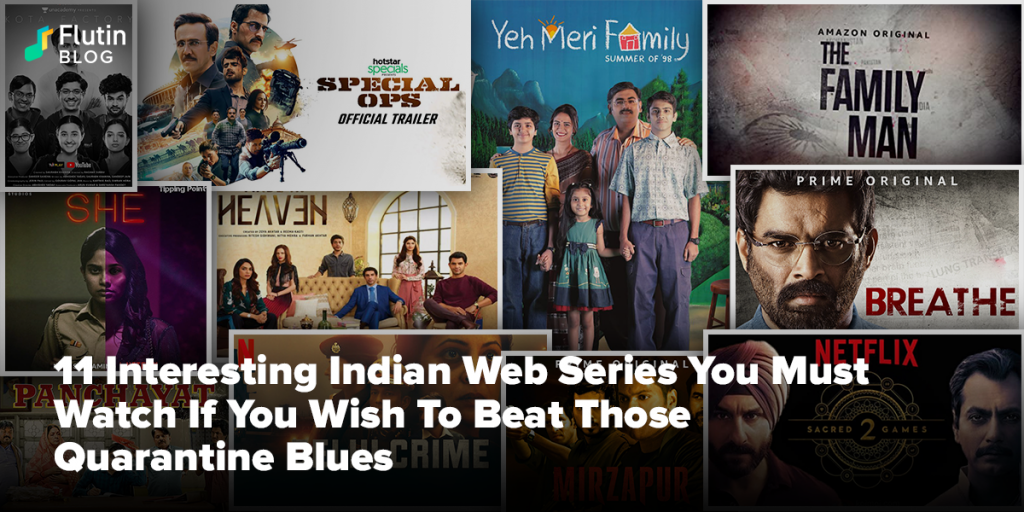 Are you bored out of your mind at home with nothing to do? Are you tired of listening to the coronavirus news since what seems like forever? As difficult as it may be, self-isolation and living in quarantine is the only way you can defeat the virus. However, you don't have to make this time more challenging than it is. Here are 11 Indian web series that you can binge-watch on OTT platforms which will give your mind the healthy engagement it deserves amidst the crisis.

1. Sacred Games
Sacred Games is undoubtedly one of the best Indian web series ever made. Even if you have watched this engaging crime thriller before, watching it again will surely leave you with the same rush and curiosity as it had done the first time. After all, you can never cease to be curious about how Trivedi will survive but the rest of the people won't.

2. Mirzapur
Upon release, Mirzapur became one of the most popular web series out there. If you love guns, violence and politics, then you are surely going to love this crime thriller. Besides, Pankaj Tripathi never fails to deliver a jaw-dropping performance. 
3. The Family Man
This web series will have your undivided attention from the very beginning. It is a roller-coaster ride involving spies and terrorists with twists and turns to blow your mind consistently. 

4. Delhi Crime
Delhi Crime is an Indian web series which tells the convulsive tale of the Nirbhaya rape case. You can binge-watch this show to get an insight into how the Delhi Police managed to bring the culprits to justice. 
5. Made In Heaven
This Zoya Akhtar show is a match made in heaven for those people who love an entertaining drama. The story revolves around two wedding planners Karan and Tara and deals with all the layers of human relationships. 
6. Special Ops
Do you know who was behind the 2001 parliament attack? Have you ever wondered who that one person is who was never identified? This show dives right into those secrets and makes a shocking revelation. 
7. Panchayat
Panchayat is a fun web series about a city boy surviving in a village in Uttar Pradesh. It's a show that proves the power of simplicity and engagement. 

8. Breathe
If you love suspense thrillers, you are definitely going to have a blast while watching Breathe. Starring R. Madhavan, the story revolves around a father who goes down the illegal route to save his son's life. 
9. She
She is a unique Indian web series that tells the story of a female constable who has to work as an undercover prostitute in order to bring down a drug mafia. 
10. Yeh Meri Family
Nothing will hit you harder with nostalgia than this TVF original. If you are ready to travel back to your childhood days during the 90s summer, this is the series to binge-watch. By the time you are done with it, tears would take residence in your eyes and you will be left with a wholesome feeling. 
11. Kota Factory
Kota Factory is India's first-ever web series in black and white. It will take you through our country's engineering hub, Kota, and remind you of your hostel life, loyal friends, and first love.

These 11 Indian web series are some of the best web series that are internationally acclaimed. Binge-watch these series on OTT platforms to make your quarantine period memorable.