We often forget about the plots of movies within days (a week or two, if it's a really great movie). However, great songs remain with us in our hearts and playlists forever. So, today we are going to take a look at the 11 all-time best Bollywood musical movies that will always be special for us.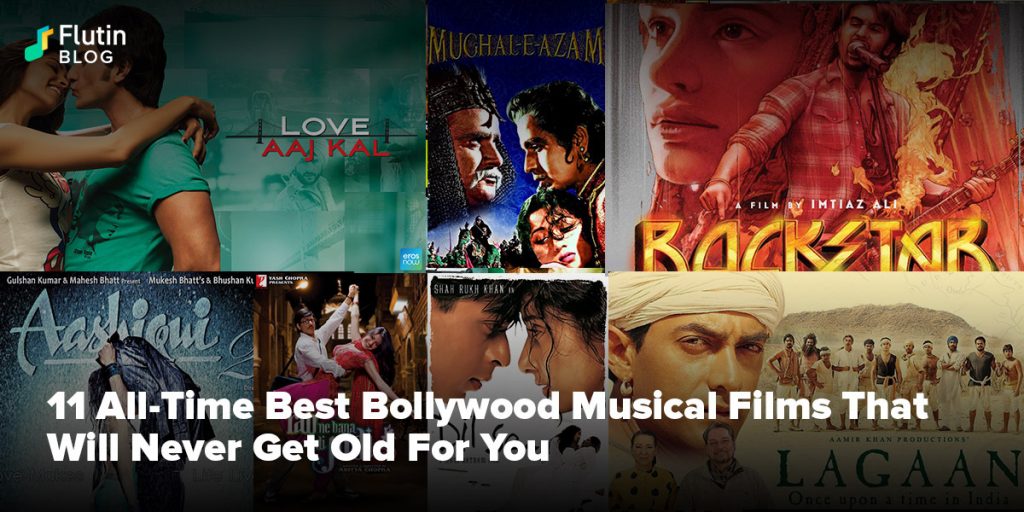 Music is what puts the essence of a story into mesmerizing tunes and beautiful lyrics. It's no surprise, hence, that certain Bollywood musicals drew people to the theatres owing to its amazing melody. Let's take a look at the 11 all-time best Bollywood musical movies that are a treat for music lovers. 
1. Mughal-E-Azam (1960) 
This masterpiece sits on the throne of the most iconic Indian musical movie of all time. Its songs like 'Pyar Kiya Toh Darna Kya' and 'Teri Mehfil Mein' are evergreen classics. 
2. Hum Aapke Hain Koun..! (1994) 
When you hear the term Bollywood musicals, this is the first movie that pops up in your mind. 'Didi Tera Devar Deewana' still tops the wedding playlists. 

3. Dil Se (1998) 
Any list of iconic Indian musical movies would be gravely incomplete without the movie which introduced us to A.R. Rahman's genius creations like 'Dil Se' and 'Chhaiya Chhaiya'. 
4. Lagaan (2001) 
Lagaan is especially renowned for the song 'Mitwa', a beautiful blend of Sufi folk music with Sufi rock. 
5. Rab Ne Bana Di Jodi (2008) 
The title track of this movie along with 'Haule Haule' touched our souls whereas 'Dance Pe Chance' made us shake our legs. 

6. Love Aaj Kal (2009) 
This movie endowed upon us one mega-hit after another. From dancing on the streets to 'Chor Bazari' to breaking the dance floor to 'Aahun Aahun', Pritam sure knows how to win our hearts with music. 
7. Ajab Prem Ki Ghazab Kahani (2009) 
This movie had a golden album that gave us a love anthem ('Tera Hone Laga Hoon'), a party song ('Main Tera Dhadkan Teri') as well as a song to go through heartbreaks ('Tu Jaane Na').
8. Cocktail (2012) 
There have been really rare Bollywood musical dramas all tracks of which have topped the charts. Pritam gave us some unforgettable tracks like 'Daaru Desi', 'Main Sharabi', and 'Tumhi Ho Bandhu'.

9. Rockstar (2012) 
Rockstar is one of those Bollywood musicals which would be nowhere near as great it is without its music. A.R. Rahman's heavenly musical compositions voiced by the greatly talented Mohit Chauhan introduced us to music that we have never experienced before. 'Nadaan Parindey' lunges you into deeper thoughts about love and life, 'Tum Ho' makes you feel the power of love, 'Kun Faya Kun' makes you feel connected to the Almighty and 'Jo Bhi Main' voices the vulnerability deep inside of you. 
10. Yeh Jawani Hai Deewani (2013) 
This movie gave us some wonderful tracks as well. 'Kabira' became the lyrical embodiment of heartbreak, 'Badtameez Dil' gave us insanely catchy beats to groove to, and 'Balam Pichkari' made Holi all the more fun for us. 
11. Aashiqui 2 (2013) 
This movie and its songs do not require any formal description. Arijit Singh's mesmerizing vocals gave us our greatest love anthem 'Tum Hi Ho'. 'Piya Aaye Na' and 'Chahun Main Ya Na' are other melodic masterpieces. 

There are numerous other remarkable Bollywood musical movies that we couldn't fit into this list like Dilwale Dulhania Le Jayenge, My Name Is Khan, Ae Dil Hai Mushkil, and others which gave us outstanding treats for our ears. Install the Flutin app to listen to all these songs for free and share them with your friends and family!