From thousands of entries for the virtual music contest to the top three finalists, the journey to finding India's best upcoming Flutin HomeStars has been intriguing. Let's take a look back at this incredible journey and meet the top three finalists.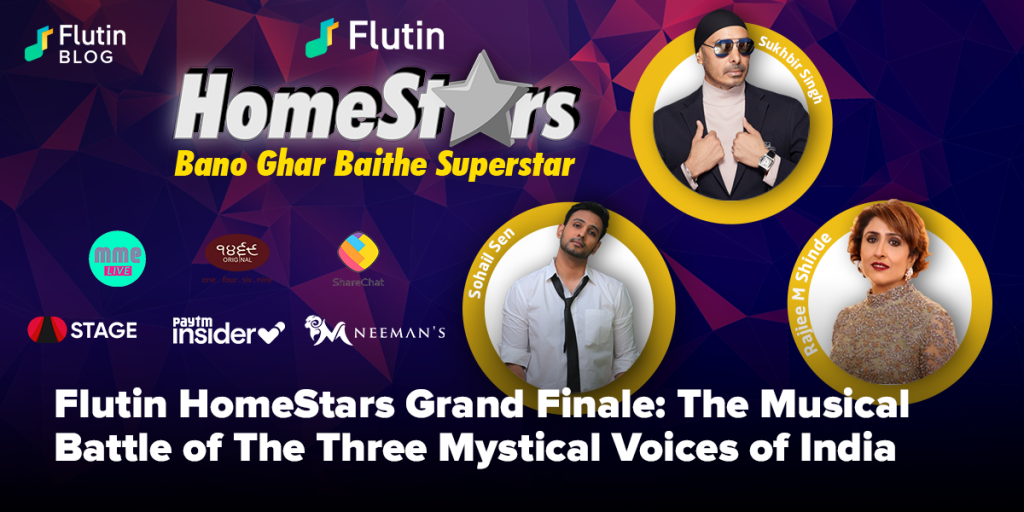 Flutin's sole objective has been to give talented independent artists a platform to showcase their passion and love for music. Even the COVID-19 has been unsuccessful in wavering Flutin's commitment to giving indie artists the opportunity they deserve. In light of the new reality of life, Flutin introduced a virtual music contest named HomeStars to encourage aspiring artists across the country to keep chasing their dreams. After an exciting journey to finding the top three finalists, the grand finale is set to take place on the 7th of June at 7 pm.
Previously on Flutin HomeStars
To begin with, Flutin had asked aspiring singers to submit their entry videos on their official website. Thousands of such entry videos were judged by Sukhbir Singh, Sohail Sen and Rajiee M Shinde. Out of these thousands of participants from across the country, 15 artists were shortlisted by the aforementioned panel of judges.
These 15 artists then gave live performances on the official website and app of Flutin as well as on Flutin's social media channels. People across the country enjoyed these performances and voted for their favourite performers. These votes were then counted and the three artists to get the most number of votes were selected as finalists of Flutin HomeStars.
Meet the finalists
Let's take a quick look at our top three finalists who are going to engage in a musical battle this 7th of June:

Anushka Patra – Anushka, from Kolkata, is the youngest of the three finalists. Although she may be a high school student of just 13 years of age, her mesmerizing voice and terrific talent so early on in life is reflective of the bright future that lay ahead of her. Making her way to the top from among thousands of participants, Anushka is definitely the one to watch out for. She is the living proof of the fact that talent has no age.


Omkar Shirwaiker – Omkar is a B.Tech engineer from Goa. The fiery passion for music and the pure talent of this 25-year-old lad has landed him a spot among the top three finalists of Flutin HomeStars. He is truly an inspiration for youngsters out there who love music but have chosen different career paths.


Himanshu Kumar – Unlike Omkar, Himanshu has been pursuing a career in music. Originally from Bihar, he is working with Evergreen Public School in Delhi as a music teacher. His undying love for music and his yearning for the opportunity to make it in the musical world can be felt in his deep and soulful voice.


One of these three finalists will be crowned as the first-ever winner of Flutin HomeStars. He or she will receive a cash prize of ₹25,000 along with an opportunity to launch his or her own composition with Flutin paying for all the expenses and under the guidance of the Prince of Bhangra Sukhbir Singh along with Sohail Sen and Rajiee M Shinde. The first and second runners up will receive a cash prize of ₹15,000 and ₹10,000 respectively.
Catch the clash of musical talent live
The grand finale of Flutin HomeStars is going to be held live on the 7th of June from 7 pm onwards. You can catch the action live on the official Flutin website and mobile app. During the finale, live voting will go on. So, make sure to vote for your favourite and give him or her this once-in-a-lifetime opportunity. Gear up for the upcoming clash of our three musical titans and install the Flutin app today.
Also, the next instalment of Flutin HomeStars is going to be HomeStars Rapchik, featuring some of the best rap artists from across the country, battling to become the best rapper of India. The submissions for the competitions will remain open between 20th July and 6th August. So watch out!