Irshad Kamil is a rare Bollywood lyricist who has the capability of stealing your heart with his soulful lyrics. He has given Bollywood some of the most iconic songs with heartfelt lyrics. Let's take a look at 11 of Irshad Kamil's songs that will move your innermost core.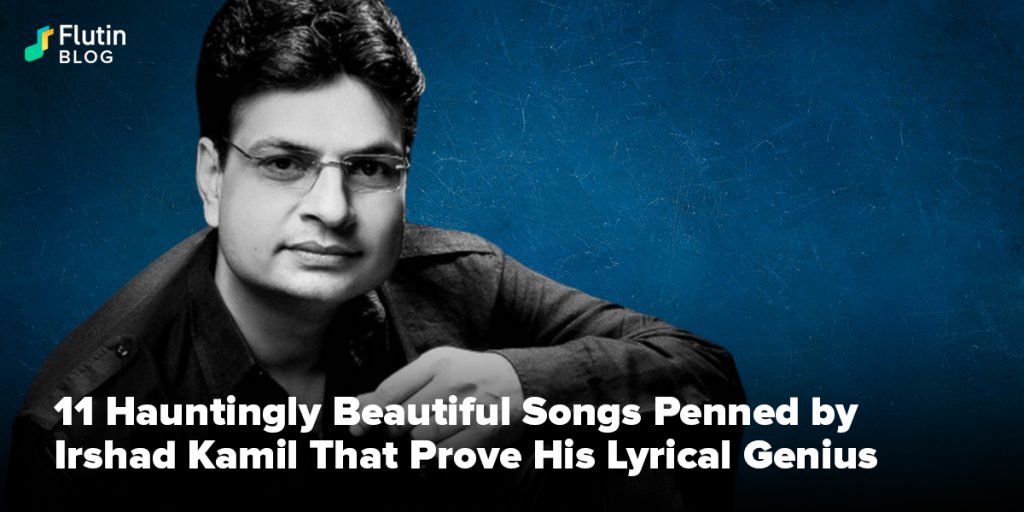 Soulful lyrics enveloped in mesmerizing music have the power to evoke deep emotions within your heart. Such heartfelt lyrics are often penned down by Bollywood lyricist Irshad Kamil. His brilliance in poetry ( Kamil holds a PhD in Hindi poetry) is undoubtedly reflected in the songs that he writes. Especially at these unsettling times, Irshad Kamil's songs offer the much-needed peace and solitude. If it weren't for Irshad Kamil, Bollywood would not have been blessed with these 11 touching songs.

1. Nadaan Parindey – Rockstar

There is no better example of how emotionally stirring Irshad Kamil's lyrics are than this masterpiece. Urging the innocent to come back home, the lyrics have deep meanings that leave you awed once you dive deeper.

2. Kun Faya Kun – Rockstar

Another deserving mention from Rockstar – the movie hit us with one soul-stirring song after another. Close your eyes and let Irshad Kamil's lyrics fill your mind with the idea of the Divine Creator, love, pain, spiritualism, separation and vulnerability.

3. Tu Jaane Na – Ajab Prem Ki Ghazab Kahani

Even though this movie was a romantic comedy, the heartfelt lyrics of this song makes you feel the pain of one-sided love. However, even in this pain resides some beauty and no one could have done justice in putting this beauty in commendable poetry than the master himself.


4. Tum Se Hi – Jab We Met

Tum Se Hi is still one of the most beautiful songs that couples rely on to express their feelings for their loved ones. Irshad Kamil's lyrics will take you back to the time when you had just fallen for someone and couldn't stop thinking about that person.

5. Tu Koi Aur Hai – Tamasha

The soulful lyrics of this monumental song will open your mind and make you realize that you should stop being someone who is not you. It inspires you to break all your boundaries and come out and face your true self.

6. Bhaage Re Mann – Chameli

This song is enchantingly beautiful once you realize the context of it related to the movie. It remarked the freedom of Chameli despite her being imprisoned in the world of prostitution. Irshad Kamil's lyrics open our eyes to the fact that even prostitutes have the basic liberty of thought.

7. Aaj Din Chadheya – Love Aaj Kal

The deeply meaningful lyrics of this song is an ode to the charm of the yesteryear. It talks about a lover's plea to God to unite him with his lover for which he is ready to give up shenanigans.

8. Chahun Main Ya Na – Aashiqui 2

Irshad beautifully describes the tender vulnerability and uncertainty that young love feels. We have all been in that moment when we look for all the signs from our crush that confirms our love and Irshad's lyrics create that magical world mesmerizingly.

9. Aahun Aahun Aahun – Love Aaj Kal

Well, Irshad is the master of every kind of song. However, the lyrics of this dance number are profoundly meaningful once you listen to them carefully.


10. Agar Tum Saath Ho – Tamasha

This song deserves an all-time spot in one's playlist. Many of us have built up frustration inside and when it comes bursting out, we need the solitary shoulder of that one person who can calm us down. Irshad has done a commendable job in capturing that essence of vulnerability and yearning.

11. Safar – Jab Harry Met Sejal
Irshad weaves magic with the lyrics of this song, making us recognize the madness in getting lost in our journey.

Irshad Kamil has undoubtedly penned down some of the most beautiful songs ever. His soulful lyrics provide our heart with the beautiful reality of life and love and makes us feel all the emotions that are part of the journey. To listen to these wonderful Irshad Kamil songs and more for free, install the Flutin app today!