If you're looking to have a blast while hanging out with your friends, we urge you to try out the dumb charades game. How will it be hilarious you ask? Well, here are 10 funny movie titles in Hindi dubbed from South India that will leave you and your friends gasping for air.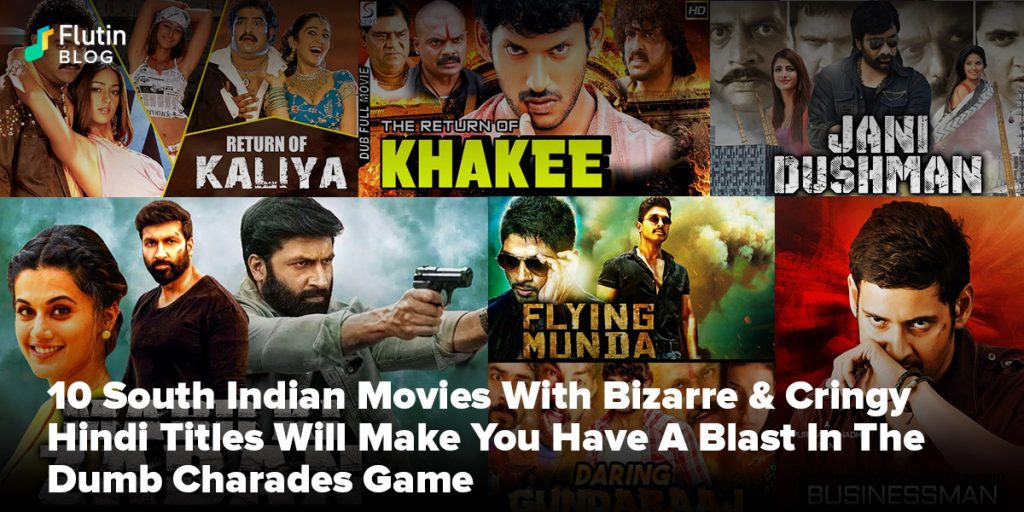 You may now be getting a tinge of nostalgia thinking about those times when you watched Hindi dubbed movies of South India on Sony Max or Zee Cinema. If you would like to laugh your behind off with your friends, it's time to revisit these funny movie titles while playing a game of dumb charades. Here are 10 funny South Indian movies with bizarre Hindi titles that will give you and your friends a pain in your abdomen.

1. Mard Ki Zabaan (Mogudu – Telugu)
While Mogudu translates to 'husband', we have no idea who came up with the title Mard Ki Zabaan. Good luck trying to explain this movie title to your friends without bursting out with laughter.
2. Flying Munda (Parugu – Telugu)
While the movie features the great actor (and an even greater dancer) Allu Arjun, its title was dubbed as Flying Munda for some apparent reason, which we can't quite explain. In case you're wondering, the title has nothing to do with the plot of the film.


3. Godzilla Mere Saathi (Adhisaya Ulagam – Tamil)
No, we can't possibly tell you what came over the person who was entitled to dub funny South Indian movies in Hindi. We can assure you that your friends are going to have a tough time guessing these dumb charades movie names while you gasp for air from laughing.
4. The Return Of Kaalia (Rakhi – Telugu)
Yes, we know what you're thinking – Rakhi is a perfectly fine title in itself that didn't need any dubbing. Instead, they changed it to something that doesn't make any sense as far as the plot is concerned. One would think that a film featuring Ileana D'Cruz and Jr. NTR. deserved better.
5. Maa Kasam Badla Loonga (Yogi – Telugu)
Featuring the iconic duo Prabhas and Nayantara, the Hindi dubbed version spoiled everything for this film. We can't tell you for sure whether the person dubbing the title had any personal revenge to take against someone in particular or the industry itself.

6. No. 1 Businessman (Businessman – Telugu)
There seems to be some weird obsession of people with adding 'No. 1' to movie titles (Hero No. 1, Biwi No. 1, Cookie No. 1) and they didn't spare South Indian movies as well. Talk about being overly dramatic!
7. Jaani Dushman (Balupu – Telugu)
They didn't even let existing Hindi titles remain in peace. While your friends might think this to be the Hindi movie title, we look forward to you explaining to them what you meant and watching their horrific reactions.

8. Daring Gundaraaj (Aatadista – Telugu)
Isn't the whole point of being a Gunda doing daring stuff that no one else would think of doing? Well, we can't possibly reason these dubbed titles with logic. We can, however, laugh it off.
9. The Return Of Khakee (Satyam – Tamil)
Why is Khakee returning? Did we miss Khakee the first time? We don't want to come in the way of you having fun over the return of Khakee.
10. The Return Of Zid (Thimiru – Tamil)
Thimiru was a blockbuster film in the year 2006. However, it's Hindi dubbed version will make you question everything you know. Again, it seems like we missed Zid the first time. We're sure you certainly don't want to experience its return. But we do know that you would enjoy messing with your friends with this bizarre movie title.

While the funny movie titles dubbed in Hindi sure are perfect to have fun in the dumb charades game, the original South Indian movies do have some beautiful songs. Download the Flutin app to listen to these melodies for free!