On 14th of June 2020, the nation had to bitterly bid goodbye to a young superstar as Sushant Singh Rajput took his own life in his Bandra residence. He was a part of some of the most popular Hindi songs that Bollywood has ever produced. While we mourn the tragic loss of one of the finest actors of our time, check out these 15 Sushant Singh Rajput songs to remember the late Bollywood star by.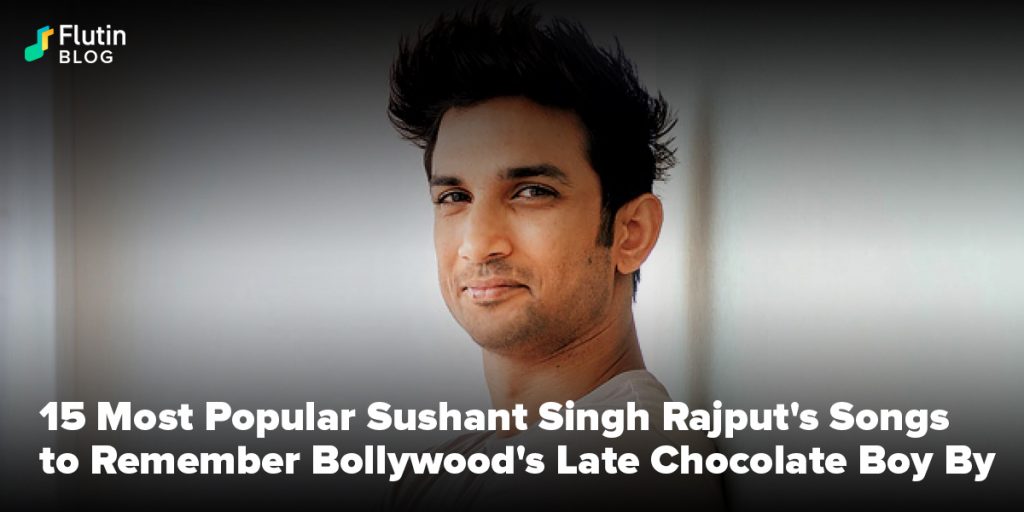 While Sushant Singh Rajput's death has taken the entire nation by shock and shed light upon the importance of mental well being, we can't help but wonder what could have been if the young superstar had still been with us. While we could see a sea of potential in the late Bollywood star, we have to accept the sad reality and do what he would have wanted us to do – celebrate his iconic performances and listen to his outstanding Hindi songs. Here are 15 Sushant Singh Rajput songs to remember the chocolate boy of Bollywood by. 
1. Main Tera Boyfriend – Raabta
Main Tera Boyfriend became an instant party hit which showed Sushant displaying some sick moves on the dance floor.

2. Gulabi – Shuddh Desi Romance
Shot in the Pink City of India, this song remains one of the most popular romantic numbers of all time.

3. Kaun Tujhe – M.S. Dhoni: The Untold Story
Sushant Singh Rajput gave his fans yet another song to celebrate and express their love for each other.


4. Manjha – Kai Po Che!
This song is all about keeping one's hopes and dreams alive and not giving up in the face of obstacles. Even though he took such a drastic step, Sushant made sure his fans could be inspired from his Hindi songs with strong messages.

5. Makhna – Drive
Even though the movie wasn't a big hit, this song became a raging number on the charts and a favourite party anthem.

6. Sweetheart – Kedarnath
This beautifully shot song dazzled with Sushant's killer of a smile will put a smile on your face any day.


7. Control – Chhichhore
Control is a motivational anthem which will inspire generations of college students to achieve their dreams by overcoming all hurdles along their way.

8. Meethi Boliyaan – Kai Po Che!
This is probably one of the best Sushant Singh Rajput songs to remember the young superstar by – a smiling lad filled with hopes and dreams and breaking conventional boundaries to do what he loves the most.

9. Shuddh Desi Romance – Title Track
Another one of Sushant's fun and cute songs – this one will definitely make you hum along.


10. Chaar Kadam – PK
A song that urges one's partner to go through life with them laughing and making each other laugh by defeating all the struggles along the way, it makes us wish that we could have done the same for him.

11. Jab Tak – M.S. Dhoni: The Untold Story
Jab Tak is a soothing romantic number that gives us a glimpse of the love story of Dhoni and Sakshi – only Sushant Singh Rajput could have done justice to the story of the former Indian cricket team captain the way he did.

12. Paas Aao (Single)
Sushant Singh Rajput surprises us yet again as he turns a jingle into a raging party number with infectious dance moves. 

13. Namo Namo – Kedarnath
In a time when everyone wanted to create romantic numbers, party anthems and songs about heartbreak, Sushant Singh Rajput brought forward the beauty of devotional numbers. 
14. Ruan Ruan – Sonchiriya
This soft and soothing song, featuring the talented Sushant Singh Rajput backed by Arijit Singh's mesmerizing vocals, will surely take a permanent place in your playlist. 
15. Woh Din – Chhichhore
We conclude our list with a song that will take you on a nostalgic trip down the memory lane to your college days – and, from here onwards, the days when we got to book our tickets for the first day, the first show to watch yet another incredible performance by Sushant Singh Rajput.

Let's remember Sushant Singh Rajput by the message his movies and songs put forward. Let's pay our respects to him by loving the ones close to us and helping each other through tough times. Download the Flutin app and create your own playlist of the best Sushant Singh Rajput songs to forever seal his smile in your heart and share it with your friends and family to let them know that you love them and will always be there for them.