10 Star Kids Whose Bollywood Career Couldn't Thrive Despite Having Great Connections
June 25, 2020
Bollywood stars try really hard to launch their kids and help them enjoy an equally marvellous career. However, there are many Bollywood star kids who prove that you need more than easy to make it in Bollywood. Today, we take a look at 10 unsuccessful star kids whose career couldn't be saved by even nepotism in Bollywood.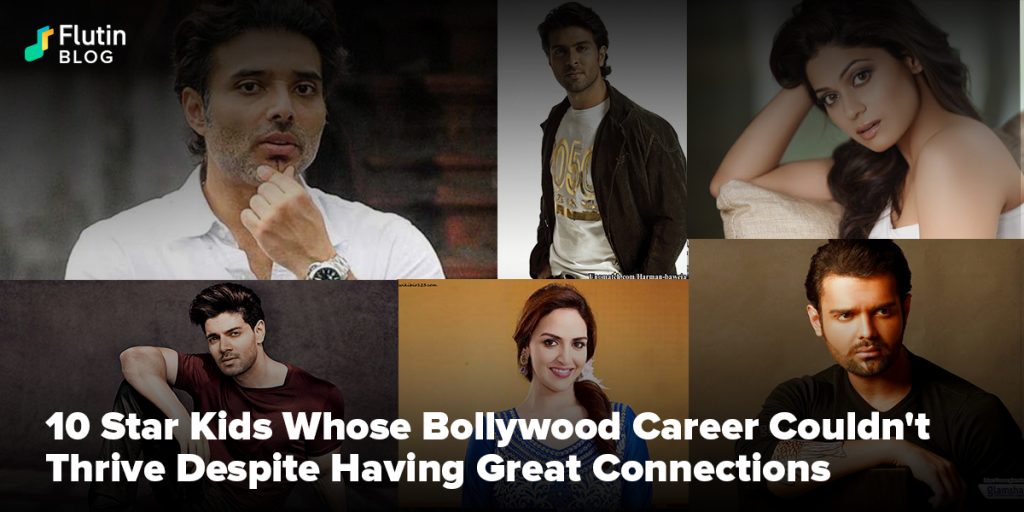 Nepotism in Bollywood is a phenomenon that we have been seeing since we started watching movies. However, nepotism has failed to be the key to success in the case of several star kids who turned out to be flop Bollywood actors. Today, we take a look at 10 such unsuccessful star kids who couldn't survive in Bollywood despite riding the boat of nepotism. 
1. Uday Chopra
One might have expected Yash Chopra's son to have no trouble in getting one blockbuster movie after another. However, his forgettable performances in various flop movies between his debut film Mohabbatein and his last film Dhoom 3 were the doom of his career. 
2. Tanishaa Mukerji
Being the daughter of renowned actress Tanuja and the sister of Kajol, it was natural to have high expectations from Tanishaa as well. However, her debut movie Neal n Nikki bombed and now we somewhat remember her as an Ex-Big Boss contestant. 

3. Tusshar Kapoor
Jeetendra is an actor who was immensely loved by the audience in his time and had left behind big shoes to fill. However, his son, Tusshar Kapoor, couldn't live up to his father's stature despite several opportunities and his only memorable performance remains the character Lucky from the Golmaal franchise. 
4. Fardeen Khan
As awe-inspiring as Firoz Khan's screen presence was, his son Fardeen Khan started out with a movie Prem Aggan and we know how that went (the Pretentious Movie Review says it all). He then went on to give performances that nobody remembers today. 

5. Esha Deol
Born to the superhit actress Hema Malini and evergreen actor Dharmendra, one might have expected Esha Deol to be a superset herself in the snap of a finger. Unfortunately, the only highlight of her career remains the movie Dhoom. 
6. Sooraj Pancholi
Bollywood star kid Sooraj Pancholi, son of Aditya Pancholi, made his debut in the movie Hero. After various controversies and a long break, he got another chance to prove his worth in Satellite Shankar. Sadly, the audience had moved on till then. 
7. Harman Baweja
Son of the renowned director Harry Baweja had lots of eyes on him for his resemblance to the nation's heartthrob Hrithik Roshan. However, his debut movie Love Story 2050 along with the rest of his six movies were sheer disasters. 

8. Mahaakshay (Mimoh) Chakraborty
For the son of the phenomenal Disco Dancer himself, Mimoh's career suffered a massive landslide from his debut movie Jimmy. 
9. Shamita Shetty
Shamita Shetty's Bollywood career was nowhere near as grand as her sister Shilpa Shetty's was. She made her debut along with Uday Chopra in the movie Mohabbatein. Despite debuting with biggies like Amitabh Bachchan and Shah Rukh Khan, she soon disappeared from the big screen. 
10. Adhyayan Suman
Born to famous TV personality and Bollywood actor Shekhar Suman and Alka Suman, Adhyayan too became one of those Bollywood star kids who failed to thrive in the show biz. After his movies like Jashnn and Haal-E-Dil tanked at the box office, his father became a director for him for the movie Heartless which was, unfortunately, a colossal failure as well.

We are sure that you might have already forgotten many of these unsuccessful star kids and their movies. However, if you want to remind yourself just for fun, install the Flutin app to listen to their songs and more!