Once again, the season of the delightful pitter-patter of rain easing our minds and the cool winds brushing our cheeks are upon us. This season inevitably reminds us of several romantic rain songs that Bollywood has showered upon us to make our monsoons memorable. Let's take a look at 10 of the best iconic rain songs for a perfect monsoon playlist.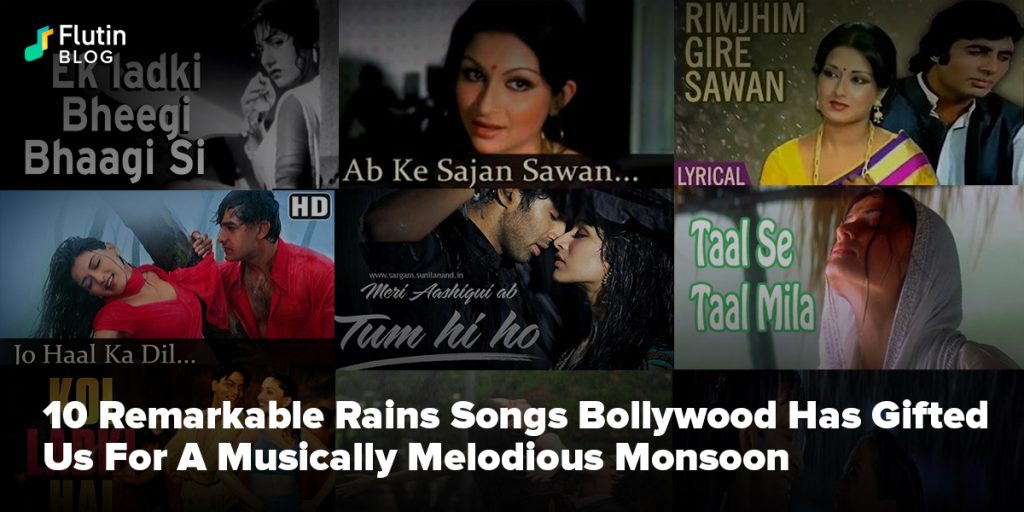 Monsoon can rightly be called the season of and love. Bollywood has extensively and effectively used this beautiful form of nature to convey love, passion, romance, drama and poetry through some iconic Bollywood songs. So, whether you are the type of person who likes to enjoy the rains on your cozy couch with a hot cup of coffee and rain music playing in the background or the type of person to go out there and dance to rain songs while getting drenched, here are 10 of the best romantic rain songs for your monsoon playlist. 
1. Ek Ladki Bheegi Bhagi Si
While there's actually no rain in this song, rain-soaked Madhubala being beautifully described by Kishore Kumar will undoubtedly make you feel happy and hum along. 
2. Rim Jhim Gire Saavan
This is one of the best monsoon season songs of all time. While the Kishore Kumar's version is shot indoors, the Lata Mangeshkar's version gives you a glimpse of Mumbai city and its beaches. 


3. Koi Ladki Hai
This is one of those rain songs that brings out the inner child in you who becomes playful in the rain and wants to jump in every puddle that comes insight.

4. Ab Ke Saawan
This one celebrates the beauty and serenity of rain. Besides, Shubha Mugdal's strong and powerful vocals put the icing on the cake. 
5. Hum Tum
This number is a beautiful love ballad that is also one of the best romantic rain songs of all time. Kudos to Rani Mukherjee and Saif Ali Khan for amazing sensual chemistry in the rain. 

6. Tum Hi Ho
No list of romantic rain songs would be complete without this masterful melody by Arijit Singh. Admit it, standing with your loved one in the rain under a coat and making out is every lover's dream. 
7. Jo Haal Dil Ka
It would be incredibly wrong if you don't include this track in your monsoon playlist, which is one of the most vibrant and passionate numbers created by Bollywood. 
8. Idhar Chala Main Udhar Chala
This track from the movie Koi Mil Gaya successfully depicts the joy and glee of shaking a leg in the rain. 
9. Taal Se Taal Mila
Everything about this song is remarkable – Rahman's music, the soulful lyrics, the amazing picturization, the melodious voice of Udit Narayan and Alka Yagnik, and drenched Aishwarya Rai dressed in white dancing like a dream in the rain. 
10. Tum Se Hi
This is probably one of the most popular romantic rain songs of all time. A beautiful ballad about love expressing all the emotions that a lover feels for his or her special someone while Kareena Kapoor and Shahid Kapoor dance their hearts out in the rain – this number must make it to your monsoon playlist. 

We know that we have missed quite a lot of iconic Bollywood songs that are ideal for this rainy season. Forgive us as enlisting every song would make this a never-ending article. Instead, install the Flutin app to discover more rain songs and create, share and dedicate your monsoon playlist with your loved ones.