Lovingly known as 'Masterji' in the industry, legendary choreographer Saroj Khan took her last breath on 3rd July 2020. Arguably the best choreographer in Bollywood, Saroj Khan has choreographed some iconic songs in her career spanning over four decades. As we bid farewell to this veteran choreographer, let us look at the most unforgettable dance songs that will forever remain in our hearts.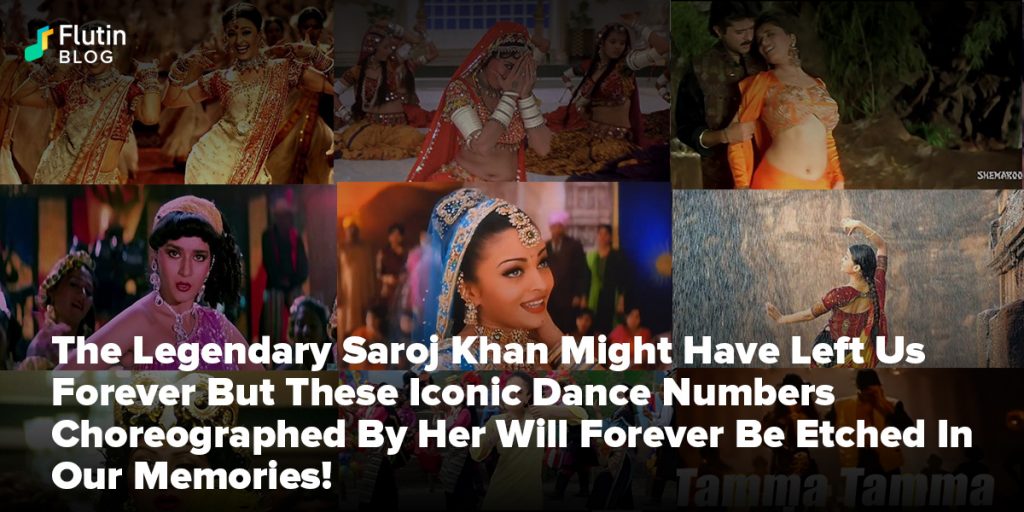 Three-time National Award winner choreographer Saroj Khan succumbed to a heart attack on the morning of 3rd July 2020. This magnanimous choreographer, globally known for giving Hindi movies some of the most iconic songs of all time, will forever be cherished for her unsurmountable career and contribution. We have enlisted below 15 of the most exceptional dance songs choreographed by the dance maestro herself. 
1. Ek Do Teen
When you think of Madhuri Dixit and Saroj Khan, this is the first song that pops in everyone's head. Thanks to Khan, Madhuri's iconic steps are talked about even to this day.

2. Dhak Dhak
With this song, Saroj Khan redefined what songs could mean to films. Her bold and sensual choreography delivered by Madhuri Dixit with sheer perfection is and will remain unparalleled.


3. Hawa Hawai
Hawa Hawai was the song that declared Khan as the best choreographer and a rising force in the industry. When one listens to this song, it just takes the first beat for them to be reminded of Sridevi's extraordinary steps.

4. Dola Re Dola
No other choreographer could have visualized this song with better choreography than Khan and no other duo could have given a better performance than Madhuri and Aishwarya. We leave it at this as no amount of words or description could justify the beauty and brilliance of this number.

5. Nimbooda Nimbooda
Besides Khan and Dixit, another unmatchable duo remained Khan and Aishwarya, which can be clearly witnessed in this song. Saroj Khan had the rare talent of infusing emotions in every dance step.


6. Yeh Ishq Haye
The grandeur of Saroj Khan lies not just in her talent to come up with iconic dance steps but also in her excellence of understanding a character and assigning dance moves accordingly. This brilliance of Khan is evident in this evergreen song from Jab We Met.

7. Choli Ke Peeche
Saroj Khan and Madhuri Dixit stunned the audience yet again with this blockbuster number. While the song remains a bit controversial owing to its lyrics, Saroj Khan ensured that Madhuri and Neena Gupta appeared graceful and charismatic while starring in it.

8. Tamma Tamma Loge
A song with a length of over 6 minutes could prove to be a challenging feat for any choreographer. But, Saroj Khan proved her magnificence yet again as she turned this song into one of the most unforgettable dance songs for generations to come.


9. Humko Aaj Kal Hai
Once again, Saroj Khan and Madhuri Dixit managed to deliver magic on screen with Khan's impressive choreography and Dixit's dance to perfection.

10. Chane Ke Khet Mein
Believe it or not, it was Saroj Khan who turned Madhuri Dixit into a renowned dancer (as she is known today) and it was her who taught Dixit to move her hips as she does. Even to this day, girls and women try to recreate Madhuri's steps in this terrific number.

11. Barso Re
Saroj Khan's brilliant choreography and Aishwarya Rai Bachchan's perfect delivery still inspires every Indian woman to recreate the magic whenever it rains.

While Saroj Khan might have left this Earth, her legacy will always live on through the above iconic songs and more. Install the Flutin app to create your own playlist of Saroj Khan dance numbers for free!