It's no surprise that Bollywood actors are a bunch of supremely talented people. However, some actors possess the potential of becoming successful Bollywood singers if they wanted to. Here are 11 popular film songs which showcased the talent of actors turned singers.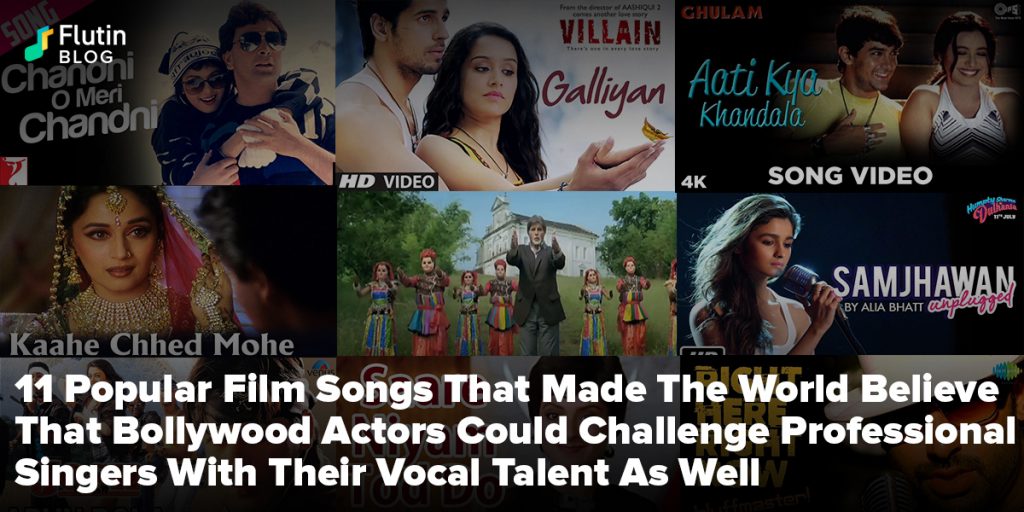 Bollywood actors are known for exploring diverse acting and storytelling areas and surprising us with their many talents. But did you know that some actors can sing as well as professional Bollywood singers? Here are 11 popular film songs, sung by talented actors, which will make you root for these actors turned singers.

1. Chandni O Meri Chandni
The iconic duo of Rishi Kapoor and Sridevi is what people are hooked on while watching this song. But, did you know that yesteryear superstar Sridevi lent her own voice in this song? Well, now you do.

2. Rang Barse
Big B has given us numerous hits over the years, but this is the one that remains in our hearts and minds each year, especially during Holi.


3. Samjhawan
Alia Bhatt has not been a stranger to singing, having lent her voice for a song in her debut movie Highway. But the unplugged version of this song sung by the actress took everyone's breath away as she gave lovers another anthem to express their heart's desire.

4. Teri Galliyan
Actresses of this era seem to be born with incredible singing capabilities, and Shraddha Kapoor is no less. Her unplugged version of the song Teri Galliyan was touching and heartwarming.

5. Senorita
Bollywood's dancing king also has a knack for singing as he beautifully sang the song Senorita. This song also witnessed Abhay Deol and Farhan Akhtar joining in on the vocals. 


6. Kaahe Chhed Mohe
Not many would expect the dancing diva of Bollywood also to be a phenomenal singer. Yes, Madhuri Dixit crooned a few lines in this masterpiece of a song from Devdas. 

7. Apun Bola Tu Meri Laila
When it came to Bollywood actors trying their hands at singing, King Khan was not far behind. This number from Josh became an instant hit and topped the charts for a long time.

8. Sare Niyam Tod Do
The evergreen diva of Bollywood, Rekha, inspired actresses to sing for their characters by singing this track and another one (Qayda Qayda) from the movie Khubsoorat.


9. Aati Kya Khandala
This fun tapori-style song, sung by Aamir Khan, is a hit among youth even to this day. This catchy one is hard not to sing along to.

10. Chalo Jaane Do
Juhi Chawla is known for several stellar performances over the years. The actress added a new dimension to her career as she beautifully sang this song alongside Big B.

11. Right Here Right Now
Following his father's footsteps, Abhishek Bachchan gave us this groovy hit from the movie Bluffmaster which also provides an insight into his insane rapping skills.

Bollywood actors have been lending their voices for singing since the beginning. From legends like Kishore Kumar and Noor Jahan to young stars like Alia Bhatt and more, install the Flutin app to listen to all these actors' incredible songs for free!