The‌ ‌rise‌ ‌of‌ ‌desi‌ ‌rap‌ ‌culture‌ ‌can‌ ‌be‌ ‌credited‌ ‌to‌ ‌the‌ ‌Mumbai‌ ‌slums,‌ ‌in‌ ‌general,‌ ‌and‌ ‌rappers‌ ‌Naezy‌ ‌and‌ ‌Divine,‌ ‌in‌ ‌particular.‌ ‌‌Naezy's‌ ‌songs‌‌ ‌about‌ ‌corruption,‌ ‌poverty‌ ‌and‌ ‌injustice‌ ‌became‌ ‌a‌ ‌rage‌ ‌on‌ ‌the‌ ‌internet‌ ‌and‌ ‌set‌ ‌the‌ ‌ball‌ ‌rolling‌ ‌for‌ ‌them.‌ ‌However,‌ ‌there's‌ ‌more‌ ‌to‌ ‌the‌ ‌story‌ ‌of‌ ‌our‌ ‌‌real‌ ‌Gully‌ ‌Boy‌‌ ‌than‌ ‌meets‌ ‌the‌ ‌eye.‌ ‌Take‌ ‌a‌ ‌look‌ ‌at‌ ‌‌rapper‌ ‌Naezy‌'s‌ ‌inspiring‌ ‌‌life‌ ‌journey‌‌ ‌from‌ ‌rags‌ ‌to‌ ‌riches.‌ ‌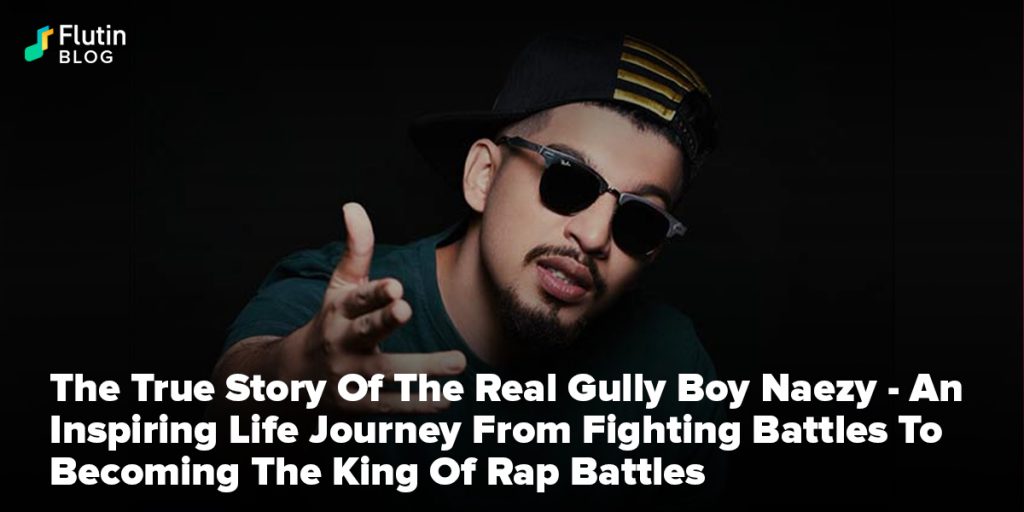 2015: Rapper Naezy and Divine take the internet by storm with their release 'Mere Gully Mein'.

2019: Zoya Akhtar gets impressed by these rappers and makes a movie inspired by their life journeys, which becomes a global hit.

Divine and Naezy's songs were already popular with the masses before Gully Boy happened. But, the movie gave them the ultimate exposure and made them superstars overnight. However, the real Gully Boy faced a lot of troubles along the way in making his dreams turn to reality.
"Growing up, no one wanted me to pursue rap as a career."
Naved Shaikh, aka rapper Naezy, was born to an orthodox Muslim family and grew up in the infamous neighbourhood of Kural in Mumbai. Sean Paul's 'Temperature' was the song that introduced Naezy to his true passion at the age of thirteen and, since then, his dream has only been to share his life journey through rap. However, he faced constant criticism from his family and people in his community, urging him to forget about rap. But, he fought his battles with all for the right to express himself the way he wants. 

"It all started with a thought about how I'm a product of East and West."
Since the beginning, Naezy used to rap about the problems he and the people in his community faced on a regular basis, but his music was inspired by the West. Dressing in sneakers and glasses during his college days, he was reminded by his family that this wasn't his culture. Henceforth, he used to maintain a dual personality – one at home and one outside. He was forced to pursue engineering as a result of which he used to drop classes to rap freestyle.
"I was in a position where everyone was expecting something from me and underestimating my real talent."
That's when he decided, at the age of 22, to rap about his frustration, record it on his iPad gifted by his dad in Dubai for video calling, and launch himself on social media. Though it won him instant fame and the song became a raging hit, his family did not have any clue about it. It was through other people that they came to know about it. Over the next few years, he made his mother and grandmother understand that rap was to him what Shayari was for them – a mere way to express his innermost feelings and thoughts. And the rest is history!

"People have tried to pull me down, but I continue to fight with my music, my words."
That's how rapper Naezy continues to inspire underground rappers to chase their dreams no matter their stories, experiences and battles. To offer such talented budding rappers a platform to truly express themselves, Flutin has come up with a virtual rap talent show – HomeStars Rapchik. If you feel that you've been deprived of your moment to shine all your life, submit your entry video today and seize this opportunity to become India's next best rapper.