If we asked you to name Hindi songs that were inspired by Hollywood songs, you'd probably have a few names ready at the tip of your tongue. Can you do the same if we asked you to name a few Bollywood inspired songs of the West? Well, after reading this, you'll be able to shut all those who dismiss Bollywood music and question Bollywood's originality. Here are 6 Western songs that took inspiration from some top Hindi songs.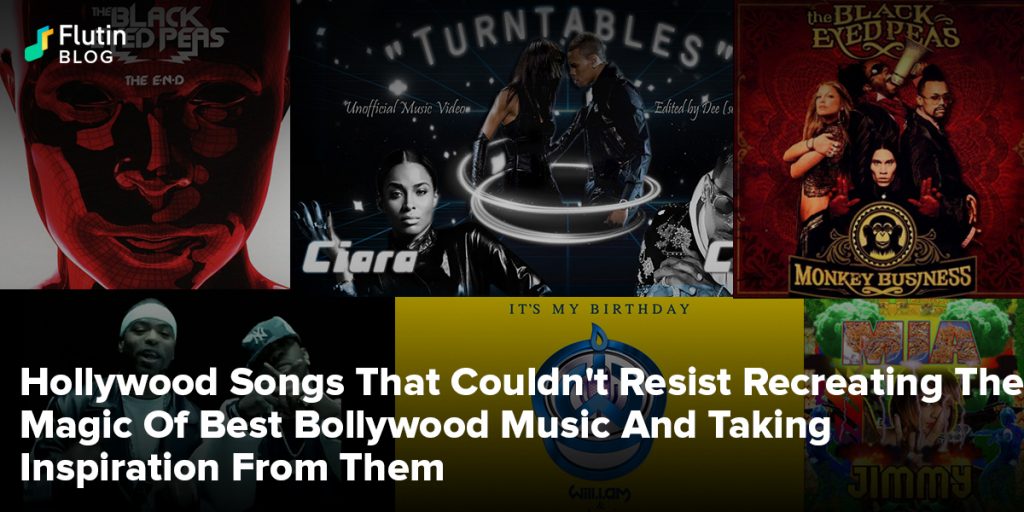 Music is an essential part of Bollywood movies and it's no wonder that, over the years, Bollywood has produced some masterpieces and timeless classics. Make no mistake in realizing the true reach of our top Hindi songs – they are not only globally heard, but Western artists have also taken inspiration time and again to recreate the essence in Western songs. Today, we have compiled a list of such Bollywood inspired songs that you can check out for yourself!

1. Don't Phunk With My Heart – Black Eyed Peas

Inspiration: Yeh Mera Dil (Don) and Aye Naujawan Hai Sab Kuchch Yahan (Apradh)

The Black Eyed Peas were giving the world one sensational hit after another back in the 2000s. This song became a favorite among their fans, especially the Indian ones, since it took inspiration from two of Asha Bhosle's superhit numbers with a bobbing rap by Will.I.Am as a bonus.


2. Turntables – Ciara Ft. Chris Brown

Inspiration: Kehna Hi Kya (Bombay)

It's no wonder that A.R. Rahman is one of the most influential artists globally and produces some of the best Bollywood music. And Ciara, like all of us, was so mesmerized with Rahman's music that she based a whole song around it. Do listen to it to know what rapping to Rahman's tunes sounds like.


3. Mare – The Black Eyed Peas

Inspiration: Hai Rama (Rangeela)

We know what you're thinking – The Black Eyed Peas seem to have been a fan of Bollywood music. Listening to this song will definitely remind you of the superhit track from Rangeela, until of course, Will.I.Am spices things up with his rap.


4. Jimmy – M.I.A

Inspiration: Jimmy Jimmy Aaja Aaja (Disco Dancer)

The track Jimmy Jimmy from the movie Disco Dancer was a sensational hit and still makes us all dance along to its beats. It became so popular that even the Western music industry got introduced to its brilliance through the track Jimmy by M.I.A.


5. What's Happenin' – Method Man Ft. Busta Rhymes

Inspiration: Dum Maaro Dum (Hare Rama Hare Krishna)

R.D. Burman was yet another renowned musician whose music was taken as inspiration for many Hollywood songs. The iconic Dum Maaro Dum saw its music being mixed up with some hip-hop by Method Man.

6. It's My Birthday – Will.I.Am Ft. Cody Wise

Inspiration: Urvashi (Humse Hai Muqabala)

Yes, another Will.I.Am song inspired by a superhit Bollywood track. With music by A.R. Rahman himself, this one is a must for birthday parties.

Western songs have time and again recognized the brilliance of Bollywood music and taken inspiration from it to add a new flare to the stunning melodies. Download the Flutin app to listen to it all and take pride in our country's music.