The Greatest Hindi Hit Songs of 2020 That Summed Up A Year Full Of New Possibilities For Bollywood
December 28, 2020
While the pandemic may have affected the entire world, Bollywood has managed to keep the show going by producing some of the greatest hits of all time. As the year comes to an end, let's take a quick look at the biggest Hindi hit songs of 2020 (and also get your playlist ready for New Year's Eve).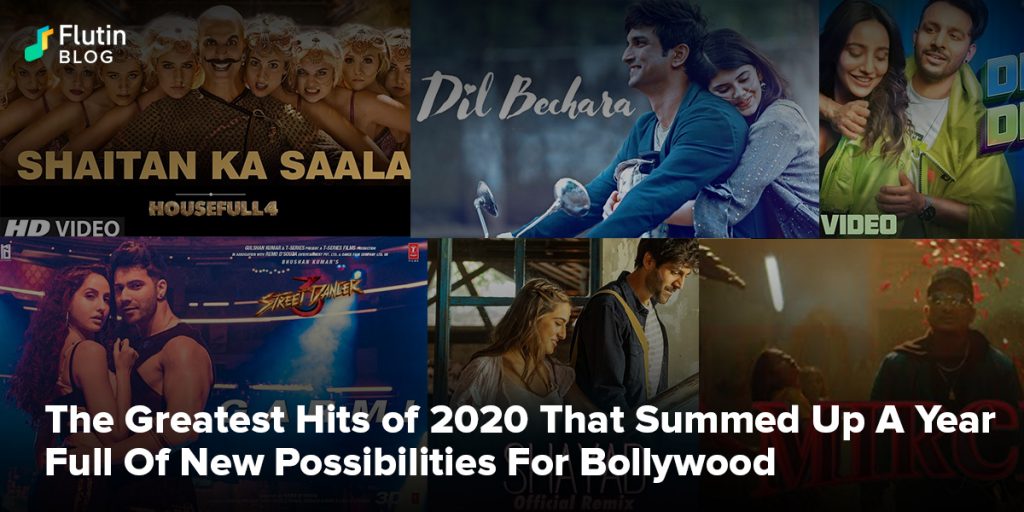 2020 was undoubtedly a year full of shocks and surprises. But, what remained the same is Bollywood's imminent potential to produce some of the greatest hits yet again. From heart touching songs to pure party tracks, the music industry took an unusual year headfirst and turned it into a year of great music. So, without further ado, let's go through the biggest Hindi hit songs of 2020.

1. Shayad


Arijit Singh is back yet again with a track for those people who are shayad in love. Starring Kartik Aaryan and Sara Ali Khan, the song speaks to the romantic hearts while moving us to shake a leg at the same time.
2. Mere Liye Tum Kaafi Ho


If there were an award for the sweetest song of the year, it would definitely go to this number sung by Ayushmann Khurrana. The movie itself was aimed at helping society ditch their homophobia and broaden their minds. And, without a doubt, Ayushmann managed to spring the charm up and convince us of his acting as well as singing talent.

3. Garmi

Speaking of the most rocking party songs of 2020, no song comes close to Garmi. Regardless of how many times you watch it or listen to it, you feel the hotness more and more – making the song live up to its title.

4. Shaitaan Ka Saala

When it comes to the year's catchiest track, this one from the movie Housefull 4 is quite unbeatable. There's no single soul who won't groove along to its insane beats, from kids to old grandpas.

5. Dheeme Dheeme


Many of us were fooled by the title of this raunchy number – it's anything but "dheeme." Sung by the party queen herself – Neha Kakkar – and Tony Kakkar, you cannot end your year without playing this at least once.

6. Aabaad Barbaad


Starring the entire cast of Ludo and sung by our very favorite Arijit Singh, Aabaad Barbaad is a kind of song that will pick up your mood and give you a reason to put that wide smile on again.

7. Dil Bechara


This title track is magical and one of the last things we have to cling on to the brilliance of late actor Sushant Singh Rajput. Packed with beautiful lyrics, Sushant's incredible dancing and A.R. Rahman's moving music, this is song that's hard to miss.

8. Mirchi


Did you think we forgot about the whole rap scene that has finally found the recognition that was long due? No, we didn't. And we know that you didn't either, which is why this track by rapper Divine (ft. Stylo G, MC Altaf & Phenom) became one of the most loved and best songs of 2020.
2020 has been a great year for Bollywood songs, with songs of each genre ruling the charts throughout the year. Have you had enough inspiration to set up your New Year's Eve playlist? Download the Flutin app today to discover more such hits, create your free virtual playlist and share it with your friends and family.