The live streaming scene has witnessed exponential growth, primarily because of the current pandemic. Artists and performers have turned to digital platforms to give life to the phrase "The show must go on." However, going to live and conducting live events is not a piece of cake. If you're new to the live broadcasting scene, here are the most common mistakes of live-streaming people make and how to avoid them.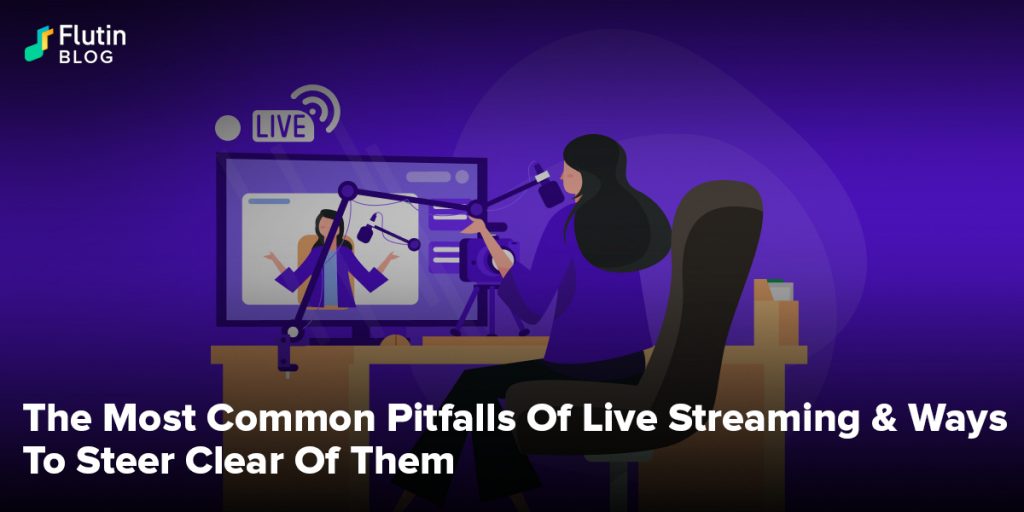 Live streaming is not that different from performing live in front of your audience. Besides the fact that you'll be in front of a camera and not an offline audience, everything else is pretty much the same – live viewers, the pressure of performing well, and more. Sounds easy, right? Well, it's not. Making and avoiding the same live broadcast mistakes that others commit can be the difference between your success and failure – even the tiniest of mistakes can turn the tables around. So, today we're going to take a look at the most common live-streaming mistakes that people make while hosting online events and how to avoid them.

1. The Absence of Prior Planning & Preparation

"I should focus on nailing my performance rather than wasting time on planning the event. I'll just go with the flow and it'll all be good."

If that thought ever comes across your mind, then you must ditch it immediately. Even if you consider yourself a pro at live streaming, there are endless things that can go wrong.


The solution: Regardless of everything, prior planning always turns out to be the primary difference between a successful live session and an unmitigated disaster. Check the lighting, camera angle and everything else way beforehand. Keep your scripts and lyrics ready. Make sure to have a clear blueprint of your live session, ready to progress smoothly.

2. Failure to Promote Your Event

After all the planning and practice, how would you feel if only a handful of people turned up to watch your show if any? Yes, that happens even to the best of us and the lack of proper promotion is always the cause behind it.


The solution: Inform your target audience of your live stream time and how to access it. If you want to go a step further, you can take advantage of social networking advertisements to spread the word. Believe us when we say that it can do wonders for your show.

3. Blind Faith in Technology

Many people trust their technology more than their partners. Okay yes, that's an exaggeration, but you get what we're trying to say. And more often than not, they end up having to end their stream abruptly due to some technical error.


The solution: Regardless of how latest your equipment is, you should always do a test run before the actual show. Check your audio and video quality, your hardware and software, and so on to avoid any undesirable happenings on the big day.

4. Turning the Live Stream Into A One Way Street

Would you watch a live stream or be interested in it if it did not involve any interaction? Yet, many people just come in, do their thing and get out. And they wonder why they lack viewership.


The solution: If people wanted no interaction, they would have simply watched a prerecorded video or read a blog. Live streams are meant to be a two-way street. Interact with your audience for a personal touch, include a Q&A segment and sing their favorite songs and watch them come back for more.

5. Inconsistency

If you think you can stream whenever you like and expect viewers to stick around, then you need to think again. Being inconsistent is one of the biggest and most common mistakes streamers make.


The solution: Why do you think TV shows air simultaneously on the same days of the week? It's for the convenience of the viewers. And that's exactly what you must do while streaming as well. Let your audience get the hang of when to tune in – this mitigates the effort required on either side.
Keep away from these common mistakes and you will have an ideal live streaming experience. Always try to think from your audiences' perspective and you will manage to make your session memorable for them. Simultaneously, they should also be prepared for some improvisations since everything might not go according to the plan.
Install the Flutin app to get your playlist ready today