2020 is almost over but, unlike each year, circumstances this year have rendered us incapable of going out partying to bid goodbye to the current year and welcome the new year. But, you must remember that entertainment knows no bounds, thanks to live streaming technologies! That's right, you can attend a concert or a gig each day in the comfort of your home and have an equal amount of fun (if not anymore). So, here is a list of the most anticipated upcoming online music events to end the year on a high!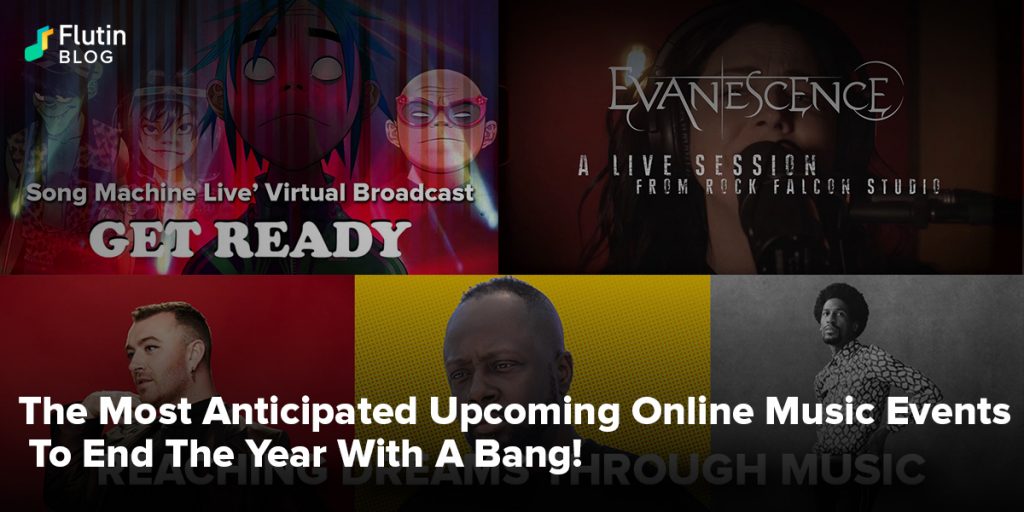 Some people are going to say, "Online events via live stream tools do not offer an experience that's anywhere close to the thrill of attending offline gigs." While we do not deny the truth in that, we will present another case to you. Could you attend offline concerts almost every day or whenever it's held? Could you enjoy those events in your pyjamas and comfortably tucked up in your bed or jumping around your living room? Could you save all the extra time and money involved in physically reaching a venue? We could present numerous other such cases but, the bottom line is, you can do all of that with online music events. So, below are a few must-watch upcoming virtual music events to attend this winter! 

1. Song Machine Live by Gorillaz

While the whole world may be going virtual this year due to the pandemic, Gorillaz – a British virtual band – joined in on it many years back in 1998. They are going to give three performances across three different time zones on 12th and 13th December. Catch them live for a memorable experience!


2. Reaching Dreams Through Music by Lang Lang International Music Foundation (LLIMF)

The LLIMF will hold its first-ever virtual concert, "Reaching Dreams Through Music," on 12th December 2020. You can watch the premiere on their official YouTube channel. The show will have several special guests like Lang Lang and his wife, Grammy award-winning singer and songwriter Sam Smith, Grammy award-winning rapper Wyclef Jean and many more!


3. Evanescence: A Live Session From Rock Falcon Studio

Fans have been waiting for the album of Evanescence, an American rock band, to drop. But, due to the pandemic, it's release had been delayed. Well, not for long anymore. The band is holding a live show on 5th December wherein they will sing songs from their album "The Bitter Truth" for the first time in front of the world. Trust us when we say that you don't want to miss this.

While this year has been one of the most unusual years in human history, it doesn't mean we cannot have a little fun while ensuring one's safety. Mark your calendars today and get ready to end the year with a bang!
Install the Flutin app to get your playlist ready today!