Javed Akhtar is the lyricist behind many of Bollywood's best songs. Javed Akhtar's writings include a variety of genres, from romantic to heartbreaking and from exciting to haunting. That's what defines our ups and downs throughout our respective journeys in life. And no other writer does justice to its authenticity more than the legend himself. So, today we are going to take a look at 8 of Javed Akhtar's best songs.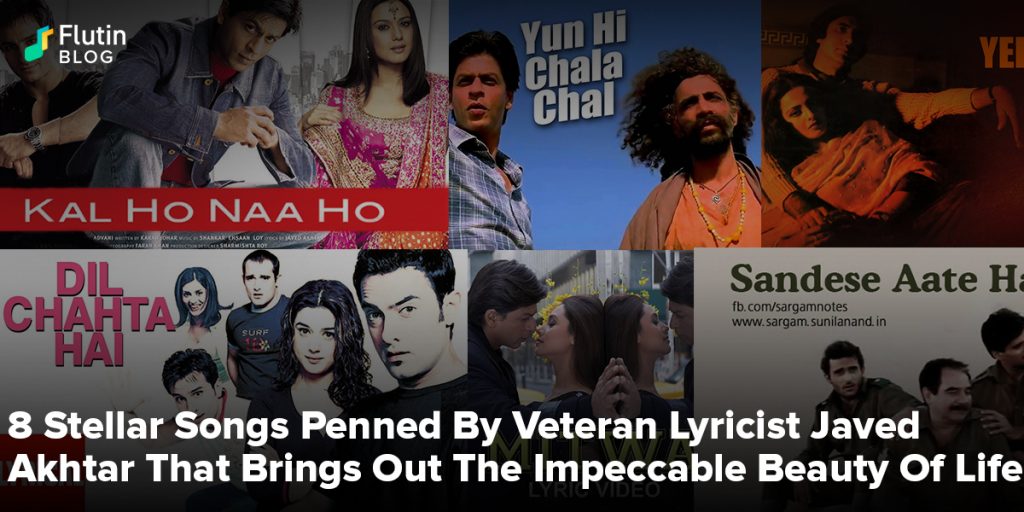 As part of the Salim-Javed duo, Javed Akhtar is the mastermind behind a host of all-time classic movies like Sholay, Zanjeer, Deewar, Don, Mr. India and many more. Besides writing some of the best movie plots, he has also penned down several of Bollywood's best songs. As the iconic songwriter turns 76 this month, we have brought to you the best of Javed Akhtar's songs.

1. In Lamho Ke Daaman Mein


This track from the movie Jodha Akbar is remarkable, to say the least. The feel and emotions between Jodha and Akbar couldn't be better described in words.

2. Iktara


Iktara, from the movie, Wake Up Sid, is undoubtedly one of Javed Akhtar's best songs. The soulful lyrics perfectly put to words the confused state of a heartbroken soul.

3. Dil Chahta Hai


There has been no better song to accurately describe what life is and how we should be living it. The first-ever collaboration of Javed and his son Farhan surely gave us many timeless masterpieces.

4. Kal Ho Naa Ho


Life is uncertain and Javed Akhtar's writings have encouraged many to live each day as if it's the last. On a quiet day, just turn on this song and really listen to the words – each moment in life will start appearing more glorious than ever before.

5. Yunhi Chala Chal


The killer collaboration of Javed Akhtar's masterful lyrics and A.R. Rahman's brilliant composition resulted in several iconic songs from the movie Swades – this being our favorite one. It motivates us to keep going no matter what and appreciating the beauty all around us.

6. Sandese Aate Hain

The evergreen track from the movie Border through which we long for the return of our military brothers, every year, who fight each day at the border to keep us breathing is also the brainchild of Akhtar.

7. Yeh Kahan Aa Gaye Hum


The movie Silsila was Javed Akhtar's debut film as a lyricist. He claims that he never thought of a career as a songwriter but was forced to pen down the lyrics for this movie by producer-director Yash Chopra. And, today, we cannot thank Yash Sir enough.

8. Mitwa


Do you remember the roller coaster ride you went through once you realised you're in love and decided to declare your love for the special someone if you've ever been in that situation? Well, Mitwa is the song that puts to words those emotions, which we never could.
On the occasion of his 76th birthday, we wish the lyrical genius a very happy birthday. If you too want to celebrate the genius of Javed Akhtar, install the Flutin app to create your own playlist of your favorite Javed Akhtar songs.