Top 10 Grooviest Songs Of Bigg Boss Bomber Rakhi Sawant That Are Impossible Not To Dance To
January 20, 2021
Rakhi Sawant is capable of doing it all – modeling, acting, dancing, hosting talk shows and more. The Uttar Pradesh born star has a way of being in the spotlight wherever she goes. Now, while she "tries" (read on to know more) to live a more secluded lifestyle, we look back at some of her more popular work. Let's dive deeper and look at 10 of the most popular Rakhi Sawant songs in India.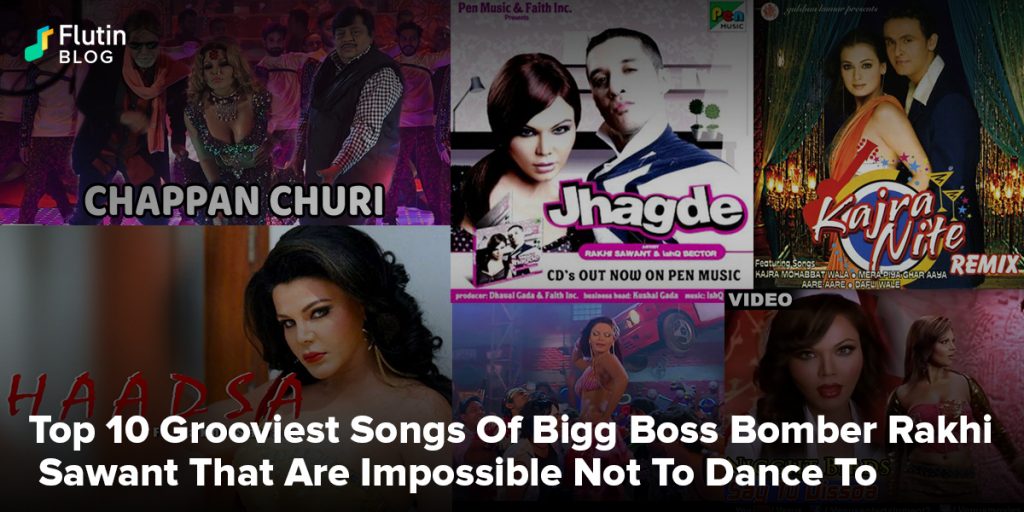 Most people wouldn't know this but Rakhi Sawant was born as Neeru Bheda in 1978 – not quite as catchy as Rakhi, right? She featured in the "Pardesiya" music video in 2005 and that was what kick-started her career in full gear. Today, thanks to Rakhi Sawant's Bigg Boss success last time she appeared, she has been recalled as a Challenger to take part in the ongoing Bigg Boss 14. While we watch the interesting events unfold, let's take a look at some of the superhit songs of the latest entrant in Bigg Boss. 
1. Chappan Churi
Although we thought that we saw the last of Rakhi Sawant when she got into politics in 2014, she surprised us and released Chappan Churi in August 2019. The video now has over 3 million views which is a testament to the loyalty of her fans.

2. JHAGDE
What happens when you combine an Indian "Item Girl" and a Canadian music composer? Well, we had no idea because no one thought of doing it until JHAGDE was released. The popular song by ishQ Bector and Rakhi Sawant was released in December 2009.
3. Bhoot
The chemistry between ishQ Bector and Rakhi Sawant must have been electric back in December 2009 because just a month later the duo were at it again with a new track called Bhoot. According to the views, over a million people enjoyed both artists working together.
4. Tu Dissda
Back in 2008, hip-hop was all the rage in India and Rakhi Sawant took complete advantage of that by getting RUNJHUN and D.J. Sheizwood to collaborate with her for Tu Dissda. The result was a popular hip-hop Hindi track that was played in clubs across the country.

5. Haadsa
Universal Music is one of the biggest names in the music industry. When they decided to get Rakhi Sawant's Haadsa on their album back in 2007, it only highlighted the actress's popularity.

6. Kajra Nite Remix
Remember Channel [V]? If you do, you would know exactly how popular the Kajra Nite Remix was back in 2006. Although Rakhi Sawant didn't make an entrance in the video, her voice was more than enough to make us feel her presence.
7. Pardesiya Yeh Sach Hai Piya Remix
Pardesiya Yeh Sach Hai Piya Remix was an iconic song of Rakhi Sawant back in 2005 and gave her the "Item Girl" moniker. It also made a lot of us want to get out and look for an office job.

8. Jhumka Gira Re Remix – Sweet Honey Mix
Released in 2003, the Jhumka Gira Re Sweet Honey Mix is one of the classic videos from Rakhi Sawant and was included in the D.J. Hot Remix – Vol 3 album. It is still a favourite for many in the country almost 20 years later.
9. Main Hoon Na (Sad)
Although it isn't one of Rakhi Sawant's actual songs, she does make an appearance in the video for Main Hoon Na, which was released back in 2004. Who knew that the girl in the matching pink boots and beret would one day make it this big? And weirdly, her character in the film was named Mini – the opposite of how she lives her life in reality.

10. Dekhta Hai Tu Kya
Krazzy-4 was one of Rakhi Sawant's most popular films in which she danced for the song Dekhta Hai Tu Kya in the year 2011. She certainly caught the attention of Irrfan Khan in the video.
If there is one name in the "Item Girl" category, Rakhi Sawant stands out for all the right, and sometimes all the wrong, reasons. She is a tenacious, daring, and lovable actress and these songs mentioned above only prove her success in the Indian film industry.