15 Baffling Bollywood Names To Completely Thwart Your Opponent At The Dumb Charades Game
March 17, 2021
The dumb charades game, or 'Damsharas' as we desi call it, is a really thrilling game to play with friends and family. However, the thrill is greatly felt by those on the winning team. After all, you don't want to lose a game and have your friends mock you till eternity. That's why we are here with this piece. Read on to discover 15 of the quirkiest and most difficult Hindi movie names to own the game of dumb charades.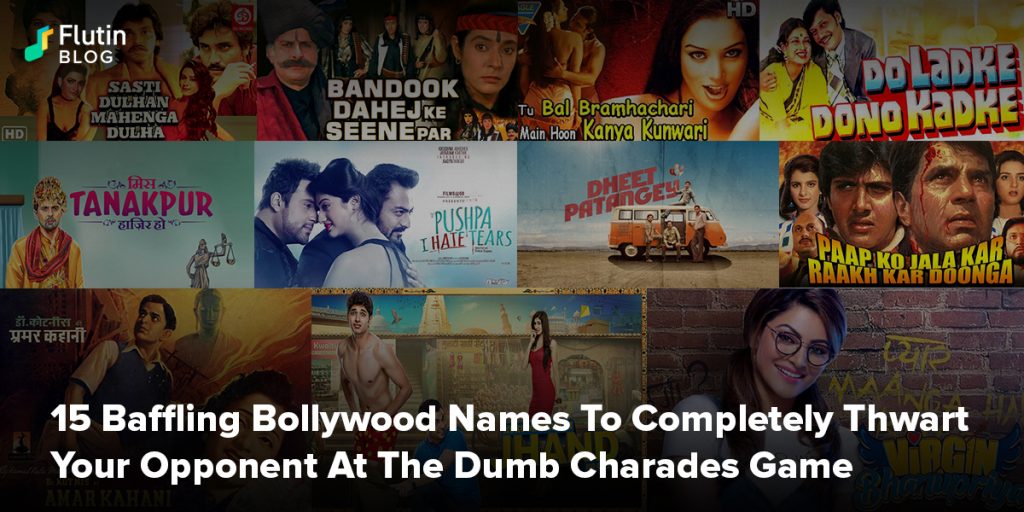 It all started out pretty playful when one of your friends suggested a game of dumb charades over beer. However, it starts getting serious when you the beer makes you a bit dizzy and you can't think of any movie for dumb charades. Don't let this happen if you want to be the one to flaunt your victory for decades instead of your friends. Here are the ultimate difficult Hindi movie names to be unbeatable at the dumb charades game.

1. Sasti Dulhan Mehenga Dulha


How do you act out a cheap bride and an expensive groom? Let your opponents take care of it while you prepare to cackle at them.

2. Bandook Dahej Ke Seene Par


Does the title make any sense? No. Should you care? No. Will it help you win? Most certainly.

3. Tu Bal Bramhachari Main Hoon Kanya Kunwari


The movie has a decent plot line, but the same cannot be said about the movie name.

4. Do Ladke Dono Kadke


The first two words will go by smoothly. But, wait till they get to the last two and get ready to see them scratch their hair out.

5. Dr. Kotnis Ki Amar Kahani


They can guess 'Ki', 'Amar' and 'Kahani'. But, how can they act out 'Kotnis'? Well, let's find out.

6. Paap Ko Jala Kar Raakh Kar Doonga


How do you even burn 'paap' (sin)? Well, let your opponents figure it out.

7. Ghulam-e-Mustafa


This movie name is definitely going to be your opponent's biggest nightmare.

8. Kuku Mathur Ki Jhand Ho Gayi


Talking about ridiculous movie names, it doesn't get any weirder than this. And you can definitely expect a few laughs once you reveal the movie name.

9. Miss Tanakpur Haazir Ho


Who is Miss Tanakpur? That's for your opponent to know and you to have a blast while watching your opponent act it out.

10. Charlie Ke Chakkar Mein


Granted, they can make out the last three words. But the movie name is so bizarre that they won't be able to guess whether such a movie exists.

11. Satah Se Uthata Aadmi


What is it even hinting at? Even the literal translation doesn't make sense – Man Rising From The Surface. Good luck to your opponents.

12. Pagleaazam


No, we didn't mean to write Mughal-E-Azam. You read it correctly the first time, whatever that title means.

13. O Pushpa I Hate Tears


This one is bound to leave your opponent perplexed and you having the time of your life watching them suffer.

14. Dheet Patangey


Should we even try to make sense of it all? We say no. Just simply note the name and give it to your opponents to enjoy the look of disbelief on their faces.

15. Virgin Bhanupriya


Yes, we have saved the wildest one for the last. Good luck to the person on whom you play this card.
There you have it – the 15 most unusual movie names for damsharas. If you are curious to know more about these movies, you can check out their songs on the Flutin app.