There's no doubt about the fact that live stream events are going to rule the world for a long time to come. The kind of reach, accessibility and potential it offers is incomparable. However, choosing a live streaming tool among so many out there can be an overwhelming task, especially for a new creator. Today, we have taken care of it for you. Read on to discover some amazing facts about Flutin Live which will seal the deal for you.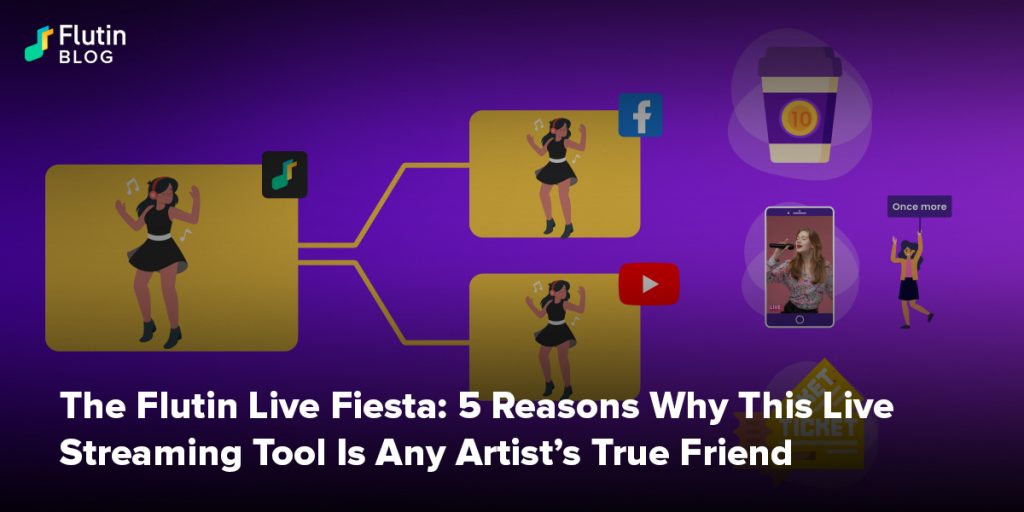 If you are a content creator, then you must be wanting to get in on the live streaming action (if you haven't already). And you definitely should join to gain access to a global platform that knows no bounds. But, are you confused about which live streaming tool to choose? We have the solution for you. Flutin Live is the tool that is expertly designed to keep artists in mind to help them explore the best of the streaming world. Don't believe us? You definitely will by the time you're done reading this. We present to you 5 hardcore reasons why Flutin Live is the platform to choose for your live stream events.

1. Monetization

As much as you passionately love your art, you got to make money to support doing the thing you love the most full-time. And as far as Flutin Live is concerned, it presents a treasure trove of monetization opportunities. From ticket sales and donations by audiences to paid requests, you can be sure of earning whilst enjoying performing.

2. Ease of Use

No one likes to spend most of their time learning how to use a platform when they should be performing and engaging with their viewers. That's why Flutin Live has been designed by tech-savvy experts who have looked into each and every detail to ensure that the streaming tool sports an interface that takes seconds to get used to.

3. Designed for All Kinds of Creators

Are you a dancer? Do you have a talent for singing? Do you enjoy making people laugh with your comedic performances? Are you passionate about poetry or Shayari? Flutin Live welcomes all kinds of creators to tap into their creative potentials and gives everyone an equal shot at being loved and acknowledged by the people.

4. Seamless Event Scheduling

Scheduling events is extremely easy and hassle-free on Flutin Live. You have the option to either go live instantly or pick a designated date and time to stream your online content. Once scheduled, your followers will receive instant notification about your event. You can also invite people on WhatsApp, Facebook, Instagram, etc. by sending them a link to your upcoming event.

5. In-Platform Ticketing

Flutin Live offers an exclusive feature that truly makes it stand apart from the rest. It facilitates the sale of tickets for your online events on the platform itself. You can just invite your friends and social media followers to show their support by purchasing the tickets on the platform itself so that it is convenient for all parties involved.
These were 5 of the reasons which truly give Flutin Live a unique edge over the others. If you are an artist seeking to get your art across to people, Flutin Live is the platform that will help you achieve this in the most beneficial and seamless manner possible.