The festival of colours cannot be enjoyed in the true sense without some upbeat Holi music. But, are you already too busy planning your celebrations to prepare your Holi playlist? Flutin is here to shoulder that responsibility for you. We bring to you the 7 best Holi songs to jazz up your colourful party in 2021.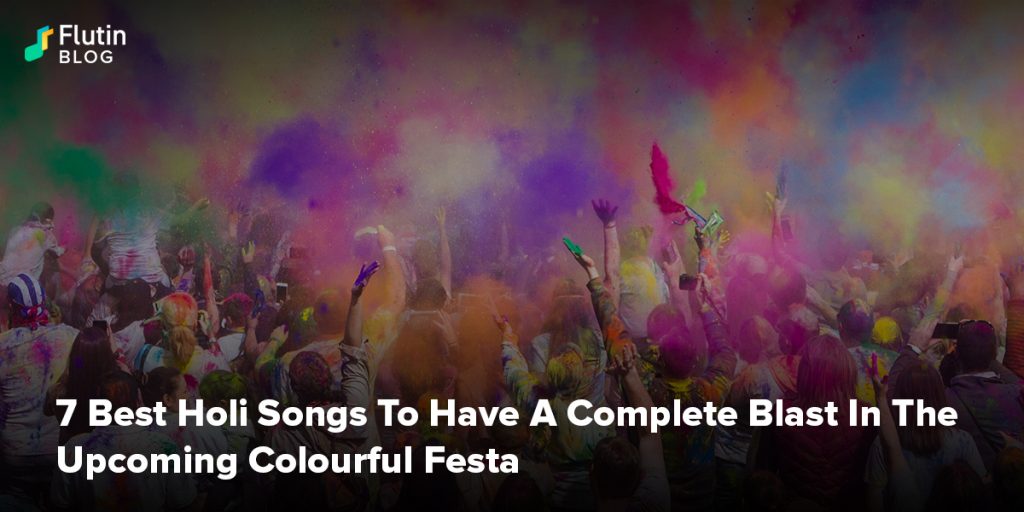 Holi is knocking at our doors and we know you can't wait to throw some colours around and have fun after what has been the most difficult year in history. However, you must not forget to bring in the true essence of the festival with Holi music. And Flutin has got you covered with the top Holi songs for your Holi playlist. Check out these 7 best Holi songs below to party it up the right way.

1. Chhan Ke Mohalla


Chhan Ke Mohalla from the movie Action Replay is quite a fun track to include for your party playlist. Sung by the queen of party anthems Sunidhi Chauhan along with others, this song will definitely get your legs grooving with the rhythm.

2. Holiya Me Ude Re Gulal


If you need to energize the mood of your Holi party, then this is the song to play. Ila Arun's powerful vocals will surely refill all the lost energy and get the party started again.

3. Jai Jai Shivshankar


Trust Hrithik Roshan and Tiger Shroff to show people how to actually get your Holi party going. This dance number from the movie War is a must to get people shaking their waists and having fun.

4. Aaj Na Chhodenge


No Holi celebration is complete without including some evergreen hits to reminisce the simpler times. This superhit track by the legendary duet of Kishore Kumar and Lata Mangeshkar will surely bring in the retro vibe to your party.

5. Holi Khelein


This is one of those Bollywood songs that are made exclusively for the festival of colours. The beautiful duet of Shreya Ghoshal and Anmol Malik from the movie Begum Jaan is the track to include in your playlist if your crush is going to attend the party.

6. Mind Na Kariyo Holi Hai


Let's face it, we have all said this to someone each year during Holi. What song could better capture the spirit of this colourful festival? Each time you splash colourful water on someone, play this song right after to make things more fun.

7. Holi Aayi Re


If there was ever a song to perfectly portray the excitement upon the arrival of Holi, it's this track from the movie Mashaal. This masterpiece sung by Indian cinema's gems Kishore Kumar and Lata Mangeshkar is the track to play to welcome this joyful festa.
Now that you know which songs to play to make this year's Holi unforgettable, get your Holi playlist ready with just a few clicks on Flutin. We wish you a happy and safe Holi full of joy, laughter and iconic songs.