The live streaming scene is seeing massive growth globally, catapulted by the pandemic. Keeping the aspirations of budding artists in mind, Flutin has developed its very own streaming platform to keep the show going. Here's a complete guide on how to begin your own streaming journey with Flutin Live.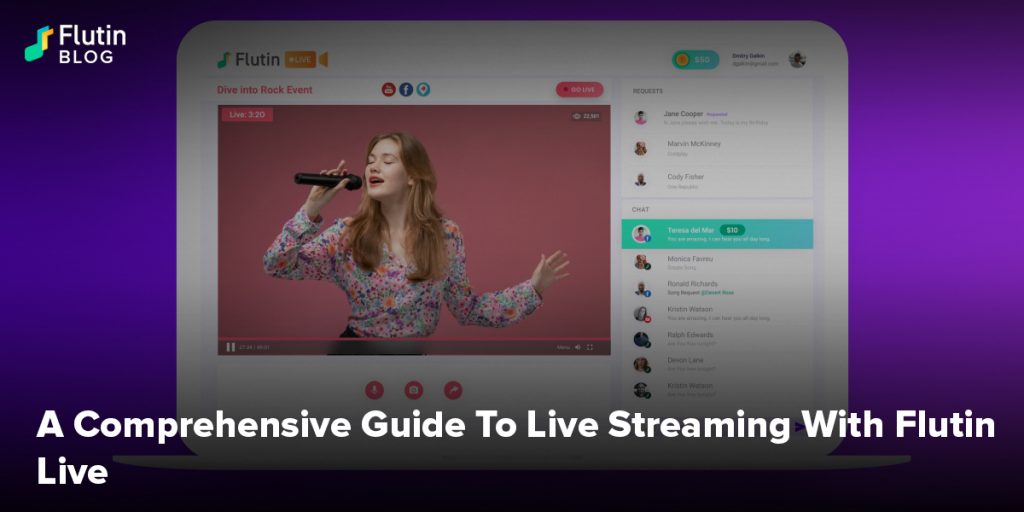 Ever since its inception, Flutin has strived towards presenting all aspiring artists an equal shot at acknowledgement and recognition. Continuing with this philosophy, Flutin has launched Flutin Live – a live streaming platform for all artists to present their talent in front of the whole world. However, Flutin Live does a lot more than just stream performances – it helps an artist earn money to support the pursuit of their passion, get the word across about their talent and above all, do what they truly love. So, here's a detailed guide to streaming with Flutin Live.
Signing Up

Go to the official website of Flutin Live: https://flutin.com/creator/.
Click on the 'Signup Now' button.
Click on 'Sign Up' at the bottom of the sign-in page.
Enter your email address and a password of your choice (we recommend a strong password which must be more than 6 characters).
You can read the terms and conditions, the link of which is provided below the box to enter a password.
Click on the box to accept the terms and conditions.
Finally, click on 'SIGN UP.'
Congratulations! You have successfully created your own Flutin For Creators account.

Profile Setup

After clicking on the 'SIGN UP' as directed above, you will be directed to a page where you must enter relevant details to complete your profile as it will be seen by people. Here's how to get started:

Upload your favorite picture by clicking on the box provided for the picture. At this point, you must allow your browser to take pictures and record videos. You can either get a picture clicked at the moment to upload or choose the 'Files' option to pick one from your gallery.
Enter your full name, the kind of content you would be streaming (from among music, comedy and dance), a few tags that would describe your content, your YouTube, Facebook and Instagram profile links and a short description of yourself in the last box.
After the above steps, click on the 'Save' button.
Connect Your Social Media Channels
After profile setup, you will be required to connect your Flutin Live's profile with your Facebook and YouTube channels on the next page. That will help you stream simultaneously on these platforms.


Click on the 'Connect your Facebook' button to link your Facebook account. Similarly, click on the 'Connect your YouTube' button to link your YouTube channel. You must click on the 'Allow' button to grant Flutin access to your channels.

After clicking on all the checkboxes on the next page, click on the 'Allow' button at the bottom to begin.

Scheduling Events

Once you sign in and open your account, you will see a 'Create New Event' button on the top and bottom of the page. Clicking on that will enable you to schedule your upcoming event(s) by entering your event name, date and time, category (music, comedy, poetry or other), duration (options ranging between 15 minutes to 2 hours), event tags, and a short description of your event (at least 150 characters). You must click on the save button below once finished.

Publishing & Editing

On the next page, you must click on the orange box displayed beside your event name and date to publish it for people to see. Below it, you can find the option to edit your event's basic details, communication settings (whether you want to send notifications for invitation, registration and reminder and a thank you mail). And choose where you want your stream to be broadcasted simultaneously (Facebook, YouTube, both or none).

Sharing Your Stream

Clicking on the 'Public Page' at the bottom left will take you to a page where you can click on the 'Share' button to share your streaming invite on Facebook, Twitter, E-Mail, Pinterest, LinkedIn, WhatsApp, Telegram or you can simply click on the 'Copy Link' button and paste it on your family groups, Facebook page, etc.

Checking Your Live Studio Setup & Going Live

The 'Preview Live Studio' will direct you to a page where a popup notification will require you to allow Flutin to use your camera and microphone (built-in or connected). You can check your video quality and setup here. You can click on the red 'Go Live' button at the top right corner to start streaming fifteen minutes in advance. On the bottom right corner, you will have options to enable/disable your camera/microphone, share the stream, etc. You can also drop comments during your live stream.

Managing Your Account
The three horizontal lines on the top right corner of the Flutin Live page gives way to a drop-down menu of various sections where you will be able to find out different information. Here is a brief about each tab:


Coins: Clicking on the 'Coins' button will help you review your total earning, payment history, withdrawals, etc. During your live streams, your viewers will be able to buy you drinks of ₹50 each, which will be automatically credited to your account. Once the balance exceeds 500, you will be eligible for withdrawal of the amount.

My Events: This section will help you view your past streams as well as your upcoming live sessions.

Channels: This is where you'll get to see and toggle between your connected channels as well as add or remove channels as you want.

Fans: This is the area where you'll be able to view your followers. Here, you can invite your subscribers to your event, create different groups according to your contact, etc.


Profile: This will lead you to your profile, as is seen by others. You can change your display picture here or add/modify any detail.

Logout: And you'll be sent back to right where we started!
Our experts have explicitly developed Flutin Live to ensure every artist gets an equal opportunity to shine. The clean design and user-friendly interface guarantee a smooth streaming experience that will have your audience come back for more.