A classic game of antakshari with friends or family is always fun. We can never go wrong in having fun at singing our beautiful Hindi songs of Indian cinema. However, there always comes a point when the fun starts paving way to a fierce competition, especially when there is a prize involved for the winner of the antakshari game. While the letter 'M' seems like an easy one, you can start to run out of songs for antakshari. But, don't worry. Check out these antakshari songs from 'M' to become the master of the game.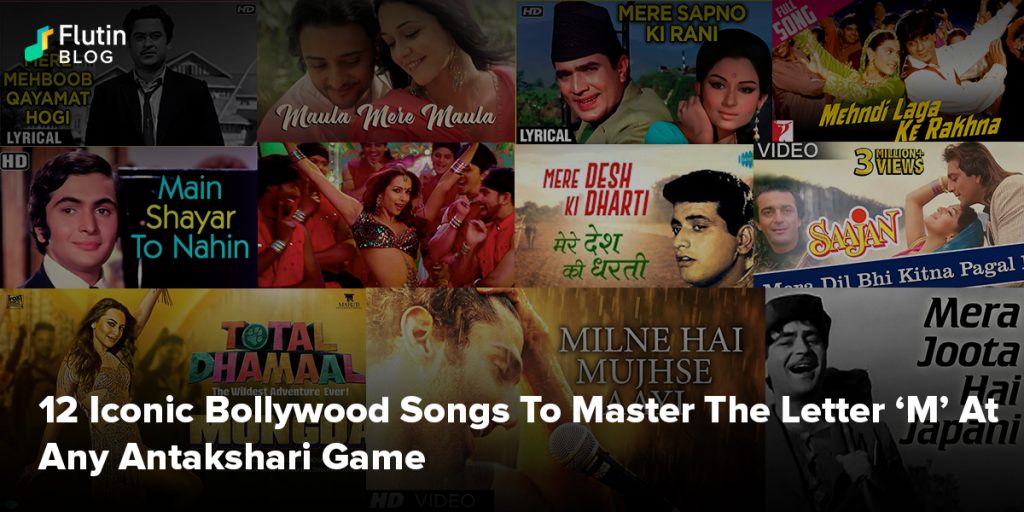 "Baithe Baithe Kya Karein, Karna Hai Kuch Kaam.
Shuru Karo Antakshari Leke Prabhu Ka Naam.'

The very game begins with the antakshari songs from 'M'. So, there's no doubt about the fact that the letter 'M' will crop up quite a lot in the antakshari game. So, do you just give up points to your opponent (who will never stop teasing you about it) after a while? Absolutely not! You should be prepared before the game. How? Check out these 12 iconic Bollywood songs starting with the letter 'M' to lead your team to victory.
1. Mere Mehboob Qayamat Hogi


This super beautiful and melodious track by the late legend Kishore Kumar will be definitely fun to sing along with everyone.

2. Maula Mere

Roopkumar Rathod did a fantastic job with this song from the movie Anwar. Recreate the charm of this song while playing the game and watch everyone joining in on the chorus without a second thought.

3. Mere Sapno Ki Rani


This is an evergreen song by none other than Kishore Kumar. In fact, we suggest you to start with this classic hit if it turns out to be your team to kickstart the game. This track will certainly set the right mood for the rest of the game.

4. Mehndi Laga Ke Rakhna


Is any antakshari game even complete without a timeless hit from SRK's Dilwale Dulhania Le Jayenge? We don't think so.

5. Main Shayar To Nahin


This is another superhit song of the 80s. Even after over four decades, we bet everyone present will join in and sing it to their heart's content.

6. Munni Badnaam Hui


Don't just sit and sing this iconic number from the megahit movie Dabangg. Get up and dance and turn the game into a party.

7. Mere Desh Ki Dharti


There's no wrong time to show your love for your motherland and sing a soulful song for it – certainly not when you have to sing with 'M' in the game.

8. Mera Dil Bhi Kitna Pagal Hai


One of the legendary songs by the legendary duo Kumar Sanu and Alka Yagnik is all you need to make your opponents envy not having gotten the chance to sing it themselves.

9. Mungda


It's time to get up and turn the antakshari game into a party again with this energetic track from the movie Total Dhamaal.

10. Mere Buddy


Mere Buddy from Bhoothnath, sung by Amitabh Bachchan, is such a fun song to sing along. It will definitely remind you of your childhood days and give everyone a blast of nostalgia.

11. Milne Hai Mujhse Aayi


No antakshari game can end without one song from Bollywood's voice of romance Arijit Singh. So, when you have to sing a song from 'M', this is your chance to shine.

12. Mera Joota Hai Japani


And lastly, we end this list with a super fun and iconic song by Mukesh. Enjoy!
You can also elevate your Antakshari Game by broadcasting your soulful voice on various social media platforms and get discovered by the world.
Due to the advancement of smartphones and technology, mobile live streaming is gaining rapid momentum and due to its affordability and ease, this type of broadcasting is often more accessible.
Flutin Live recognizes the unbelievable growth opportunities mobile live streaming provides to the new creators and thus offers various feature that assist the user maximize their potential.
Get started for Free