Many people believe that only gamers or singers rule the world of live streaming. We'd like to tell you that that couldn't be further away from the truth. Flutin Live is a platform that gives equal opportunity to all kinds of content creators and lets them enjoy the exclusive benefits of multistreaming. Check out what kinds of creator streaming you can do on Flutin Live and how you can leverage the platform to drive your passion.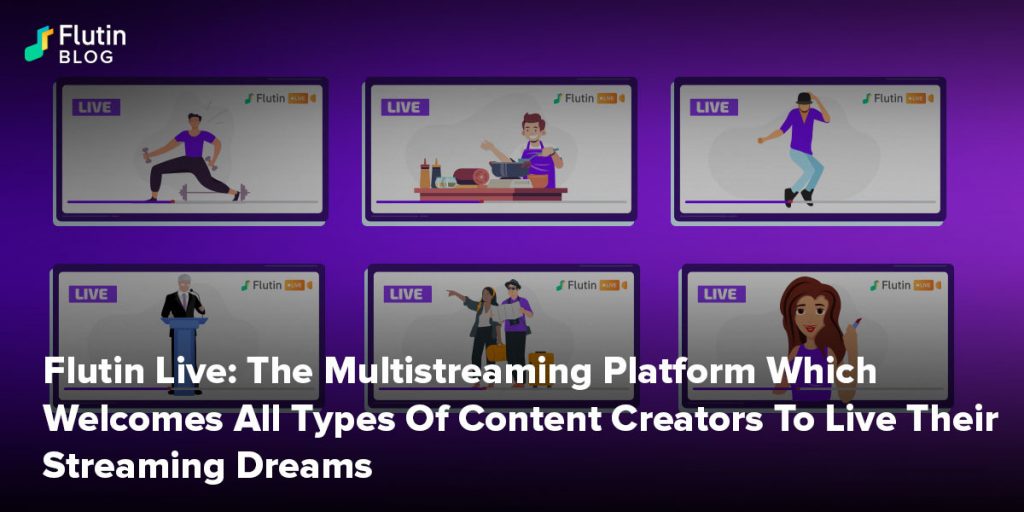 The journey of the internet's live streaming began with the performance of a garage band Severe Tire Damage in 1993. Though it started out with music, creator streaming has evolved ever since. Today, all kinds of content creators are engaging with their audience via live stream events. Flutin Live is one such platform where all kinds of artists find an equal opportunity to stay connected with their viewers and to their passion. Here's how some creators can enjoy multistreaming on our platform.

Food Vloggers


Are you one of those ones in your group who loves to hunt exciting restaurants and recommend the best dishes there? You can certainly start your own food vlogs on Flutin Live. You can either schedule your events beforehand or, if you happen to be enjoying some cafe, you can go live instantly to share the experience with your followers.

Travel Vloggers


Not every one of us gets to just pack our bags and ride off into the sunset. These groups of people enjoy seeing the world through others. And that's where travel vloggers come in. If you are a travel vlogger, then you can certainly start your own channel on Flutin Live and share real time information about and show the various corners of the world around you.

Fashion Vloggers


Fashion is a trend in itself that people never stop inquiring about. On Flutin Live, you can create your own profile and go live to help your audience keep up with the latest fashion trends, suggest them good places to shop and experiment with various looks with them. You may even start your own creative sessions where you go live on request to help a person get ready for a date, party, graduation night, and so on and have fun together with your viewers.

Comedians

Everyone can do with a few laughs in these stressful times. If you are a comedian, then you must not let the pandemic stop you from bringing joy to people's lives. Start your own virtual shows on Flutin Live and spread the word around. You can even interact with your audience via the live chat feature and address them during your show, just as you would in your offline shows.

Motivational Speakers


A few words of encouragement and positivity has never hurt anyone. On Flutin Live, you can start your own series of motivational speeches and conduct live Q&A sessions to help people out with their problems.

Musicians


If you are a singer, pianist, guitarist, drummer or any other kind of musician, you can certainly take to Flutin Live to engage your audience. You can schedule and plan your own little live concerts and have fun together with people while interacting with them.

Dancers/Choreographers


Live streaming dance or choreography sessions have become the latest trend in the streaming world. You can start your own sessions on Flutin Live – the ideas are endless. For instance, you can go live weekly with different themes for each week like pajama dance, bhangra style, western vibes and so on.

Fitness Coaches


People today are becoming more fitness conscious than ever. Though many possess a strong will to get fit, they lack an understanding of where to begin. Moreover, the pandemic has demotivated people from going to gyms and fitness classes. You can step in and leverage Flutin Live to conduct your own virtual training sessions and workshops to inspire and guide people to an active and healthy lifestyle.
This list is in no way exhaustive but we do hope you get the idea. Flutin Live is open for creators from all genres and backgrounds to thrive on their creativity and get a slice of the live streaming pie. The exclusive multistreaming feature even lets you stream on all your social media channels simultaneously. With such vast potentials, content creators can truly take their game to the next level.