With the launch of our exclusive live streaming tool Flutin, content creators can't wait to master virtual events and reap the amazing benefits of multistreaming. Here's a detailed guide for event scheduling on Flutin to help you get the ball rolling smoothly.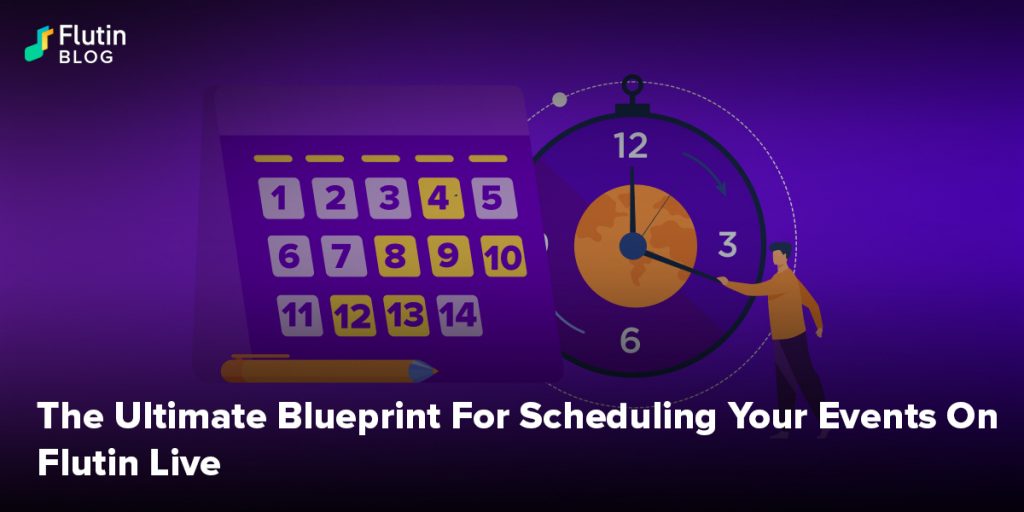 All set with your profile on Flutin? Ready with your live streaming setup? Can't wait to start using our user friendly live streaming tool? We can understand your excitement to start multistreaming your virtual events. So, without further ado, we have prepared this comprehensive guide for you to grasp event scheduling and get the party started. 
How To Schedule Your Live Streams
The very first thing you need to do is visit here and sign in to your account. Once you're in, you'll see a dashboard on the left hand side with a "GO LIVE NOW" button at the bottom. Whenever you wish to go live instantly, this is the button to press. 

In most cases, you would want to schedule your events and want your audience to have a date and time to set on their calendars. Here's the step by step guide on your virtual event scheduling –
Step 1: Creating Events
This is pretty much self explanatory. Once you log in, you'll see a "CREATE NEW EVENT" button almost in the middle of the page. Click on it to start event scheduling. 
Step 2: Filling Basic Information
Once you click on the above mentioned button, you'll be redirected to a page where you must fill in the required details about your event. These details are the means to communicate the necessary information about your event to your audience.

Here's what you need to fill :
Image: Choose an attractive cover image for your event that evokes excitement in your audience's hearts. 
Event Name: Choose a compelling name for your event that sticks with the viewers. 
Event Date & Time: Make sure to enter the date and time of your online event correctly. It's advisable to set a time when your followers are the most active. 
Event Duration: Enter the number of minutes or hours your event would last. 
Event Tags: We suggest you come up with catchy and crisp event tags. These tags would help you be visible to people who are looking for events similar to yours. 
Event Description: This is where you must write about your event and what your audiences should expect. Keep it informative yet interesting for the readers. 
Finally, click on the Save button once you are done. 
Step 3: Review Event Details
After clicking on the save button, you'll be taken to a page where you can go through your entered basic details. If you wish to make changes to any information, you can click on the "EDIT" button next to it to correct it. 

You can click the "EDIT" button next to the "COMMUNICATION" section and choose to turn on or off the notifications. Turning on the notifications will enable Flutin to send your audiences notifications about your event and also remind them shortly before your event begins. 
Click on the "EDIT" button next to the "MONETIZE" section to choose whether you'd like your viewers to send you paid requests and donate money by buying you drinks. 
The next section, i.e., the "BROADCAST CHANNELS," will let you choose among your connected social media platforms where you would like to stream your performance simultaneously. You may also add further social media channels to the list. 

Once you're done with all the sections, you will notice two buttons at the bottom: "SAVE AS DRAFT" and "SAVE AND PUBLISH." Choose the former if you think you may need to make changes in the future or choose the latter if you are sure that this is the final output. Once you choose to publish your event details, it will instantly send notifications to your followers so that they may subscribe to your event. 
Step 4: Check Event Status
Click on the "MY EVENTS" section on the dashboard on the left hand side to check the list of your upcoming events. If you wish to promote your event on your other social media channels, you may click on the orange colored "SHARE" button at the bottom right of each event and choose the platforms where you'd like to send invitations to your event. 
Step 5: Let The Show Begin

When it's time for you to get the party started, you must click on the "START LIVE EVENT" button at the bottom of your event page. You must click on the "GO LIVE" button at the top right corner and confirm on the next page. Congratulations! You're live now. It's time to welcome your audience and get the ball rolling. You will see the comment section at the right of your screen. The paid requests will appear pinned on the top. You will also receive notifications when someone buys you drinks. Once your performance is over and your event is done, you can click on the "END LIVE" button at the top right corner after saying goodbye to your followers.
And now you know how to go about scheduling your live events. We wish you a happy streaming journey and hope your events turn into huge successes!