Everybody wants to pick up the mic on a Hindi karaoke night and rock a song like Arijit Singh. Unfortunately, that remains a dream for us beginners and bathroom singers. However, that shouldn't demotivate you from going up on the stage and singing Hindi karaoke songs. There are many easy Hindi songs to sing that you can totally ace with confidence. Here are our picks for the best and easiest Bollywood karaoke songs for rookies.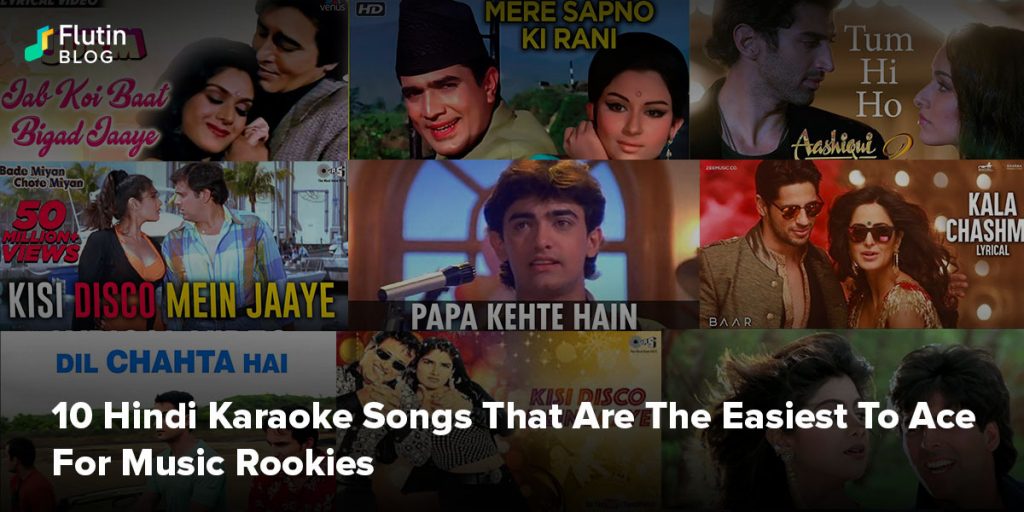 You're enjoying a Hindi karaoke night with your friends by the beach. It's suddenly your turn to go up and sing Hindi karaoke songs. What do you do being a beginner? You choose some easy Hindi songs to sing and make the most of your karaoke night. Simple songs and confidence is the key to acing any karaoke night. Below is our list of the easiest Bollywood karaoke songs for rookies.

1. Jab Koi Baat Bigad Jaye


This is an extremely simple song to sing with deep meaningful lyrics that will move everyone present at the karaoke party.

2. Mere Sapno Ki Rani


No one will get tired of this evergreen superhit. Despite the lyrics being relatable, we bet everyone present will know the song and together, you will have a blast singing it.

3. Dil Chahta Hai


You can never go wrong with the ultimate Bollywood track for having fun with friends. It is still as refreshing to sing as it was back when it was released.

4. Kala Chashma


There's no better song to get the party going than this megahit number. So, put on your black sunglasses and ace the performance with some swag.

5. Papa Kehte Hai


Talking about relatable songs, what song could anyone connect to more than this legendary track? It is every millennial's anthem and the perfect song to have fun at the karaoke party.

6. Kisi Disco Mein Jaaye


Nothing can boost the true party spirit than one of Govinda's songs. This quirky hit from the 90s is not only easy to sing but also guarantees a memorable experience of singing it.

7. Pehla Nasha


This romantic track from the movie Jo Jeeta Wohi Sikander is one of the loveliest tracks of all time. It's easy to sing and also fills the atmosphere with the essence of love.

8. Tum Hi Ho


This is probably the only Arijit Singh that you can attempt to sing without making a fool of yourself. It is a pretty simple song to sing except for a few high notes which are not difficult to an ace with a little practice.

9. Chura Ke Dil Mera


This is a huge classic hit that's fun to sing and listen to. It instantly hypes up the mood and the peppy beats are hard not to groove to. And if you're attending the karaoke party with your crush, this is the song to seize the opportunity to express your feelings.

10. Give Me Some Sunshine

If you're a college student, then you must know this song. It's an easy Hindi song to sing and, while you're at it, you get a chance to pour your heart out about life.
These were our picks for the best and easiest karaoke songs if you want to sing our heart out this holiday season. You can also livestream your live karaoke sessions and to connect with the poeple of similar interest!
You can start live streaming through Flutin, an online live streaming offering tons of advanced streaming feature that will help you throughout your streaming journey!
Get started for free

You can use Flutin to grow your business, as a freelancer or just to connect people of the similar genre!