In these times of lockdowns and social distancing, live stream events have been the tool of survival for content creators' dreams. The money making opportunities via live streaming are incredible and the exposure is global. But, what if you could avail a multistreaming service and stream on Facebook and YouTube at the same time? Yes, it's possible. And today we are going to check out how to do that and the benefits involved.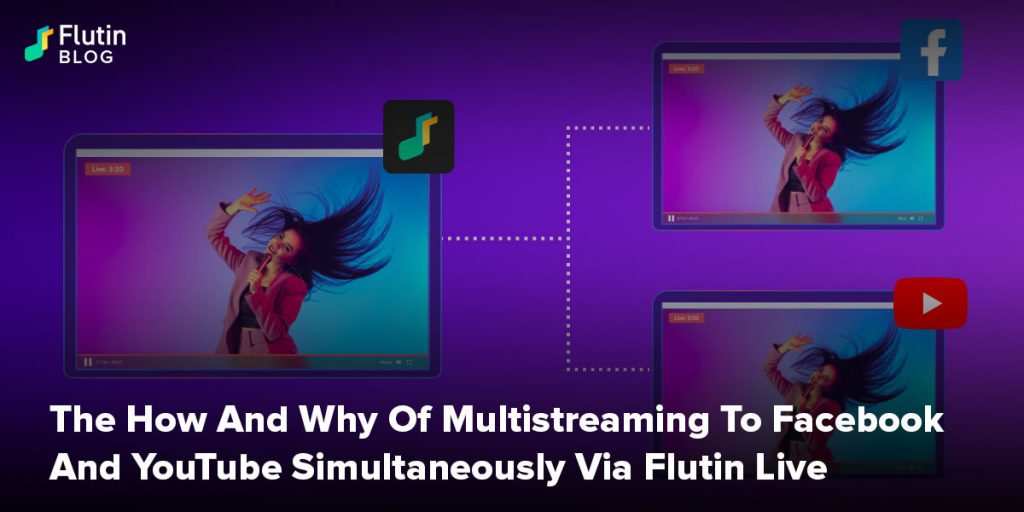 Facebook and YouTube are the two most popular platforms for live stream events. With billions of active users, these platforms offer a global virtual stage for artists to embrace and showcase their creative talents. But, who says you have to choose one of these live video streaming service? Why not stream to both platforms at the same time? Yes, multistreaming is the next big thing that's widening the scope of the live streaming front. Here's a detailed insight into how you can avail Flutin's multistreaming service and what are the benefits involved in it.
How To Multistream To Facebook and YouTube Simultaneously

The multistreaming feature of Flutin is one that can give content creators a golden opportunity of tapping into their existing as well as potential followers on Facebook and YouTube. Here's how you can multistream on Flutin Live.


1. Create an event

After successfully logging in to your Flutin Live account, you can see the button "Create New Event" on the page. Click that button to schedule your event. Fill in basic details like event name, description, date and time, tags, duration and choose an attractive cover image. After you're done, click on the "Save" button below to proceed.

2. Review Event Details

After clicking on the "Save" button, a page for editing other details will open up. Here you can choose to select your preferred monetization options, whether you'd like to notify your followers and send them reminders about your event and so on.


3. Select Your Multistreaming Channels

After you're done with the above details, you can find a "Broadcast Channels" section underneath the others. Click on the "Edit" button next to it which will allow you to select your social media channels where you'd like to stream simultaneously. Select Facebook and YouTube from the list and you're good to go.

4. Publish Your Event

Once you're ready with all the details, you can click on the "Save And Publish" button below to publish your event on Flutin Live. You can also share the link to your event on other social media platforms and ask your friends and family to do the same.
On the day of the live stream, your content would be automatically broadcasted on your Facebook and YouTube channels.
The Benefits of Multistreaming to Facebook and YouTube

The live streaming industry is expected to hit over $180 billion in the next five to six years. With such an immense outlook for growth, experts claim that the two giants – Facebook and YouTube – are unlikely to be overthrown from their thrones. Here's a glimpse into what multistreaming to these platforms actually means:


Access to 2.80 billion active monthly users on Facebook.
Access to another over 2 billion active users on YouTube.
Platforms globally popular for video content.
Incredible money making opportunities.
Potential to grow your fanbase in the blink of an eye.
Live streaming is firing on all cylinders and quickly replacing all traditional media of entertainment. And with Flutin Live, you don't need to choose one platform and leave the rest. We empower you to avail the exclusive benefits of both these super platforms and provide you with all the opportunities to grow your streaming career exponentially.