The 10 Greatest Salman Khan Songs That Prove Why He Is Called The Hit Machine
May 17, 2021
Whether you are a huge fan of Salman Khan movies or not, you cannot deny the fact that he has given us some of the biggest blockbuster Hindi Bollywood songs of all time. Salman Khan's reach and his fan following remain incomparable in the industry. And he has never disappointed us. From party anthems to dance till its dawn to romantic numbers to create countless special memories with our loved ones, here are the 10 best Salman Khan songs of all time.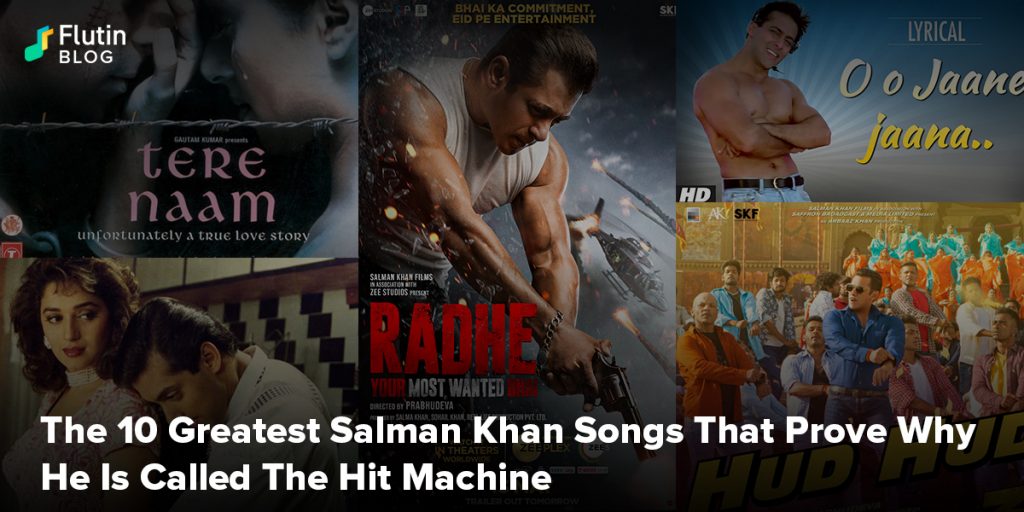 Let's be honest for a moment – we all have missed Salman Khan after he last released Dabangg 3 in 2019. The good news is that our beloved Bhai is back with a banger. Radhe has hit the floors in theatres wherever they're open across the world and is available to watch on Zee5's pay-per-view service ZEEPlex. But, that's not all. We have many more Salman Khan movies to look forward to in 2021 – from Antim: The Final Truth to cameos in Laal Singh Chaddha and Pathan. Let's get the party going by listening to the biggest blockbuster Salman Khan songs of all time.

1. Tere Naam


Tere Naam is still considered to be one of Salman Khan's greatest performances. The title track gave us not only Udit Narayan's wonderful vocals but also Salman's soul-stirring acting.

2. Pehla Pehla Pyaar Hai


This track easily tops the list of the most romantic Hindi Bollywood songs of all time. It remains to this day one of the most loved movies Bollywood ever gave us. And Salman Khan wooing a beautiful Madhuri Dixit in this song melts our heart each time we watch it.

3. Oh Oh Jane Jaana


This is the song where it all began – Salman flaunting his amazing abs and simple yet catchy moves. The melodic guitar tunes struck the nostalgic chord every time it comes up.

4. Hud Hud Dabangg


There has never been a song that perfectly fit Salman's goofy yet macho personality. Besides, it's the song that gave us the famous "belt" dance.

5. Dhinka Chika


You cannot miss this song when talking about Salman's biggest hits. Upon release, it could be heard literally everywhere – and we weren't tired of it. It's arguably the catchiest song Bollywood has ever given us.

6. Munni Badnaam Hui


It would be a crime to not include one of Salman biggest hits in this list. Yes, we were all awestruck by Malaika's smooth moves. But, even then, our Bhai managed to match the momentum and shine in his own goofy glamour throughout the song.

7. Character Dheela


Arguably the peppiest track Bollywood has ever given us, Character Dheela was a huge summer hit. To this day, the song remains a treat for our ears that gets us dancing each time.

8. Jeene Ke Hain Chaar Din


Salman Khan is not only known for his chartbuster songs but also his iconic signature steps. This legendary song gave us the super famous towel dance which has been reenacted in movies and by us countless times.

9. Dholi Taro Dhol Baaje


The songs of Sanjay Leela Bhansali's movies are bound to be grand and colourful. But, this was the track that paved a new way for Garba songs in Bollywood which continues to this day.

10. Just Chill


Even when you read the song name, we're sure that in your head you're going "Just chill chill, just chill". Yes, it's one hell of a catchy song that gives us the classic nostalgia of the 2000s vibe.
These were 10 of the best Salman Khan songs. He is a hit producing machine who has given us countless hits over the years. You can find all his iconic songs on the Flutin app ready to be played and grooved to.