The internet is filled to the brim with various protocols that you make use of every single day. One of these protocols is RTMP – Real-Time Messaging Protocol. How? Well, if you've ever watched live content on sites like YouTube and Facebook, you have made use of RTMP streaming. "So, what is it and why should I, being a streamer, care?" Today, we answer all these queries involving RTMP live stream that will help you understand this protocol much better.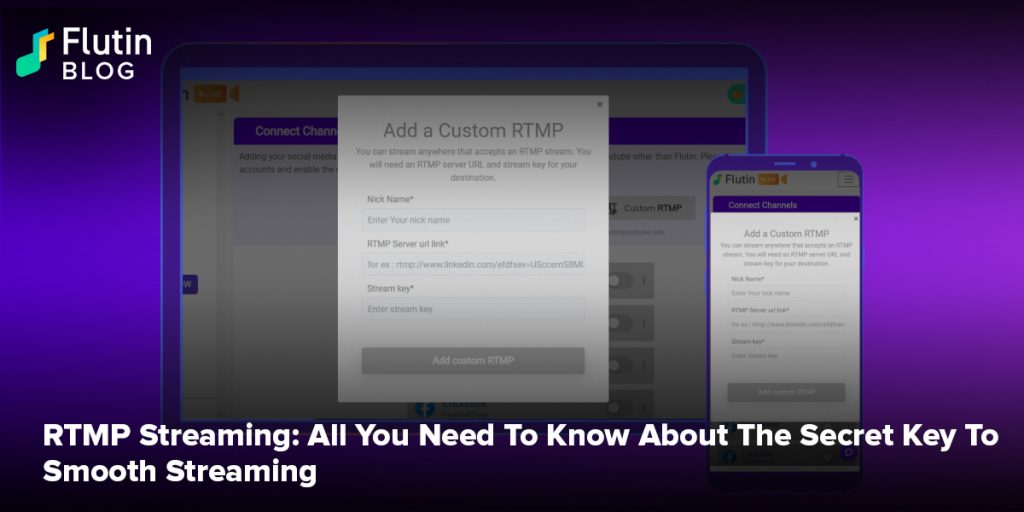 We're sure you watch video content online and even enjoy certain live streams. Well, you've already met with a protocol called RTMP – Real-Time Messaging Protocol. And why wouldn't you? RTMP streaming has been around since the early 2000s. That's a lot of time to encounter RTMP live stream. All right, we don't mean to confuse you further. As a streamer, you must know what RTMP stream is and how it works (and yes, it's now a part of Flutin). So, without further ado, here's everything you need to know about this streaming protocol.
Breaking Down The RTMP Protocol
RTMP is a live streaming protocol that facilitates the smooth transfer of high-quality audio, video, and data to a server from an encoder, transmitting the signal all over the digital space. Originally created by Macromedia (which was later acquired by Adobe), it forms an important part of making live streaming possible. But, how does it really help? Here's what RTMP does for a stream:
Makes streaming in low latency possible
Ensures a stable and secure connection between the video player and the server
Provides the convenience and security needed for viewing live streams

How RTMP Streaming Works
The RTMP protocol breaks a stream into numerous packets and defines various virtual channels working independently of each other for the smooth flow of data. Here are the three steps to the working of RTMP:
1. The Handshake
As soon as the RTMP protocol secures a TCP connection, it sends over three packets between the client and the server. Once these packets (also called chunks) are transmitted, the handshake is said to have been completed.
2. The Connection
After the above, the server and the client can now begin to negotiate a connection via Action Message Format (AMF) messages. When one party receives a connection request, the other party would respond in the appropriate sequence.
3. The Stream
Now, the client can start streaming by sending three messages to the server: createStream, ping, and play.
How RTMP Can Benefit Your Streams
Up until this point, things were a little technical to explain. So, you must be wondering, "How does RTMP benefit me?" or "Why should I care about RTMP?"

Flutin lets you multi stream to your various social media channels like YouTube, Facebook and Instagram simultaneously. This is nothing but the duplicated procedure of RTMP streaming.
Think of it this way: when you multi stream via the RTMP protocol, you're basically reaching out to each platform's audience via different strings. Suppose you're streaming via Flutin to Instagram, Facebook and YouTube at the same time. But, there's a segment that's specifically for the Facebook audience. So, you will be able to cut the strings to YouTube and Instagram without hampering your stream on Facebook. In simple terms, you can end the broadcast at one place without bothering it on the other platform.
RTMP Is Now On Flutin!
Now that you know what RTMP is and how it works, you must be excited to stream in high quality and offer your viewers the utmost convenience. The good news is that Flutin now supports RTMP streams. Here's how you can do it:

Step 1: Login to your Flutin account.
Step 2: Click on the menu button at the top right corner and select the "Channels" option. Desktop users can find it directly on the left side of their screen.
Step 3: Click on "Custom RTMP" next.
Step 4: Enter relevant details (like your nickname, RTMP server link and stream key) and click on "Add custom RTMP" at the bottom.
This will allow you to stream everywhere that accepts the RTMP protocol.
RTMP protocol has played a crucial role in enabling the evolution of the live streaming industry. It's universally accepted by giant platforms such as Facebook, YouTube, etc., which allows streamers to deliver high-quality streams everywhere. Start your RTMP streaming today and experience the magic it unfolds!