Ever since we launched the live streaming platform Flutin Live, our team has been consistently working to help creators take their live stream to the next level. Today, we feel ecstatic to share the three new features that have been carefully curated to help you enhance your professional live streaming experience – screen sharing, branding and video captions. How can these amplify your streaming status? Read on to find the answer.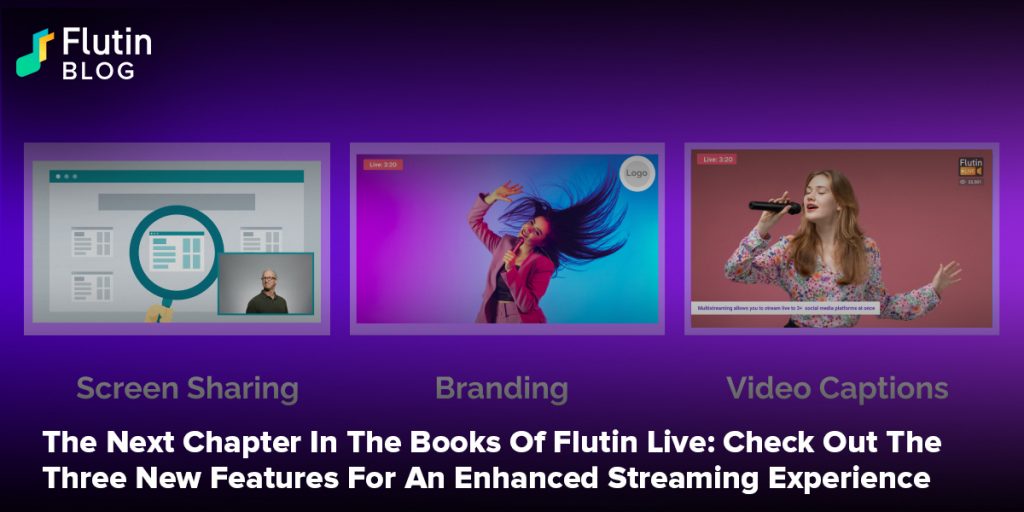 As the pandemic is forcing people to spend the majority of their time at home, the live stream dynamics are changing constantly to keep up with the changing preferences of viewers. To help content creators stay ahead of the game and revolutionize their professional live streaming experience, we have introduced three new features on our live streaming platform Flutin Live. These advanced features are screen sharing, branding and video captions. Here's how each feature will help you take your streams up a few notches.

1. Screen Sharing

Now, you can enjoy the feature of sharing your screen while streaming on Flutin Live. If you have some kind of presentation prepared or want to show your viewers something, you can easily share your screen. By doing this, your audience will be able to see everything happening on your screen.


Screen sharing opens a lot of windows for your live streams which couldn't be accessed before. And it works for all kinds of content creators. If you're a gamer, then you can directly share your screen and play games instead of going through a complicated process. If you're any kind of teacher, you can simply share the contents needed to make your teaching session smoother. The options are endless.

2. Branding

Have you ever noticed that some live platforms display their own logo or brand name on top of the video? But, Flutin has decided to take a different route. Now, you can have your own customized logo displayed on top of your streams to promote your own brand.


It's natural for the human eye to wander about when watching something. And when it does, they'll definitely notice your personal stamp at least once. This will have your name subconsciously imprinted on your viewers' minds, making it way easier for them to remember and recall your work.

3. Video Captions

Now, this is quite an interesting feature that can be used creatively to no extent. But first, let us explain what it really is. When you live stream your content, you will have the option to add extra links on top of your video. These could be anything – from links to your social media channels to links to your upcoming events.


Say you have another upcoming live stream event scheduled. You can always talk about it during your current stream. But, you know what would make it more impactful? Giving your viewers the link to your next stream simultaneously. And that's exactly what this is about.

There you have it – the three latest additions to the pool of intuitive Flutin alive features aimed at transforming your streams from good to excellent. We hope you enjoy these new-age features and make your streaming experience a redefined one.