Live streams are no longer an alien phenomenon. The increasing demand for live content proves that the industry is way bigger than one can imagine. And such a big industry is bound to have numerous live video streaming platforms competing to make streaming as convenient as possible. Amidst such a competitive scenario, what makes Flutin stand out? It's the intuitive Flutin features that together help streamers make it a memorable experience for themselves as well as their viewers. Let's take a look at the prime features of the professional live streaming platform Flutin.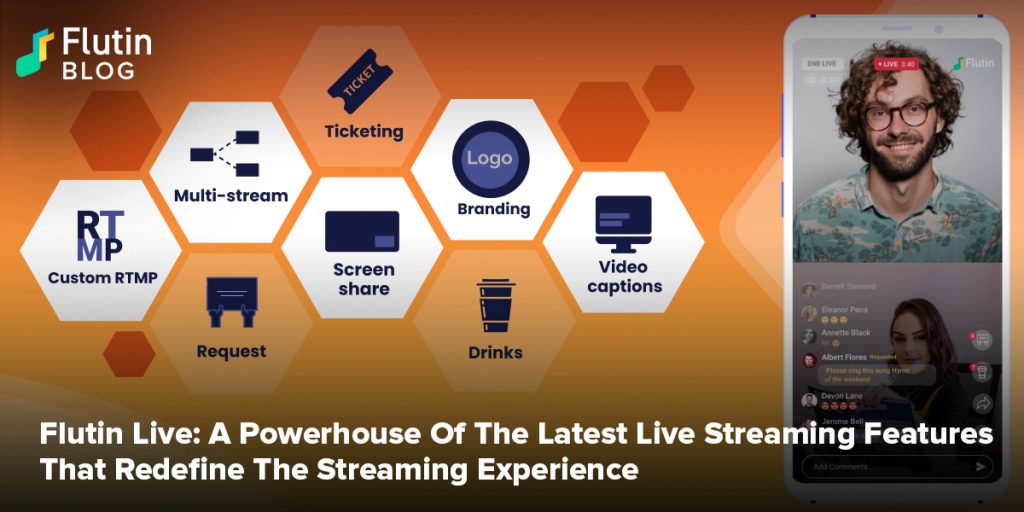 Starting on a quest to help creators from every corner get a platform to showcase their talent to the world, the live video streaming platform Flutin has come a long way in a short span of time. Our team of experts have been consistently working to make the platform a go-to choice when it comes to live streams. Aiming to revolutionize the professional live streaming experience has resulted in the addition of numerous intuitive and next-gen features that are taking live streaming to the next level. Take a look at the best Flutin features that are any streamer's dreams. 
1. Multistreaming 
Live streaming is all about communicating with people through your performance. But, why stick to only one platform while doing it? Flutin lets you stream to all your social media channels at the same time. The benefits? Tapping into each platform's potential reach to billions of users is any streamer's dream. Here are the platforms where you can multi stream simultaneously:

Facebook – With over 2 billion active monthly users, you can tap into the vast reach of this giant platform. 
Twitter – Broadcast your event on the hottest social media platform where millennials are the most active. 
Twitch – Tap into the passionate Twitch users who are avid live stream watchers. 
Instagram – Take your stream to your followers on Instagram and enhance your visibility by being easily accessible to your audience. 
YouTube – With over a billion videos watched every day on this mega platform, multi streaming to YouTube as well really adds a chef's kiss to your stream's reach and potential. 
2. Monetization
There's nothing better in this world than earning money whilst doing something you absolutely enjoy. Flutin is filled with numerous intuitive monetization options that make donating money fun for viewers. Here's how you can earn money on the platform:

Drinks – Your viewers would be able to donate money by buying you drinks of certain amounts, which will be credited to your account. 
Requests – Your audience will be able to pin their requests on top by buying certain amounts so that you can easily see them and respond to their requests. 
Ticket Sales – Flutin lets you sell the tickets to your show on the platform itself. You can also share the event link on your social media channels and have your followers buy your tickets. 

3. RTMP Live Streaming

The latest addition to the block is the RTMP live streaming. It's the secret sauce to the recipe of live streaming that has been around for almost two decades. But, how does it help? Well, apart from facilitating high quality streams in minimal latency, you can stop broadcasting to a particular channel (say Facebook) without disturbing your stream in other channels. 
4. Screen Sharing

Probably one of the most useful features, screen sharing saves time and money for streamers and makes it more convenient for viewers. Eliminating the need to incorporate extra software, streamers can add extra visual aids to their streams by simply sharing their screens. 
5. Customization
Flutin believes in allowing creators to showcase their own brand and shows in full capacity. And the following two features are intended to help them maximize their visibility:
6. Branding
Promotion is a huge part of making it in the live streaming world. The more you spread the word around, the more you're likely to be viewed and recognized. It is perhaps to help streamers boost their visibility that Flutin lets them display their own name or brand logo on top of the stream instead of our own logo. 

7. Video Captions
Linking your present stream to your other streams, content or upcoming shows is a great way to boost engagement. Video captions allow you to display important links at the top of your stream that makes it easier for your viewers to check out what you're talking about instead of having them go through the trouble of finding it themselves.

These were the best features of Flutin that work wonders in transforming the streaming experience for users and viewers. You can check out these features for yourself and create wonderful live broadcasting memories with your audience.