There have been many legendary rock bands who were nothing less than sensational in their times. While everyone has their own favourite one, some classic rock bands have rewritten history and redefined the reach of music. Before we progress, keep in mind that this list is in no way definitive. Here's our take on the 7 best rock bands of all time.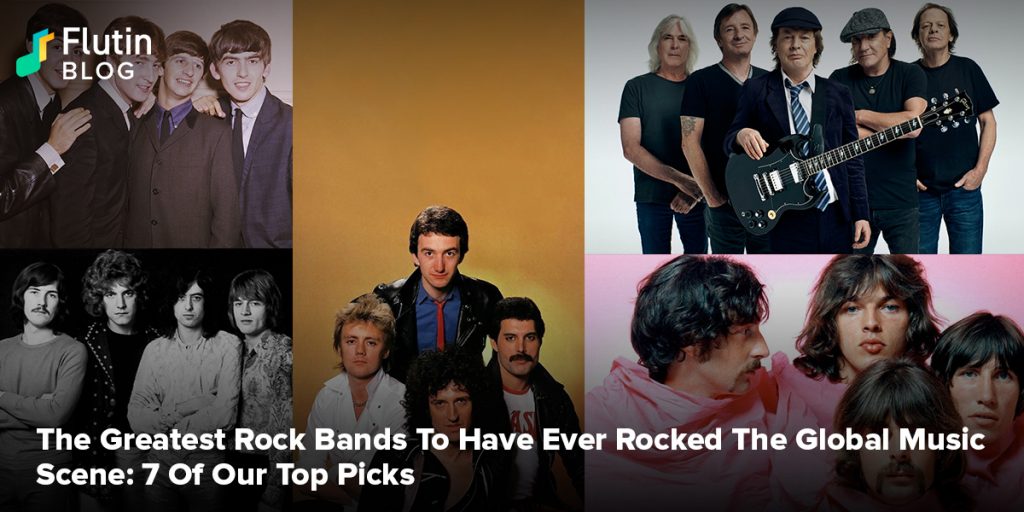 Rock bands have come and gone with time, but there are some classic rock bands that rule the hearts of rock music lovers. They are quite irreplaceable. And that's proof of the fact that these bands' legacies and creations do and will continue to live on within the hearts of each generation. As you may have guessed already, today we take a look at the 7 best rock bands of all time.

1. The Beatles


The Beatles is a rock band whose musical masterpieces transcend time, region and culture. The mere mention of the band's name instantly evokes pure love, passion and respect in the hearts of music lovers. John Lennon, Paul McCartney and George Harrison will forever be regarded as the masters of rock music.

2. Led Zeppelin

If there's a band whose music couldn't get any more rock, it's Led Zeppelin. Debuting in the year 1969, Led Zeppelin became an instant favourite of the rock genre. From breaking records to topping charts and unforgettable live shows, the band's 12 year legacy remains the epitome of rock music.

3. Queen


Calling Queen a pure rock band would be incorrect. However, not including them in this list would be a greater crime. Throughout their 20 years of musical dominance from 1970 to the unfortunate death of Freddie Mercury in 1992, Queen never failed to reinvent their style and bring iconic songs to the table. After all, the band that gave us quintessential songs like Bohemian Rhapsody, Radio Ga Ga, We Are The Champions, We Will Rock You and countless more.

4. The Rolling Stones


After The Beatles disbanded in 1970, the official title of the biggest rock band in the world went to The Rolling Stones. And they remained so for over 3 decades without any other band coming even close to it. In fact, they are the longest running functioning band in history. During this time, they blessed the audience with 92 albums and 121 singles.

5. Pink Floyd


Pink Floyd is arguably the most experimental rock band of all time. And their influence in the rock genre has been too superior to even begin to describe. During their unmatchable career, the band gave us classics like Comfortably Numb, Hey You, Run Like Hell, Nobody Home and more.

6. Guns N' Roses


Guns N' Roses are undoubtedly one of the best American rock bands to have ever existed. The band was known for heavy and powerful tracks, head banging music, selling albums like crazy, and selling huge tours. Songs such as Sweet Child O' Mine and Paradise City are still uncontented favourites among many.

7. AC/DC


If there's a band that personifies the rock genre in its purest sense, it's unarguably AC/DC. Throughout their career, they have never bothered about mainstream trends, be it fashion or music. Focusing solely on riff and rhythm (rock music's foundation), the band is responsible for timeless megahits like Highway To Hell, Sin City, Thunderstruck and many more.
While this list is in no way exhaustive (and you may differ from our picks), the above bands have undoubtedly had an incomparable impact on the history of rock music. So, open the Flutin app and get ready to head bang once again to their epic songs.