Dilip Kumar's acting legacy has defined genres in Indian cinema. Accurately branded as "the ultimate method actor" by the Academy award-winning director Satyajit Ray, veteran actor Dilip Kumar has delivered stellar performances throughout his career which are remembered and recreated even to this day. The first-ever winner of the Filmfare Award for Best Actor has brought about numerous revolutions in the entertainment industry. Today, we dive into the inspiring tale of Dilip Kumar's life.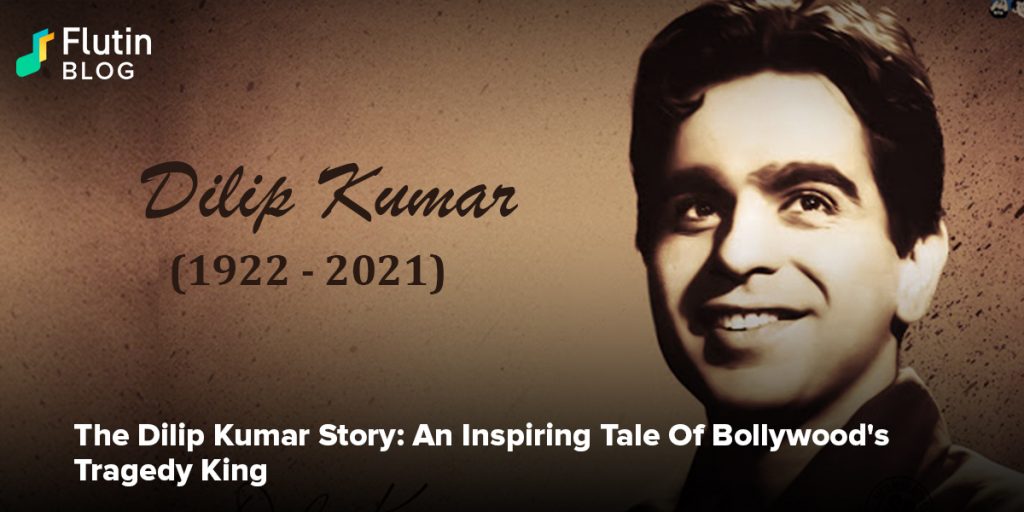 Veteran actor Dilip Kumar took his last breath on Wednesday (7th July 2021) and the void left in the Indian movie fraternity is being felt by actors and fans across the nation. Numerous dignitaries like Amitabh Bachchan and the President of India took to social media to express their condolences and keep the family in their prayers. Dilip Kumar will be remembered for generations to come and continue to be upheld as the epitome of fine acting. In honour of his incomparable legacy, here's a brief account of Dilip Kumar's life journey.

The Actor's Early Days

The legendary actor was born as Muhammad Yusuf Khan to Lala Ghulam Sarwar (his father, a fruit merchant) and his wife Ayesha Begum in Peshawar (now in Pakistan). During the 1930s, the actor's parents decided to move to Mumbai (then Bombay) in the hopes of giving their twelve children a better scope for their lives. After arriving here, he started working in a British canteen. And this is where things changed for the actor. 


The Turning Point

It was during his days as a canteen worker when Dilip Kumar was discovered by a leading actress of the time, Devika Rani, and her husband Himanshu Rai. They immediately hired him as an actor for their film company Bombay Talkies. His first ever movie was 'Jwar Bhata' in 1944, which was not recognized by many people. Yes, even the symbol of exemplary acting had a series of flops during his initial years. The first-ever major hit came in 1947 with the movie 'Jugnu' which also starred Noor Jehan and Shashikala.


An Unbeatable Success Stream

After 'Jugnu' finally made people take note of Dilip's exemplary acting skills, offers started flooding in for the then young talent. He starred in evergreen hits like 'Shaheed', 'Mela' and 'Anokha Pyar'. However, another revolutionary career moment was waiting for the beloved actor at the corner. With the year 1949 came the opportunity to star in 'Andaz' by Mehboob Khan, which went on to become the highest-grossing Indian movie of the time. During the 1950s, Dilip Kumar was heavily in demand and spent the next few decades portraying path-breaking characters in movies like 'Devdas', 'Naya Daur', 'Kohinoor' and more.

The Padma Bhushan recipient, "The First Khan" of India and an admirable philanthropist will truly be missed by every soul in this country and abroad. His works have redefined the glory of Indian cinema and taken the industry to revolutionary levels of art and expression. In memory of this irreplaceable phenomenon, listen to his greatest hits on the Flutin app and pray for peace for the actor's precious soul.