Ever since the inception of our live streaming platform Flutin, we have been dedicated towards making it a feature-rich platform that guarantees a streaming experience like no other. There are many free Flutin features that you can avail yourself seamlessly. However, the advanced features that you get access to with our subscription plan will give your stream the edge it needs to stand out from the crowd. From plans and pricing to the features that come with it, here's a complete guide to it all.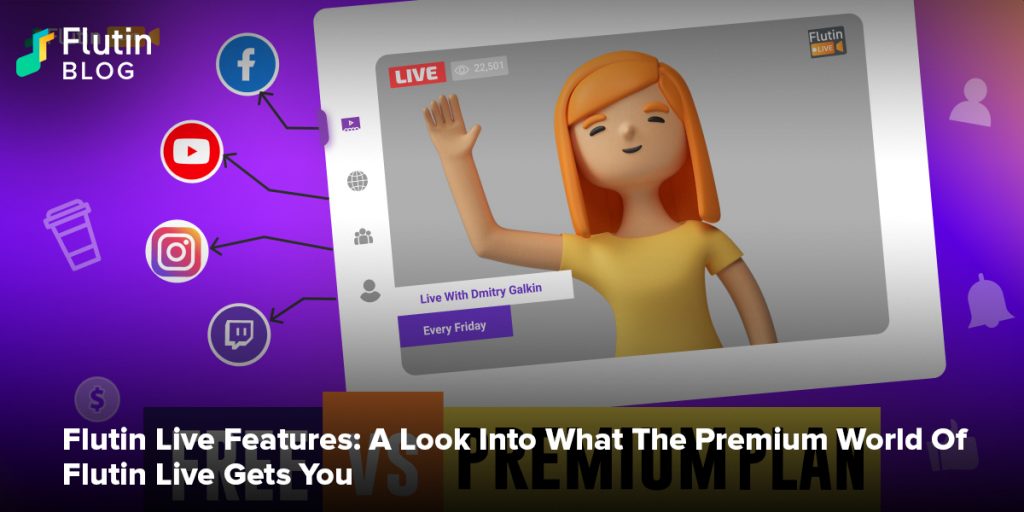 So far, we have let you in on the huge potential for growth the live streaming industry offers. We have also introduced you to the basic Flutin features that make it a user-friendly live streaming platform. From multistreaming to the biggest platforms to various fun monetization methods, Flutin is the ultimate live streaming solution for beginners and professionals alike. Today, we dig a little deeper into the various free features, plans and pricing and the exclusive features that come with our subscription plan. 
FREE FEATURES
These features are basically the ones for which you do not need to pay a single dime. They are a gift from Flutin to all aspiring as well as established streamers out there. You can use these features for free forever. Check out free features below:
Multistreaming
The multistreaming feature is available for both free users and subscribed ones. The difference lies in the number of destinations you can stream to at a time. In the case of unsubscribed users, multistreaming upto 2 destinations per stream is allowed. 
Duration
Free users can stream upto 10 hours per month. So, if you decide to stream once a week, you'll still have around 2-2.5 hours per stream which is the standard duration (depending upon your content type). 
Earnings
Free users earn 80% of the money generated during streaming as well as the sale of tickets. Yes, the majority is yours and we don't take away from what you deserve for your hard work.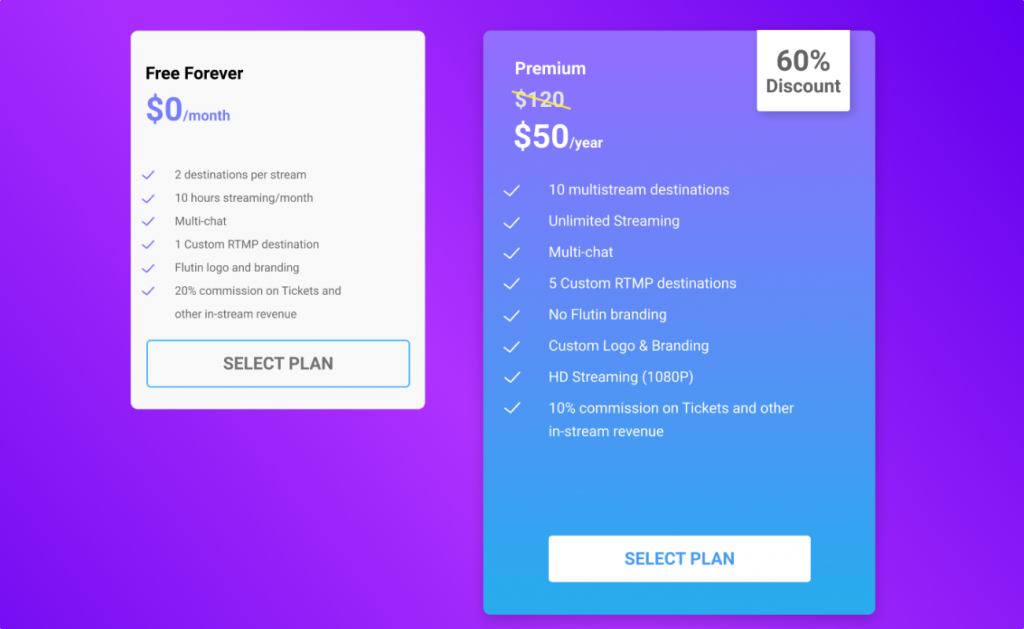 Others
Other awesome features which we have kept free for our users are the multi-chat option and 1 custom RTMP destination. Keep in mind that the branding displayed during streams would be of Flutin in case of free users. 
PREMIUM FEATURES
Now, you may be wondering why one should opt for the paid plan when there's already a plethora of features available for free. Well, availing of our subscription plan will give you exclusive access to these features that will have a gigantic effect on the performance of your stream. Now, what exactly do we mean by "exclusive access"? Find out below. 
Multistreaming
Of course, you get to multi stream once you become a paid user. So, where's the benefit? Well, paid users can multistream to 10 different destinations at a single time. Broadcast to YouTube, Twitch, Twitter, Instagram, Facebook, and more simultaneously and have all the eyes in the world on you. 
Duration
Is there a cap on how long you can stream in a month? No. The floor is all yours. Stream as many times as you want and as long as you want. Sing and dance all day, start a gaming marathon – anything you want! 

Multi-Chat
Like free users, paid users will also have access to the multi-chat option. What is multi-chat? Basically, you'll be able to see the live chat section of all the platforms you stream simultaneously on your screen at one place. 
RTMP Streaming
With a paid subscription plan, you get to add up to 5 custom RTMP streaming destinations. You can broadcast your streams to these destinations and enjoy your cake while having it too. 
Personal Branding
Unlike the case with free users, our branding does not show up when paid users are broadcasting. Instead, they can have their own custom logo and branding displayed on top of the screen to boost their visibility and presence. 
HD Streaming
Your viewers deserve high quality and smooth streaming experience. Our subscription plan enables you to stream in HD quality (1080p) so that you come off as professional and make a strong impression on your audience. 
Earnings
Paid users get to keep 90% of the money they make while streaming and from ticket sales.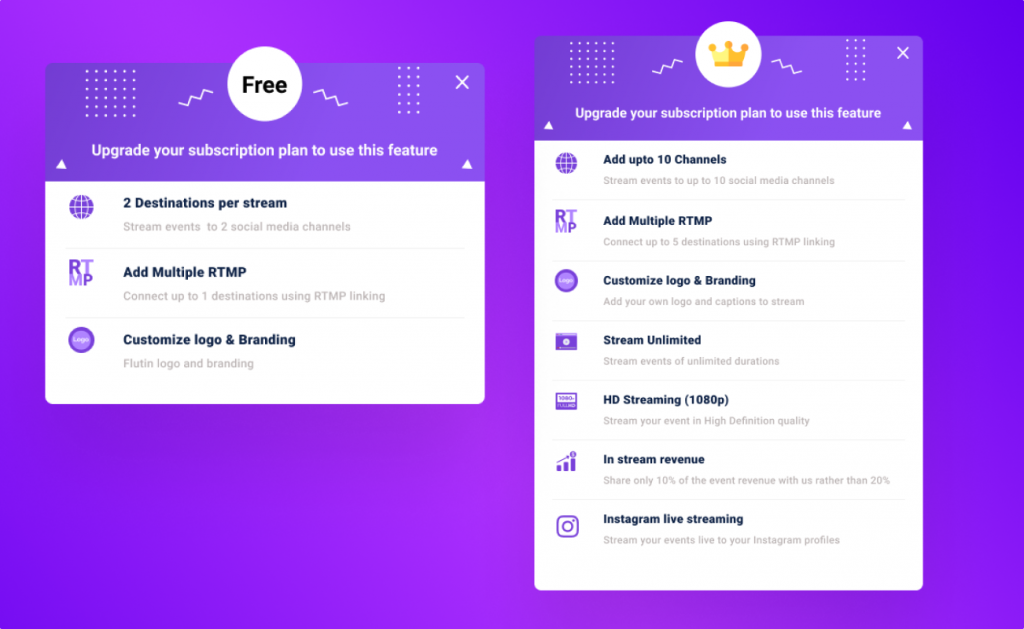 Flutin is dedicated to giving streamers all they need to turn their streaming story into a success. We even provide our free users with the tools they need to realize their dreams. But, our paid plan incorporates all those extra features that help you go the extra mile in claiming the throne from your competitors. Head over to Flutin and try out the awesome features yourselves.