If you're thinking of starting your own online shows and looking for a live streaming platform to broadcast to, the opportunities offered by Instagram Live are too magnanimous to overlook. IG live is a lucrative platform with a vast reach which makes it ideal for live streaming. But, did you know that you could live stream to Instagram via Flutin itself? Check out the benefits of Instagram live stream and how to go live on Instagram via Flutin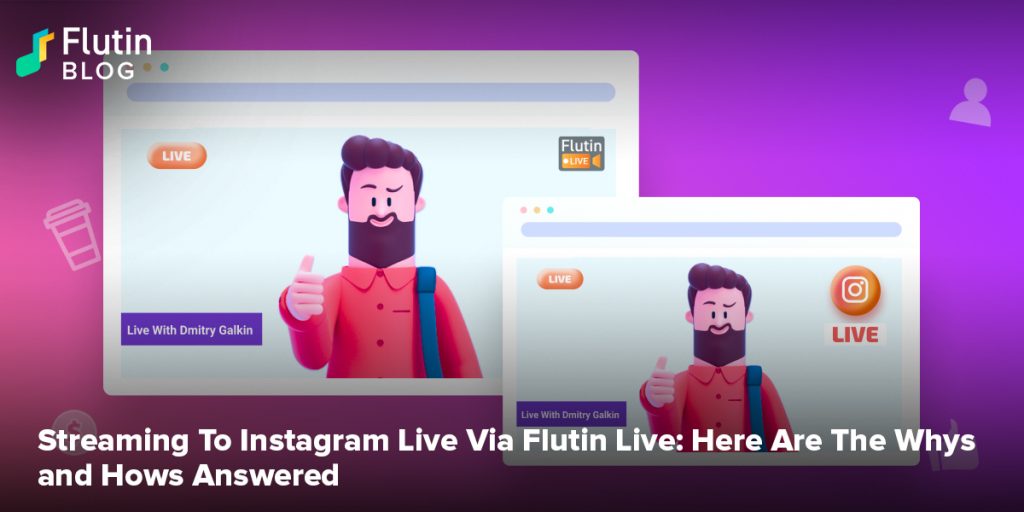 After IG stories when the launch of Instagram Live came about, people wondered how another live streaming platform would fare when the likes of Twitch and YouTube already existed. Despite expectations, IG live has evolved as one of the biggest and best streaming platforms to be present at. Realizing the potential of this mega platform, Flutin allows its users to multi stream to various destinations including IG Live. But, before we get to how that's possible, we want you to take a look at the benefits of Instagram live stream. 
The Might of Instagram Live
Enhanced Audience Interaction
If you want to strengthen your presence as a streamer, IG is the place to be. Besides the live chat feature to connect with your audience instantaneously, Instagram also allows you to stream with other people simultaneously. What's more beneficial about the platform is that it provides all the tools needed for two-way communication and your personal brand is amplified when users feel a part of your stream. 
Improved Visibility
When you go live on Instagram, your stream is shown on the top of the screen with Instagram Stories. But, what makes it more prominent is that your live will be shown at first with a thick purple ring around it to differentiate it from all other stories. This ensures that your followers do not miss out on your live show. 
Instant Notification
Notifications go a long way in ensuring that your followers know when to find you live. IG does that perfectly as it instantly sends notifications to your followers when you go live. This is yet another significant feature to have your followers never miss out on your stream. 

Crazy Reach
Here comes the best part. IG reportedly has 1 billion active monthly users. The opportunity it offers to garner more followers and, thus, more viewers is impressively enormous to overlook. 
Stream to Instagram Via Flutin
Now that you know the immense benefits of IG Live, here's how you can multi stream to this platform via Flutin. 

Login to your Flutin account and go to "Create New Event" to schedule a live event. 
Proceed to fill in relevant details about your stream like event name, description, image, tags, duration, etc. and hit the "Save" button. 
Select your preferred monetization options (if any) and whether you'd like to send reminders and notifications about your event. 
Under "Broadcast Channels", select Instagram Live from the list to multi stream to Instagram amongst other destinations (if any). 
As soon as you do the above step, you'd be prompted to subscribe to our premium plan (if you haven't already). Become our subscribed user to enjoy this amazing opportunity. 
Publish your event and gear up for the upcoming stream. 
On the day of your live stream, your content will be automatically broadcasted to your selected channels including IG. Try out this feature and enjoy the benefits of an Instagram live stream today!