Live streaming is an industry that has been on a crazy ride upwards which doesn't seem likely to stop anytime soon. More and more people are turning to streaming platforms to show the world what they have got up their sleeves. This has led to the emergence of numerous live streaming apps and platforms which are equipped with powerful features to enhance the streaming experience. So, which platform do you choose? We are here to help you with that. Here are the best live streaming platforms to get your hands on in 2021.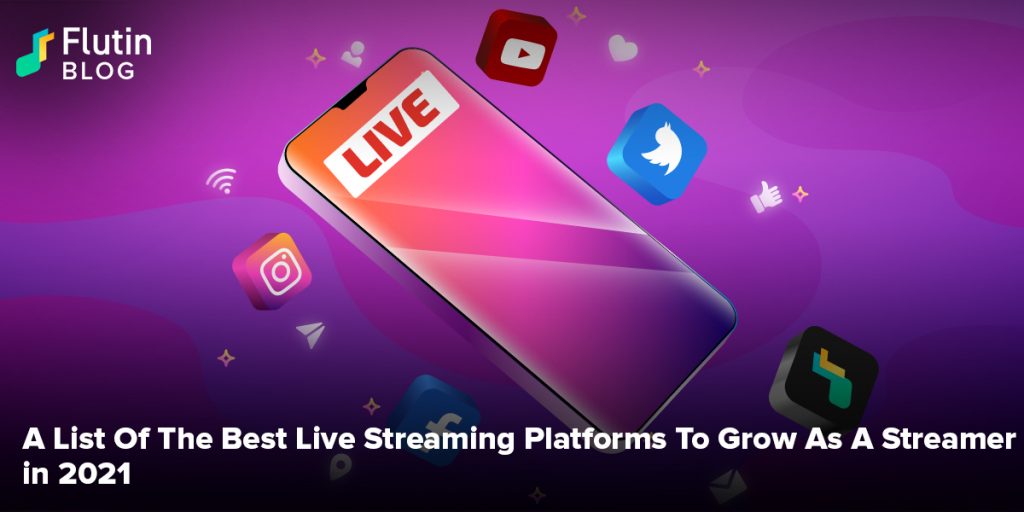 Why waste time deciding on a live streaming platform when one can instead focus on their content? While content makes a huge difference in the performance of your streams, the choice of a live streaming platform also has too significant an impact to overlook. Even though you have fantastic content, broadcasting it on the wrong platform will be a waste of your time, efforts and investments as people wouldn't even get to see it. So, how do you prevent that from happening? We are here to help. Let's take a look at the best streaming platforms to boost your online presence.
1. YouTube Live


With over 2 billion active monthly users and over 5 billion videos watched daily, YouTube's reach and potential is unfathomable. People all across the globe belonging to all races and age groups tune in to YouTube for all kinds of content. This makes YouTube one of the best universal streaming platforms.

2. Facebook Live

Like YouTube, Facebook also has over 2 billion active monthly users. From millennials to baby boomers, Facebook's demographic distribution and universal accessibility makes it another excellent platform to reach as many people as you want.

3. Twitter Live


After YouTube and Facebook, the baton is definitely taken by Twitter. While streaming on Twitter requires you to do so via its Media Studio Producer, the ways of engagement that this platform offers is worth it. From monetization to live interactions, Twitter is a great place to be as a streamer.

4. Instagram Live


There is a reason streamers and brands are increasingly taking to Instagram to broadcast live sessions. That's because it has been found that Instagram is responsible for attracting 13% of all live show viewers on social media. Now, this number alone may not seem that huge. However, when you think of the fact that hundreds of millions of people watch live streams across the world, Instagram turns out to be a highly lucrative platform for streamers.

5. Flutin Live


The latest addition to the block is Flutin Live which is an extraordinary platform, especially for beginners. Flutin Live is packed with all the best streaming features that enable one to take up streaming professionally. The seamless functioning of the platform and ease of use makes it the perfect platform for novice streamers to begin their wonderful journey.
Wouldn't it be just amazing if one platform could give the benefits of all the major ones? Well, that'll Flutin Live in a nutshell for you. From monetization methods and live chats to multistreaming (streaming on all the above platforms simultaneously), Flutin is as streamer-friendly as a platform gets. Head over today to experience smooth streaming in no time.