A live streaming platform is not meant for only content creators to further their careers in their chosen fields. Live streaming has emerged as a useful medium to reach people and it has entered diverse spheres. One such sphere is the business world where companies opt for a subscription plan to maximize the benefits they can achieve through such platforms. But, why should a business go live? How can you take your idea online via Flutin premium to strengthen your presence? Find out below.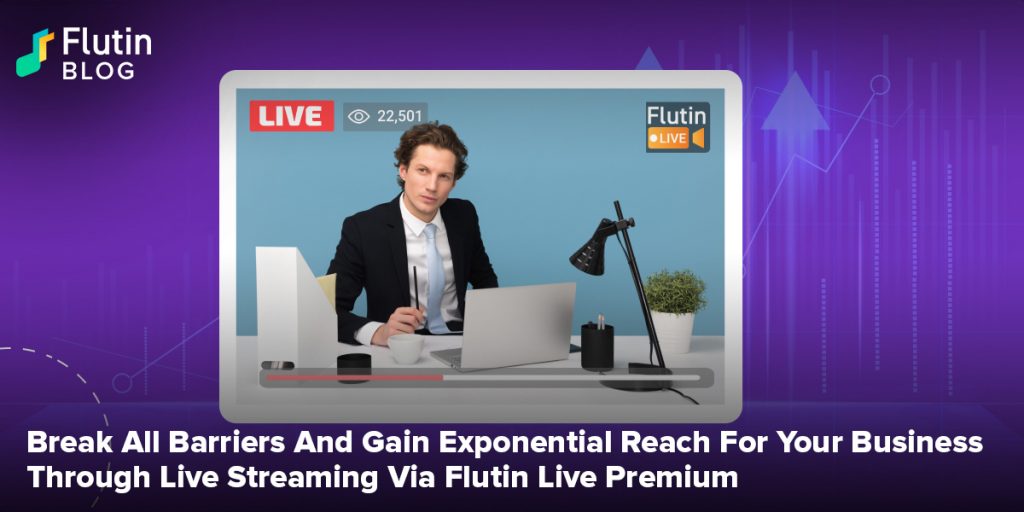 When was the last time your business hosted on a live streaming platform? If the answer is never or something along those lines, you should reconsider your marketing strategies. In these times of competitive wars, live streaming is quickly becoming the armour businesses can turn to for their survival. Live streaming platforms offer subscription plans that offer businesses the features they need to grab the spotlight in the market. Flutin Premium features, too, are developed expertly to let all kinds of streamers amplify their growth and virtual presence. But, what benefits will you get if your business goes live? How can you use the Flutin features that come with our premium plan to take your business to the next level? Let's dive into it. 
Live Streaming: The Business Need of the Hour
The digital revolution has been highly accelerated by the ongoing pandemic. At a time when people became confined to the four walls of their homes, the virtual world became the knight in shining armour and broke down all possible barriers. Many businesses are already tapping into this huge opportunity to gain a competitive edge. Here's why your business also needs to catch up with the trend. 
1. Improved Brand Value
Live video is not always about streaming highly polished and edited videos. In fact, people often appreciate authentic content and find it more relatable. When your business goes live, they get to see what it stands for and what it really is. This openness creates a personal connection and turns your viewers into potential customers, instilling a sense of trust and reliability in them. 
2. Improved Engagement
Engagement via physical presence is a thing of the past now. You can make your audience feel like a part of your content and, ultimately, your business through live streaming. Live Q&A sessions and chats assure them that you are there to solve their queries. Even a simple like or share makes them feel included. 
3. Brand Awareness
Live streaming is an excellent way to take your business to places that would not have been possible otherwise. Through creative content and increased engagement, you can spread the word about your brand as quickly as half an hour. 
4. Simplicity
Live streaming allows you to break all geographical boundaries. Consequently, people from any corner of the world can view your content and engage with you if they like what they see. Broadcasting brings the entire world to your screen. And when you really think about it, live streaming is as easy as eating a cake. For instance, you simply create an account with Flutin and tap on the 'Go Live Now' button. It's as simple as that. 
Conquer The Virtual World With Flutin Premium
Flutin Live's premium plan has been curated to encompass all the potential benefits that an entity can exploit from live streaming. Let's take a look at the premium features of Flutin Live and how you can use them for the maximum benefit of your business. 
1. Long Streams

Based on the premium plan that you opt for, you can conduct hour-long webinars, insightful workshops and schedule public speaking sessions to interact fully with your audience and spread awareness about your company, product, etc., without having to worry much about the time limit. The subscription plans have been curated in a way to ensure that the purpose of your live stream is fulfilled. 
2. Multistreaming

When we mentioned that live streaming offers exponential reach, we meant it. However, there's a catch here. The platform used by people to watch live stream videos varies from person to person. So, why stick to one platform only when you can stream to multiple platforms at the same time? This is exactly what our subscription plan offers – you can stream to up to 10 destinations simultaneously, including the most popular ones like YouTube, Twitch, Instagram, and Facebook. Reach out to where your audience is. 
3. HD & RTMP Streams

Whether you're streaming pre-planned and edited videos or going with the flow, poor quality broadcasts with a lot of buffering will drive viewers away faster than you can even spell 'viewer'. Flutin premium ensures that nothing comes in the way of your time with your target audience. Stream in HD quality and upto 5 custom RTMP destinations to guarantee a smooth experience for your viewers as well as yourself. 
4. Custom Branding
Flutin premium lets you display your company's logo on top of the stream rather than our own logo. This ensures that people who watch your content remember you in the utmost seamless way possible. 
5. Multi-Chat

With Flutin premium, streaming to multiple destinations is no longer a challenge – there's no need for any external setup or software. There's also no need for you to toggle between platforms to address people's queries in the comment section or engage with them in two-way communication. The multi-Chat feature displays all the chat boxes of the platform you're streaming to in a single space so that you can devote your full attention to building your brand and living up to your potential customers' expectations. 
Live streaming is an inexpensive method of reaching out to customers in any corner of the world. Real-time engagement offers greater levels of assurance and facilitates building a trusting relationship with your prospective consumers. Go live via Flutin premium and explore a world where opportunities are unlimited.