Our live streaming platform is going all the extra miles out there to ensure that content creators have the right outlet and the right tools they need to thrive in the world of live broadcasts. This is why we have come up with numerous cutting edge features that are designed to revolutionize the streaming experience. But, do you know what's more exciting than that? It's the AppSumo Black Friday sale. Grab the best lifetime Flutin Live Allsumo deals before it's too late.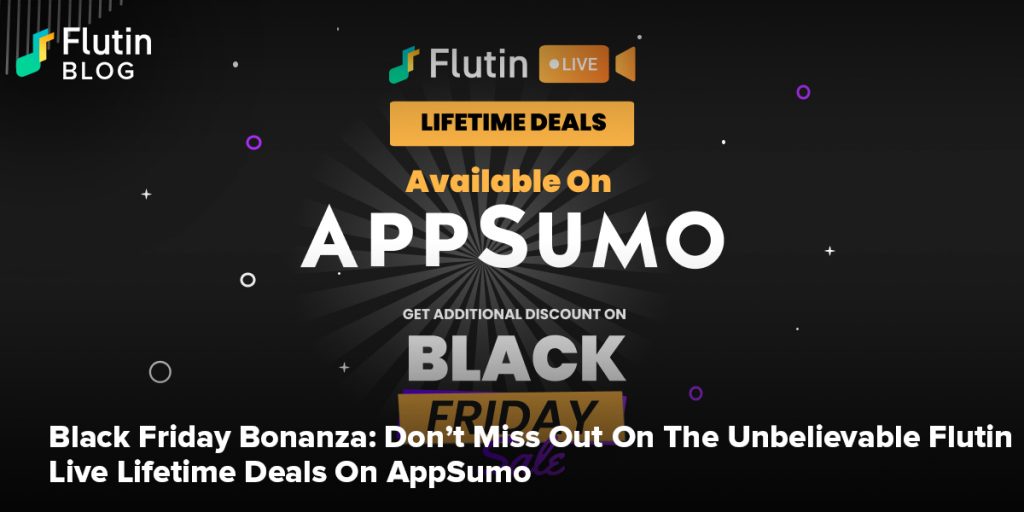 A live streaming platform must offer content creators all the tools they need to reach their best potential. Ever since its inception, Flutin Live has been on a mission to become the go-to streaming platform for streamers that makes high tech features the new norm. Now, you can avail our state-of-the-art features for lifetime use on AppSumo's Black Friday sale. Hurry over to make full use of the Appsumo deals. Here's everything you need to know about the lifetime deal.

The Timing

The Black Friday sale will be live from 5 p.m. CST on 21st November 2021 till the noon CST of 30th November 2021. After this period, a Last Call sale will take place from 12:05 p.m. CST on 30th November 2021 till noon CST on 3rd December 2021.

The Deal

You might be wondering what the Black Friday sale is all about. AppSumo is offering a whopping 10% discount upon a purchase of $150 on over a thousand products in their store. However, not all of these eligible deals can be accessed during the Last Call period. This discount offer is valid during the aforementioned period only on the AppSumo Select deals which display the red Last Call banner.

Flutin Live For A Lifetime

As you may have guessed it already, Flutin Live is part of the eligible tools that can be purchased at an impressive discount on AppSumo. You can make payment for a one-time purchase and enjoy our intuitive live streaming features for a lifetime. There are numerous plans that you can choose from like:

If you like to stream once in a while and just want to have fun without turning it into your profession, a License Tier 1 or Tier 2 plan would be perfect for you.
If you take streaming on a professional level and want to showcase your talent to the world, the License Tier 3 plan is just right for you.
License Tier 4 and Tier 5 plans for perfect for those streamers who are more established and broadcast for a significant amount of time (like gamers).

Accessing The Deal

Here's how you can access the lifetime deal on AppSumo:

Go to the official website of AppSumo and login if you have an account. If you don't, directly type "Flutin Live" on the search bar at the top and press the search button.
Flutin Live will appear on the top of the results page. Click on it to proceed.
In this page, you can go through the relevant details about our streaming platform. After you have gone through it, click on the yellow "Buy Now" button below the image of Flutin Live.
Select the plan you want to purchase. In the Summary section underneath, you can see the Black Friday discount has been applied automatically. Click on the yellow "Proceed to checkout" button below to continue with the transaction.
Here, if you do not already have an account, you will be prompted to create an account to make the purchase. You can manually create your account by entering the required details or simply sign up through Google.
Select the payment method of your choice and complete the transaction henceforth.
Flutin Live is an emerging streaming platform that is creating quite the stir in the market. And we can assure you that things are only going to get better for our users. So, what are you waiting for? Grab the AppSumo deal today.