Staying true to our commitment to spoil streamers with the most advanced of live streaming features on Flutin Live, we have come up with another exciting addition. Allow us to now present RTMP Pull which is certainly a valuable inclusion in the live streaming scene. You wonder how? Read to learn!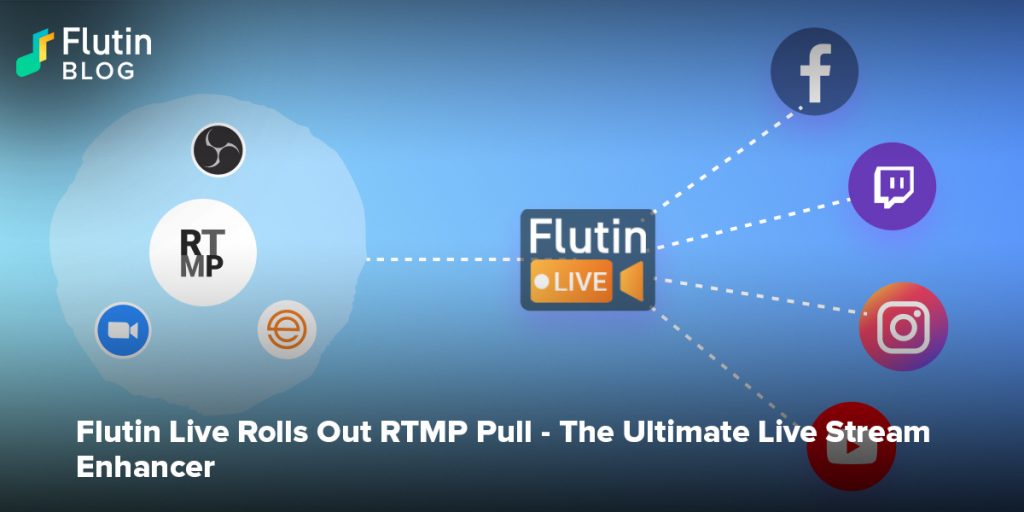 RTMP Pull, which has unarguably been one of the most anticipated and demanded features on Flutin Live, is here. From being capable of offering an enhanced streaming quality to enabling you to do some advanced experiments with the appearance of your live streams, RTMP Pull is a godsend in the truest sense. If you are a seasoned streamer who is well-versed with the technicalities of RTMP streaming, you must already know about the wonders RTMP Pull is capable of pulling off (pun intended). And if you are not, worry not, you will be convinced by the end of this piece.
What is Meant By RTMP Pull?

The simplistic, layman definition of RTMP Pull would be: A process that allows you to pull a live stream from the source onto the streaming tool (Flutin Live) to broadcast it further.

Basically, an Real Time Messaging Protocol Pull link creates a stream flow where a stream from an encoding software such as OBS, Zoom, Ecam, XSplit, etc. first travels to Flutin Live and then further broadcasts to the connected social media channels.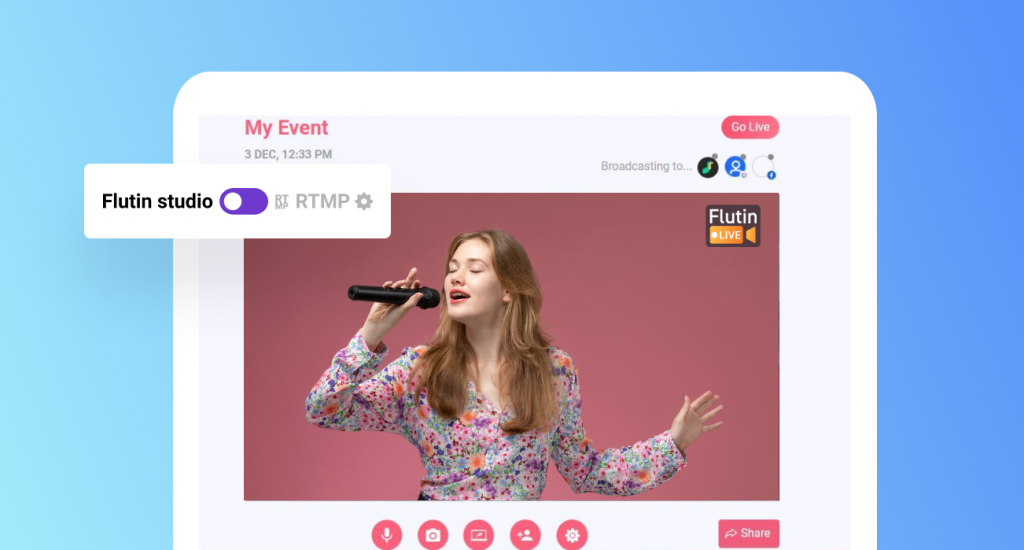 RTMP Pull or Real-time Messaging Protocol Pull enjoys a great reputation among gamers. Having said that, its utility goes way beyond video game live streaming. Is it for you, though? We strongly feel so!
Why is it a Cool Feature?

The benefits that arise from the usage of RTMP Pull vary according to the live streaming requirements of streamers and the nature of events they host. There are, however, a few benefits that are applicable to almost every use case.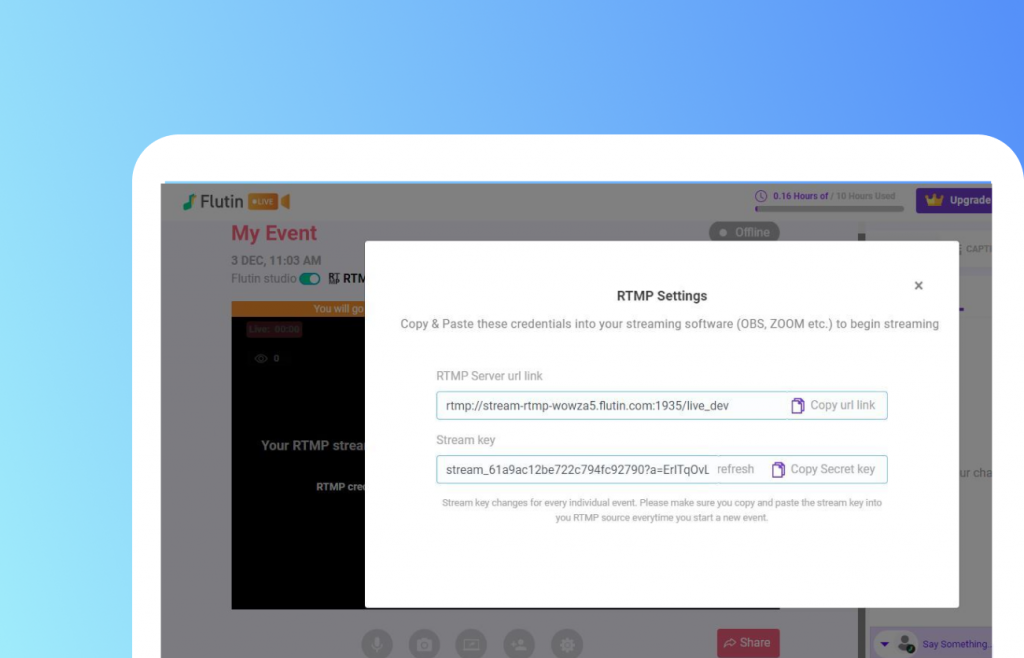 Glitch-free streaming
Advanced customization controls
Real-time source switching during an on-going event
There are more which you will learn about as you go.
RTMP Pull Process

RTMP Pull is supposed to simplify the most complex of things for you and the process involved in using this technology is even simpler. Let's walk you through the process:

Browse through the Live Studio.
Turn the toggle toward the RTMP icon located just above the stream window.
There will be a pop-up with the URL and Secret Key.
Go to the third party encoders you want to source the stream from
Paste the URL and Key to the appropriate fields
Click the corresponding Go Live button on the software page
Flutin Live will pull in the stream and broadcast it on respective platforms
Cannot get simpler than this, can it?
Whom is RTMP Pull Meant For?

After having gone through the above information, you must be wondering whether or not our RTMP Pull feature will make any difference to your livestreams. Well, most certainly, if the following scenarios are involved: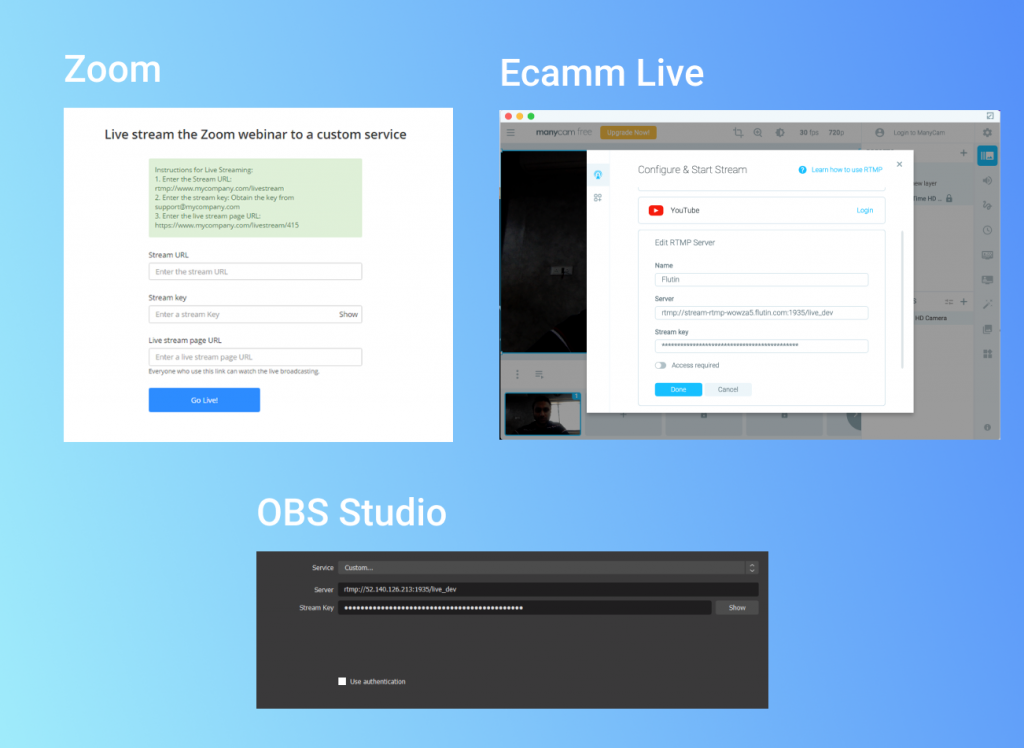 If you are gamer who happens to broadcast gaming events
If you require virtual background in live streams
If you are using a multi-cam setup
If you are using high quality camera
If you require advanced customization features available with encoding softwares
We would like to mention that an exhaustive list of RTMP Pull use cases would be much longer than this.
Alright. Since you have now been educated about the relevance of Real Time Messaging Protocol Pull in the ever-evolving world of live streaming, why don't you give this new feature a try in your next Flutin Live event? And, you could also be kind enough to leave us a feedback so we can inch towards perfection and offer you the most refined live streaming experience.