We are pretty sure that you are not new to the phenomenon of live streaming. From businesses to independent content creators, everyone is reaping the benefits of the rewarding world of live streaming. And if you happen to have a website, you might have tried to upload it directly on there as well. However, the correct way to do it is to embed live streaming on your website. You can easily do so after knowing what it takes to embed live streaming video on your website. Here's everything you need to know about what it means to embed live streaming videos on your website and why streamers are doing it.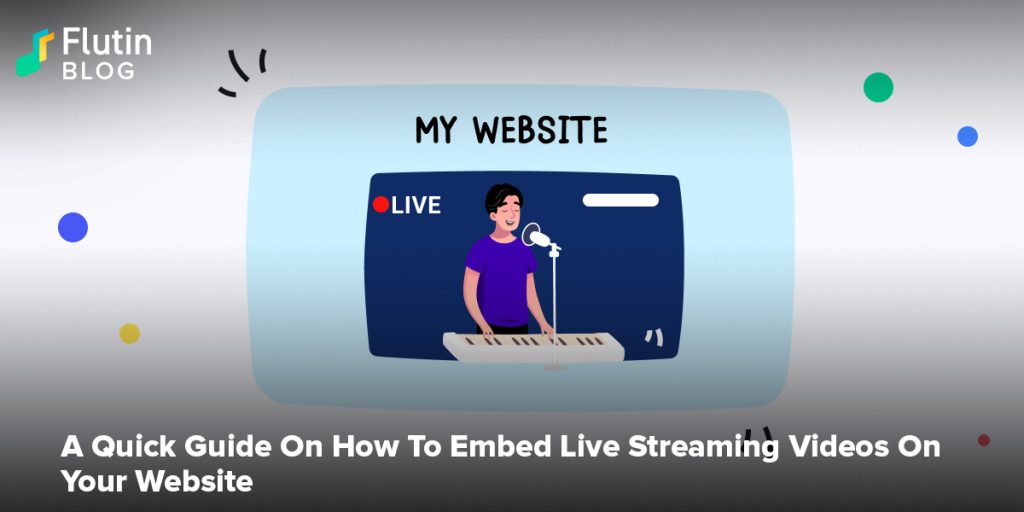 Let us give you a practical example here. Search anything on Google (say "Live streaming guide"). What do you see? We bet you anything that at least one video will crop up on the first results page. This is because the consumption of video content grew dramatically due to the pandemic – 78% and 55% of the people watch videos weekly and daily, respectively. And experts believe that this trend is likely to continue for a long time to come. Now, search your name or the name of your website on Google. Do you see any videos? If your answer is no, then you are yet to embed live streaming videos on your website. There must be several questions running through your mind now. "What does it mean to embed live streaming video on your website? How does one embed live streaming videos on their website? Why should I bother about it?" Today, we are here to answer all these queries.
Live Stream Embedding
Embedding live videos on your website essentially refers to the process of adding a video player or a live stream to it with the help of an online streaming platform. Most of the time, you can just copy and paste a link into a website builder or social media platform. There are free tools available (like YouTube) to do the above. But, there are certain limitations of using them. For instance, embedding YouTube streams often lead to siphoning of traffic from your website, offering an unprofessional viewing experience, putting the videos at risk of removal due to various arbitrary rules, and so on.
You will have greater control over your video content when you use professional video hosting platforms. White-labeling (or removing the host's branding) is something you can do if you own the content. Additionally, you won't have to worry about the strict guidelines of Youtube, or putting your content at risk of getting removed without your permission. If the type of streaming you want to implement is compatible with your website design, embedding video should be fairly simple.
Benefits of Live Stream Embedding
Take a look at the few stats below to understand the tremendous potential and future of video content.
96% of consumers increased their consumption of online video in 2020. In fact, 9 out of 10 viewers expressed their wish for brands and businesses using videos to communicate with them.
By the end of 2022, experts predict that an average person would spend 100 minutes every day watching videos online.
Cisco states that online videos are set to drive more than 82% of all consumer traffic on the internet by the end of 2022. This is 15% higher than what it was back in 2017.
In a survey, 72% of consumers said they preferred to learn about products and services via video.
A video marketing strategy grows revenue 49% faster than a non-video marketing strategy.
In terms of mobile video consumption, 92% of consumers share the videos that they watch with others.
Video-rich websites are visited 88% more frequently by users.
These statistics alone should indicate how much more awareness can be spread and how many more followers can be gained via video streaming and why you must embed live streaming videos on your website.
How Live Stream Embedding Works
Live stream embedding works by adding a small code to your website from your video hosting platform. This snippet is called an "embed code." This allows you to show a live video stream directly on your website.
There are two types of embedded codes: iFrame and JS. Depending on your streaming setup, you can choose either. The JS embedded code supports the majority of the features. It includes responsiveness in case the elements inside are designed differently and they work differently with the referrer restriction feature.
On the other hand, the most universally embedded code is the iframe code. The only setback is that not all features go with it. This embedded code, unlike the other one, is fixed in size and, therefore, unresponsive. Sometimes, even the full-screen feature does not work with it. However, this generally happens when one uses iframes within iframes. Besides, the referrer restriction, which is a URL-based feature, doesn't work with it.
Well, now you know a lot about embedding live videos on your website. But, to embed one, you need to host a stream first. Head over to Flutin to start streaming with cutting edge features that would change the game for you. Go live today and enjoy all the amazing Flutin features like multistreaming, multi-chat, stream monetization, logo customization, etc. to own the live streaming world.

Related Topics:
Join our Facebook Community to get regular updates and interact with fellow streamers.
Follow us on our social media accounts:
Facebook Twitter Instagram Linkedin