It's no secret that the pandemic has boosted the world of virtual streaming and real-time interaction even after being continents apart from each other. However, what you may have missed recognizing is that live streaming is constantly evolving. One of the cutting-edge features available today is multistreaming, which has the potential to grow your reach and virtual presence exponentially. Today, we will discuss the multistreaming benefits and how you can do it too with our streaming platform Flutin.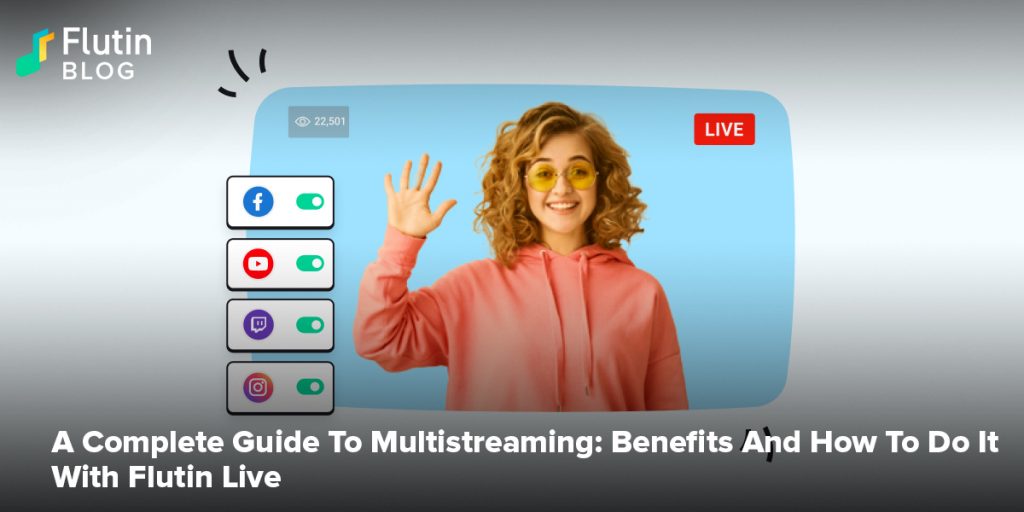 The live streaming world is bigger than ever before – and it is ever-growing. It has evolved from a real-time communication platform and is slowly replacing traditional forms of entertainment. And today, it is possible to go beyond the conventional benefits offered by live streaming with multistreaming. Today, we'll take a look at why you should be multistreaming and what are the multistreaming benefits & how to do it with Flutin.
What is Multistreaming?
Multistreaming is a process of streaming simultaneously on multiple streaming platforms at the same time. You just need to create one live stream and broadcast it on different platforms such as Facebook, Instagram, and Twitch etc. Which live streaming destinations you stream is completely up to you and the capabilities of the multistreaming tool or service you use.
What is the difference between Multistreaming and Simulcasting?
Multistreaming and Simulcasting are similar at times but there are certain key differences in their origin and meaning.
Simulcasting is a term used to describe broadcasting a radio show or television program on different stations at the same time. As technology has advanced and live streaming to multiple platforms has become a possibility, the word "multistreaming" has been used as a way to specifically describe live streaming to multiple destinations simultaneously.

Multistreaming Benefits
Multistreaming offers a plethora of benefits to streamers that boost their online presence and build their brand equity. We have mentioned below the major reasons you should already be multistreaming (or at least considering it).
1. Wider Reach
Before we get into it, let us look at some facts and figures. Facebook has over 1.9 billion daily active users, Instagram has over 500 million daily active users, and YouTube has over 300 million daily active users, and so on. You can see where we are going with this.
When you stream to just one platform (say Facebook), you are potentially losing out on billions of viewers that are present on other streaming platforms. With multistreaming, that is no longer the case. Multistreaming benefits revolve around the ability to simultaneously stream content across multiple platforms, allowing content creators to expand their reach significantly. By being present on various platforms where their audiences already exist, multistreaming eliminates the need to compel viewers to come to a specific platform, making it more convenient and accessible for both content creators and their audiences.
2. Community Building
Live streaming is all about engaging and interacting with your audience in real-time. But, you must be wondering how you can chat with viewers of each platform in case of multistreaming. Well, that's not a concern anymore. Platforms like Flutin Live are equipped with a multi-chat feature. This displays all the comments from various channels that you stream to in a single place. This makes it incredibly easy to chat with all of your viewers while streaming and not miss out on them. And the more you sincerely address and interact with the audience, the stronger the bond and sense of community grow between you and your viewers.
3. Audience Insights
Each streaming platform has a unique set of features to offer. For instance, the analytics and metrics present on platforms like YouTube and Twitch help you understand where your content is performing better, what type of users form the majority of your viewers, and so on. This information goes a long way in helping you form an informed decision about which platform to stream to. This not only saves your time and effort but also offers you valuable insight on how to improve your content in future.
4. Time-Saving
If you are not making use of multistreaming yet, you are essentially wasting precious time which you could have utilized in coming up with more creative content to boost engagement. Multi-platform streaming is an incredible way of saving valuable time. For instance, YouTube automatically saves your live streams and uploads them as videos for viewers to watch in case they have missed them or want to watch them again. This saves you valuable time as you no longer have to download your live streams and upload them separately on different platforms. Since the streams get saved, you can also repurpose and upload them.
5. Convenience
Let's face it: multistreaming is convenient for both you and your viewers. As mentioned above, you get to the benefits offered by each streaming platform and tap into their wide user base. On the flip side, it is extremely convenient for your viewers to find you in the platform where they are the most comfortable instead of having to switch to a different platform to watch your stream. This, in turn, increases the rate of viewership as your audience is more likely to tune into your streams.
How to go live on multiple platforms?
The first step before you begin Multistreaming is to choose the suitable video platform that allows Multistreaming. Based on your needs, you can choose from 3 different options –
Hardware encoder : This is the only option that is a physical piece of equipment. Hardware encoders have their own processing power and don't rely on a computer, but you will need a high internet upload speed to produce a quality stream.
Software encoder : With software encoding multistreaming platforms, you get a browser based encoder that requires a powerful computer along with a high internet upload speed. The more destinations you choose to stream to, the more bandwidth you use which lowers the quality of your live streams.
Cloud – based platforms – Unlike the other options, cloud-based platforms don't require any hardware or additional bandwidth. Cloud-based platforms use a network of servers to distribute your live streams to your desired destinations.
Multistreaming with Flutin
Flutin realizes the amazing growth opportunities that Multistreaming presents to streamers, especially beginners. This is why we offer the Multistreaming feature, along with the multi-chat option, to help our users maximize their potential. Here's how you can multistream via Flutin.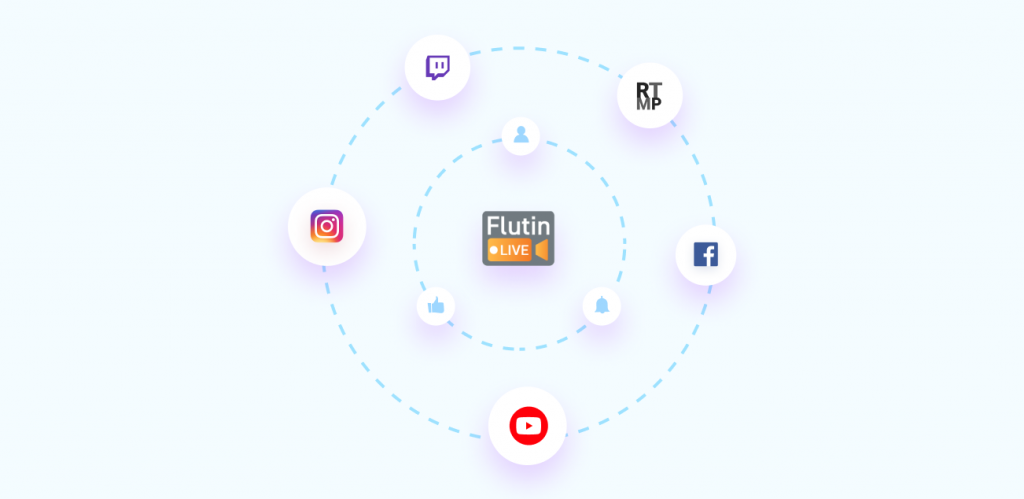 Head over to Flutin and login to your account using your credentials.
Go to "Create New Event" to schedule a live event.
Fill in all the necessary details about your live streaming session like the name of the event, description, image, tags, duration, etc. and press the "Save" button.
Pick the method of monetization of your choice and whether you want notifications and reminders to be sent to your followers about your live stream.
Go to "Broadcast Channels" and select all the channels you would like to stream to like YouTube, Facebook, Twitch, Instagram, etc. (if you haven't connected your social media channels already, you can do it while creating or even after you have created your Flutin account).
If you haven't subscribed to our premium plan already, you will be prompted to subscribe at this point. Subscribe to our platform to enjoy more such amazing features.
Publish your event and, once you go live, your stream would be broadcasted to all the chosen platforms.
You can also engage in RTMP streaming via Flutin Live under the "Custom RTMP" option in the "Channels" section. Then, enter necessary details like your nickname, RTMP server link and stream key and click on "Add custom RTMP". You can thus engage in RTMP streaming via OBS Studio.
Why Multistream to These Platforms
If you are not convinced yet, here are a few more reasons why you must be streaming to the above-mentioned platforms.
YouTube Live

Apart from easy monetization methods, content creators can create accounts and start streaming live without spending anything.
Facebook Live

The most convenient benefit of live streaming for viewers is that there are no advertisements on Facebook Live. Just like YouTube, Facebook Live is also absolutely free.
Instagram Live

One of the biggest advantages of Instagram Live is that it displays the live streams at the front of the storyline so that your followers don't miss watching your live sessions.
Twitch

Apart from being the most popular streaming platform in the world currently, Twitch allows great monetization opportunities and immense flexibility in how you choose to run the ads.
RTMP Streaming

RTMP is an absolute favourite among streamers because it offers amazing flexibility (streams can be skipped, rewound or joined after they have begun), low latency and is easy to integrate.
So, what are you waiting for? Head over to Flutin and start Multistreaming today.
Related Topics:
Join our Facebook Community to get regular updates and interact with fellow streamers.
Follow us on our social media accounts:
Facebook Twitter Instagram Linkedin