GoPro cameras are insanely popular due to the spectacular shots that you can take which is not possible with other cameras. Wouldn't it be even more amazing if you could host a GoPro live stream? What if we told you that you can and many streamers have already been doing it? That's right – GoPro streaming is increasingly becoming more preferred as it takes live streams to a whole new level of fun and excitement. Here's everything you need to know about GoPro streaming.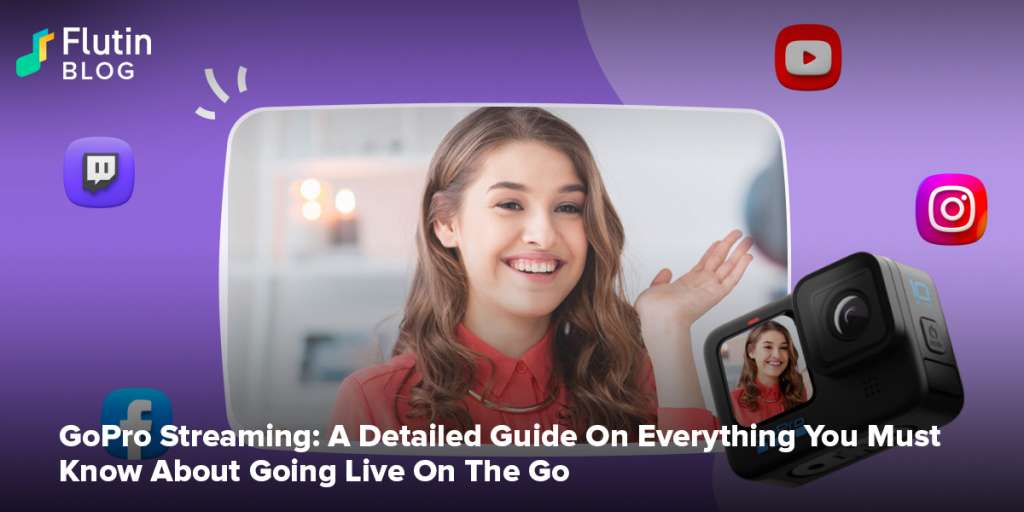 Today, GoPro cameras are associated with the feelings of outdoor adventures and exciting activities. From parasailing and scuba diving to small events and international conferences, GoPro cameras have captured countless images and hours of footage. Since GoPro started doing business a decade ago, the company has always been looking for ways to expand. One can expect GoPro to consistently come up with new offerings. The latest from the company is GoPro streaming. As you know already, today we are going to take a deep dive into how to conduct a GoPro live stream.
What are the benefits of GoPro streaming?
There is nothing better than GoPro's action cameras. However, you cannot go live with just a GoPro camera. You must pair the camera with the GoPro app, after you install it on your smartphone, or avail the services of a third-party platform. Smartphone users use their devices as the processing computer, the app as the encoder, and the GoPro camera as the source. Nevertheless, take a look at the following benefits of a GoPro live stream:
Exceptional video quality 
GoPro cameras are quickly becoming streamers' favourite due to the phenomenal quality and the perfect colour balance portrayed in the videos that are captured through them.
Immensely convenient 
There's a reason why GoPro cameras are synonymous with outside adventures – their small sizes make them easily portable without the least hassle. It's also incredibly easy to install the GoPro cameras on your bike, tripod, helmet, etc. so people can see things from your perspective without you having to hold it the whole time.
Sturdiness 
Given its small size, many expect GoPro cameras to be extremely delicate and fragile. However, they couldn't be more wrong. GoPro cameras are sturdier than the smartphone you use and can be used underwater.
Wide views 
Outdoor shots are better and look more professional when broader angles are used. And you'll be surprised to know that, despite their small size, GoPro cameras can take photos and videos from very wide angles to give your audience the adventurous rush and feel.
How can you host a GoPro live stream on Flutin with the GoPro app?
The process of conducting GoPro streaming on Flutin is fairly simple. Here's a step-by-step guide to doing it:
Step 1: Install the GoPro app on your device.
Step 2: Copy the RTMP link and the stream key from Flutin.
Step 3: Go to the GoPro app, select RTMP and enter the link and stream key as copied above (do not forget to add a "/" after pasting the URL). 
Step 4: Hit the "Go Live" button when you're ready.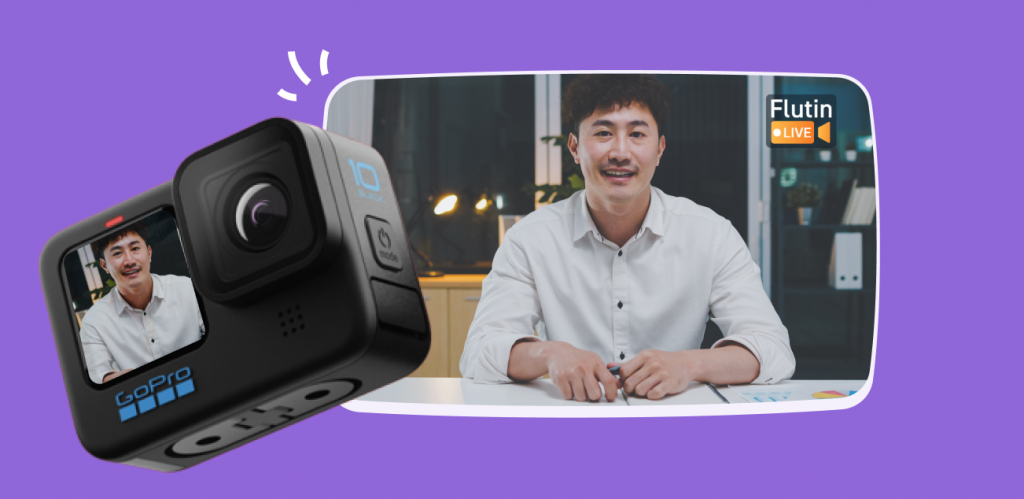 How can you use GoPro as your main webcam with Flutin?
Are you looking for a way to double your GoPro's utility by using it as a webcam for your live streams? We are here to tell you that you absolutely can. After all, a high-quality camera lets you create a strong visual identity that helps you build your brand. And we all know that GoPro's quality footage and flexibility are second to none. So, you can definitely use it as either your primary or secondary camera. Here's how you do it seamlessly with Flutin.
Step 1: Make sure you have the right model
There are some versions of the GoPro camera that will not work as your live stream webcam. In brief, any model which has a micro HDMI output will work as a live stream webcam. This includes all the numbered GoPro Hero Black models – from Hero4 Black to Hero7 Black. Even Hero3 (Black and Silver) and Hero3+ (Black and Silver) should work as a webcam.
Step 2: Install the GoPro Webcam app
If you have Mac OS v10.14 (or newer) or Windows 10 (or higher), you must download and launch the GoPro Webcam desktop utility to use it with Flutin.
Step 3: Connect the GoPro camera
After successfully installing the above-mentioned app, you need to turn on your GoPro camera and connect it to your computer with the help of a USB cable. 
Step 4: "Create an event" on Flutin
You then need to head over to Flutin, login to your account or create one by signing up (if you haven't already) and create an event by clicking on the button and entering all the relevant details (like event name, description, tag, cover image, etc.). You can also select the channels you want to multistream to and your preferred monetization method.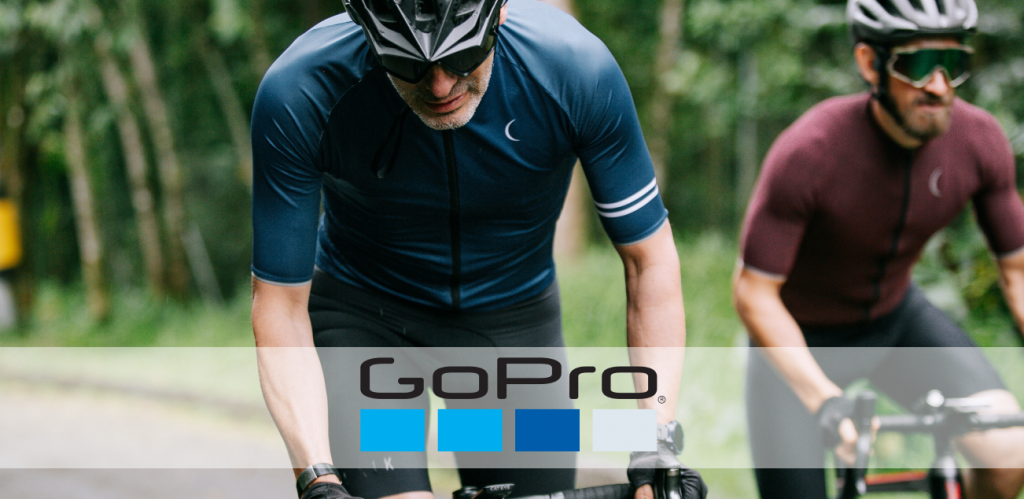 Step 5: Change the camera settings
Once you are done with the above, click on the settings icon before you go live. Under the video, you will find various options like "Select Video Input", "Select Video Quality", and "Select Video FPS". Under "Select Video Input", change it to GoPro camera. After changing it, you can hit the "Go Live" button whenever you're ready and stream in high quality.

Can't wait any longer now that you have all the information you need? Hurry over to Flutin and try GoPro streaming today.
Related Topics:
Join our Facebook Community to get regular updates and interact with fellow streamers.
Follow us on our social media accounts:
Facebook Twitter Instagram Linkedin