YouTube is arguably one of the most renowned websites on the planet. YouTube live streaming has become the primary way of broadcasting for millions of streamers. But, what do you do when your YouTube live video ends? Just let it be there in your playlist? That's not the most efficient route to take. In fact, you can repurpose your live videos in the formats of various other platforms and boost your following there. Today, we take a look into 16 of those places to share your repurposed YouTube live video.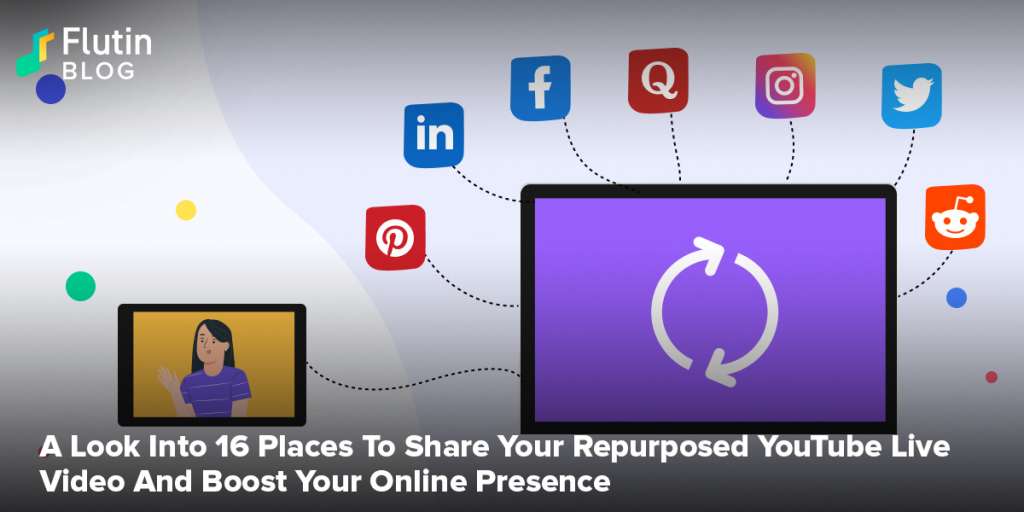 Once your YouTube live streaming is over, the platform saves your video in your channel for viewers to watch it again if they want. But, the truth is, not many people might enjoy watching a live stream that's over, especially if it's a couple of hours long. Even if your content had great moments in between, you should not expect people to scan a lengthy video to find it out and enjoy it. In fact, that's why repurposing your live videos becomes crucial to have your stream up the numbers for you even after it's over. Now, you can repurpose your YouTube live video and take out snippets to create a highlight video, shorts, reels, etc. Here are the best 16 places to share your repurposed content for maximum results.
1. Facebook

When sharing YouTube live videos, you should prioritize Facebook. You can reach billions of users by sharing your repurposed content on groups, your own business page or just your timeline. Here's how you can do it:
Facebook groups – If your content falls under a specific field or category (for instance, fitness, gaming, etc.), you can share your video in related groups. You may also create your own group with interested people to start a conversation around your stream.
Influencers – You can ask social media influencers to give you a shoutout on their timeline with a link to your repurposed content for clocking those additional views.
Comments – You may also subtly plug the link to your highlight video, shorts or even the actual stream in discussions.
Facebook video – You can also upload your entire stream on Facebook or make a short video of the highlights meant just for the platform.
2. Instagram

There are numerous ways to share your repurposed stream on Instagram. You can add the link to the YouTube live stream in your bio for people who want to watch the entire action unfold (yes, there are people like that too). You can also make reels out of clips from your stream or share a portion of your stream on IGTV.
3. LinkedIn

Just like Facebook, you can upload your stream or a repurposed portion of it on your profile in LinkedIn. And while you are at it, you can also subtly plug the link to your stream or YouTube channel while commenting in various related groups as well.
4. Twitter

Twitter is an incredible platform where users are highly active and discussing constantly about many things. You can either upload snippets of your live streams or plug the link in a tweet or a comment which takes a matter of seconds but might do wonders for your channel.
5. Reddit

Reddit is an underrated platform where just the right type of audience can be easily identified and attracted through its many niche communities (subreddits). Share your repurposed Youtube live and make sure to be active on your subreddits and join the discussion to engage more people.
6. Quora

A question may be asked on almost any topic on Quora. You can find questions in the same field as your live stream and, if your live stream addresses or revolves around that theme, you can plug the link to it in your answer.
7. Pinterest

Pinterest is yet another amazing platform that is overlooked by many streamers. Create your own pin with your YouTube thumbnail and make sure to provide the link to your stream along with the right keywords.
8. Digg

Similar to most platforms, Digg focuses on ensuring that the best content is accessible to its users. You can upload your repurposed live video on the website and, if it is good enough, you may be featured on the main page.
9. Newsletter
It's a great idea to maintain your own newsletter alongside your website or channel to keep your viewers updated about your events. Moreover, you can also send your repurposed youtube live video to other newsletters revolving around a similar topic.
10. Website/Blog
You can share snippets of your live stream on your website or blog and get them more intrigued and excited so that they are eager to join your next live stream.
11. BoredPanda

You can post your repurposed content to this community-developed website for free. All you need is an interesting title, effective keywords, and you're good to go. Just be sure to remain active for a better shot at going viral.
12. Medium
Medium is an exciting and professional place where people share their knowledge, opinions and stories regarding specific topics. Your repurposed video can be linked through a post on their platform.
Thematic Websites To Share Your Repurposed Content
13. TripAdvisor
If you love streaming yourself exploring various destinations, then TripAdvisor is an incredible place to upload your repurposed videos. You can also post them to other similar platforms like MakeMyTrip.
14. Yelp
If you own a business at a physical location and often do streams about product launches, customer reviews, etc., you can repurpose such live streams and upload on Yelp to attract potential customers.
15. WonderHowTo
WonderHowTo is the place to be if your live stream content revolves around the theme of how to do something. There is a great chance that your content will gain thousands of views, regardless of its topic.
16. Instructables
Similar to WonderHowTo, Instructables revolve around guide and tutorial videos. If your streams are more about DIY, Instructables is the place to promote it.
These were 16 places where you can share your repurposed content and attract more followers and viewers. Start streaming on Flutin and spread the word in the above places to drive results like you've never seen before.
Related Topics:
Join our Facebook Community to get regular updates and interact with fellow streamers.
Follow us on our social media accounts:
Facebook Twitter Instagram Linkedin