The streaming software is at the heart of a burgeoning live streaming industry, and there's no slowing it down. It can be difficult to sort through the options and pick the best live streaming software out of the countless options available now – practically every social network offers one. This article will tell you everything you need to know about the 8 best live streaming software out there and help choose the one that's ideal for your needs.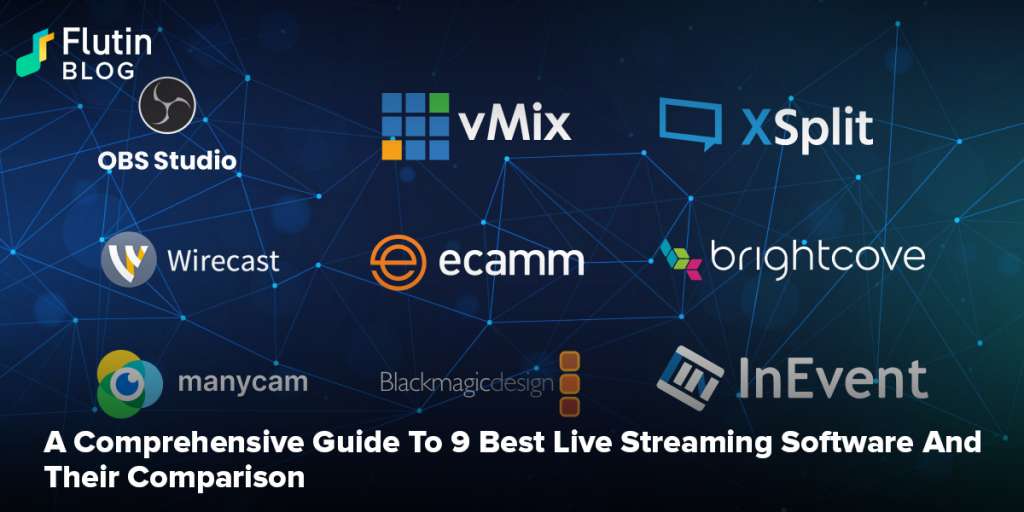 When searching for the best live streaming software, it can get intimidating as there are many aspects to consider. Those of you reading this are probably considering whether it's worthwhile to invest in a live streaming software. And, if yes, which one to go for. You want software that's flexible enough to adapt to your changing needs, comes with all the cutting edge features and, yet, doesn't burn a hole in your pocket. Is it too much a streamer can ask for? Certainly not, when we have got you covered. Here's a list of the best streaming software to consider.
1. Wirecast
Wirecast is the first software encoder on our list. Various online video platforms are supported by this live streaming encoder from Teradek, which makes it a favourite among streamers. IBM Video Cloud, IBM Video Cloud, and Wowza are some of the professional video streaming services that Wirecast works with.

You can live stream to any RTMP-enabled streaming destination through these platforms, among others. MP4 and MOV files can also be recorded. Its most popular features include instant replay, timers and scoreboards for sports, "Wirecast Rendezvous" – an integrated chat, multiple bitrate streaming, and so on.
2. OBS
The live streaming software OBS Studio is an open-source encoder. Those new to live streaming will find OBS Studio easy to use. The software can be downloaded for Mac, Windows as well as Linux. It features a powerful API, allowing third-party plugins and scripts to be generated.

You can use these add-ons to customize and enhance according to your needs. Other advanced features include real-time audio/video capturing and mixing, an advanced audio mixer, unlimited scenes and customized transitions. However, multiple bitrate streaming is not possible with OBS software.
3. Vmix
Live streaming encoder vMix is another excellent option. This encoder for Windows that caters to broadcasters' streaming setups has all the features that they need. In terms of encoding software, this Australian-developed application is a good choice.

With vMix, you can integrate several live streaming platforms. Streaming is, thus, made easy with this feature. There are many excellent features included in the vMix app, and the software is regularly updated. With vMix, you can connect cameras, webcams, capture cards, sound cards, DVDs, photos, playlists, and PPT presentations among others.
4. Xsplit
When streamers look for a slightly more advanced and professional live streaming software, Xsplit is the most common choice. There are free and premium versions, good support, occasional feature updates, and it's easy to use. Plugins and third-party apps are also supported.

Since XSplit doesn't come with presets, you'll have to know how to encode, even though it's an easy-to-use program. The free version won't work on Macs or Linux systems, and you must pay for the premium version to avoid watermarks and use features that are locked.
5. Ecamm
With Ecamm Live, you can stream live and produce videos on your Mac. You can easily create professional-quality videos with Ecamm Live. With it, you can create anything you can imagine. A professional live stream broadcast, or pre-produced video, can be created quickly and easily with this software.

You can also add titles, logos, and lower thirds, share your screen, add graphics, interview guests and embed video clips. There are countless possibilities. With simple drag-and-drop controls, live streams can be prepared ahead of time using Ecamm's Scenes feature or made on the spot.
6. Brightcove
By acquiring Ooyala's platform business in 2018, Brightcove is strengthening its video position. Brightcove's business strategy revolves around three fundamental aspects: marketing, enterprise communications, and monetization.

There are many similarities between Vimeo Enterprise and Brightcove's enterprise solutions, such as branded video galleries, live streaming, single sign-on, and domain restriction. However, if your organization does not have experience in live streaming, you might need to wing it or hire professional freelancers for on-deck support – be it setting up a multi-cam show or setting up the switchers and encoder.
7. Blackmagic
A robust hardware encoder, software for linking to streaming channels, and network connections are all included in the self-contained Blackmagic Web Presenter system. Thus, neither the purchase of an expensive computer nor the use of convoluted streaming software is required.
Simply attach an SDI video source, such as a camera or live production switcher, and then use the pre-installed Ethernet network to access the internet. You can also use mobile data by plugging in a phone! You only have to provide a streaming key and click on air, thanks to built-in settings for well-known streaming services! Additionally, you can concurrently connect a desktop or a laptop to the USB webcam output to use other streaming software.
8. ManyCam
With the help of the free camera software and video switcher known as ManyCam, you may improve your video conversations and simultaneously produce live streams across several platforms.

You may record your screen, add numerous effects, add music, use a green screen, paint drawings over your video, add several webcams to your livestream, share your screen, link your phone and IP cameras, stream video games, and many other things with ManyCam.
9. InEvent
InEvent is a dynamic audio-video and live streaming solution that has the ability to create, recreate and customize a variety of virtual interactions ranging from Webinars, to live broadcasts, panel discussions, summits, networking sessions, conferences, and spanning across the pharmaceutical, educational, corporate, and event tech industries.
With InEvent's Live Studio you can have a TV-like streaming experience with all devices. It is the audio-visual solution you need to go beyond your events and webinars interactions.
Users can edit real-time videos in simultaneous collaboration without uploading files or using any external software. Its cloud-based platform will host your files and enable your access from anywhere.
The consistency of a quality live stream greatly depends on the live streaming encoder you select. When selecting a live encoder to run your live stream, there are numerous configurations and options to take into account. Compare the features of the streaming software above and select the one that suits your needs the best. And did you know that you could use all the above software to stream to any RTMP-enabled destinations via Flutin? Go try out these software and stream seamlessly through Flutin today.
Related Topics:
Join our Facebook Community to get regular updates and interact with fellow streamers.
Follow us on our social media accounts:
Facebook Twitter Instagram Linkedin