While going live, every streamer has to make sure that his surrounding environment is perfect and non-distracting. At times, finding the right background with a proper internet connection and the least noise is certainly harder than you think. So streamers these days use the green screens is the solution. Just insert a virtual background and VOILA! You are good to go. Through a green screen, you do not have to worry about your bedroom being messy or you sitting in the storage room for peaceful streaming. For high-quality streaming, remember to use a decent-quality green screen. In this guide, you will be briefed on the basics of a green screen and the top 5 green screens of 2022.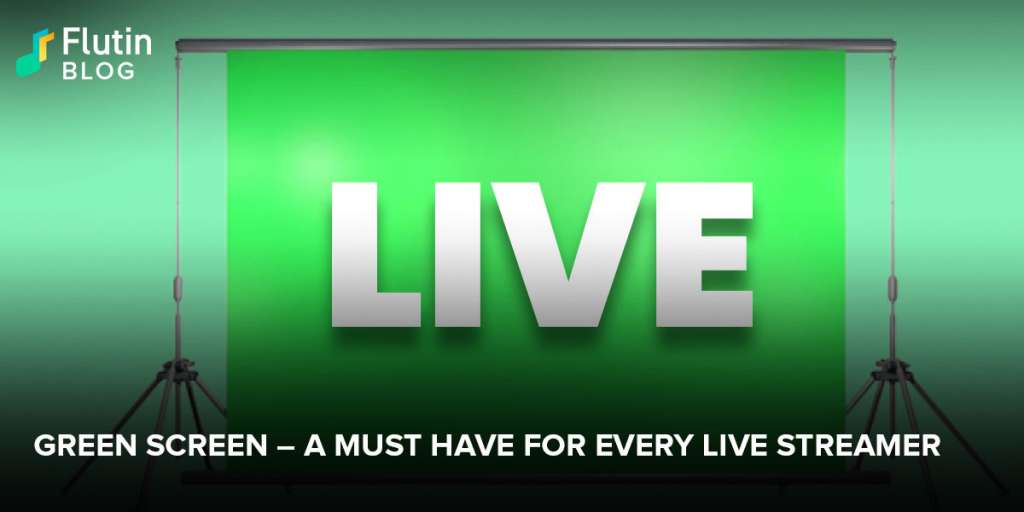 What is a green screen?
A green screen lets you create virtual backgrounds or add special effects to your stream. Using chroma keying, you can key out the colour of the screen, making your background "disappear." Then, you can use live streaming broadcast software or webcam software to add a virtual background.
Why are the green screens green?
Green screens are not usually green instead different colours like blue are also used. Green is the most preferred colour. Chroma keying involves identifying a certain colour and displaying your specific background on it, for example – if you chroma key light brown colour, it can match your hair as well as skin tone leading to your face being covered. Green is used as it won't match your skin or hair. Keep in mind not to wear green cloth while live streaming.
Why do you need a green screen for streaming?
Streamers prefer to use a green screen in order to make their live shows more interesting, professional and eye-catching. If you do not have a proper live streaming studio for you then a green screen is a solution for you. A virtual background will let you replace things that are sensitive, simple or too boring.
Some use cases for the green screen include:
Gamer who want the "sitting inside the game" effect
Streams or tutorials that require full-screen screencasting
An amusing background to have fun with the audience
Maintaining consistency if you have to stream from different physical locations frequently
Display branding or calls to action (CTAs) in the background

Lighting a green screen
To use a green screen, proper lighting is the utmost requirement. You need to make sure that there is no uneven colouration or else the chroma key won't identify the colour.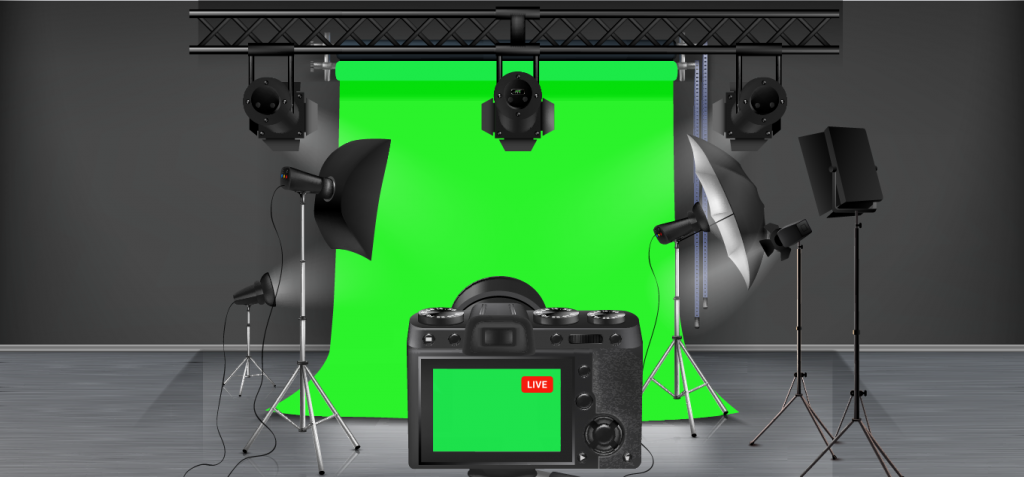 You need to light up the screen evenly so that the entire background appears as a hue.
Chroma keying and your CPU
Live streaming uses a big section of your computer's resources. Chroma keying requires even more. Ensure that your PC is powerful enough to handle the load. If not then consider switching from software encoding to hardware encoding to lighten the load on your PC.
How do you choose a green screen?
Taking these considerations into account, select the most suitable green screen for you:
1. Size : The proper size for your green screen depends on your camera. First, you need to decide how far away the camera will be from you and your background. Obviously, the further away you place it, the more of the green screen you can see. The camera's angle of view also helps you determine the right size for a green screen.
2. Material : The most important factor to remember is that the material of the green screen should not be reflective. Muslin can be a good choice as it is dull and doesn't reflect. But it can be difficult to store as it shows creases and wrinkles over time.
3. Stand : You need some support to place your green screen, sticking it on the wall won't always work. So you will need a stand sturdy enough to keep your green screen stretched so that it shows no wrinkles and is tightly placed behind you.
4. Portability : If you are planning to remove your green screen as soon as you are done streaming, then make sure to have a portable one. So that you can easily wind up and move it from one place to another without damaging it.
5. Price : Most green screens aren't expensive but the cost is always relative. Remember that a higher price of a green screen doesn't guarantee quality; make sure to select a green screen based on your requirements.
How to stream with a green screen?
To use a green screen for your live show, you need to prepare the setup and then ready the chroma key in your streaming software.
Here are a few tips for setting up your studio with a green screen:
Always get a bigger screen than you think you need
Put enough distance between the subject and the screen so there are no shadows
Place your screen, lights, camera, and subject and run a test beforehand
Remove all green or reflective items from the subject
You will need live streaming software which could support, a green screen. For that, you can surely try using FLUTIN.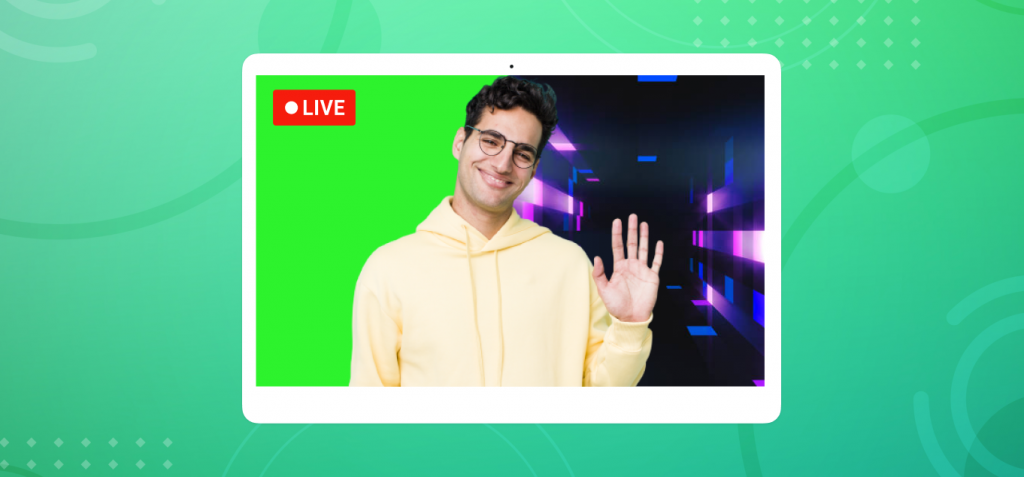 Flutin will soon be launching its green screen supporting feature for high-quality streaming experience.
Best green screens for streaming
Here is a list of all the best green screens available for streaming which would be ideal for streamers:
1. Elgato Collapsible Chroma Key Panel : If you want a green screen which is big enough Elgato Collapsible Chroma Key Panel is the best choice. It has an X shape stand which is easily adjustable and tightly fits the fabric without any wrinkles. You can also wind it up and store it easily.
2. Neewer Chromakey Double-Sided Backdrop : If you need a flexible colour option, then Neewer Chromakey Double-Sided Backdrop is the best for you. It is blue on one side and green on the other. You can easily fold it up and store it. It requires a stand to hold which you need to buy separately.
3. Fancierstudio Green Screen Background : For a green screen that extends to and covers the floor, try the Fancierstudio Green Screen Background. It's a good deal for the price, as it also comes with a stand to hang it from and a carrying case for portability. The screen is nine feet long, and you can adjust it to the length you need.
4. LimoStudio Green Muslin Background : The LimoStudio Green Muslin Background is one of the most inexpensive on this list, so if you're on a budget, it's worth a look. It doesn't come with a stand or frame, however. The LimoStudio screen has a pre-stitched loop so that you can slide it onto a rod. It does come with clips, so you can clip it up when needed as well.
5. Webaround Big Shot Office Chair Green Screen : For gamers or streamers who mostly sit in front of their cameras, the Webaround Big Shot Office Chair Green Screen is a quirky solution. The screen is a large disc that slides over the back of your desk chair, forming a giant green halo behind you when you sit down.
Let's wrap up!
A green screen gives your live stream a whole new look and also gives you high-quality experience. Choosing a green screen wisely will let you get the best value for your investment. The above guide clearly lists all that you need to keep in mind before choosing a green screen for you. All you need is proper lighting and you are good to go. Don't forget to use the best green screen supporting live streaming software for the best experience.
Related Topics:
Join our Facebook Community to get regular updates and interact with fellow streamers.
Follow us on our social media accounts:
Facebook Twitter Instagram Linkedin